RETURN TO SEARCH RESULTS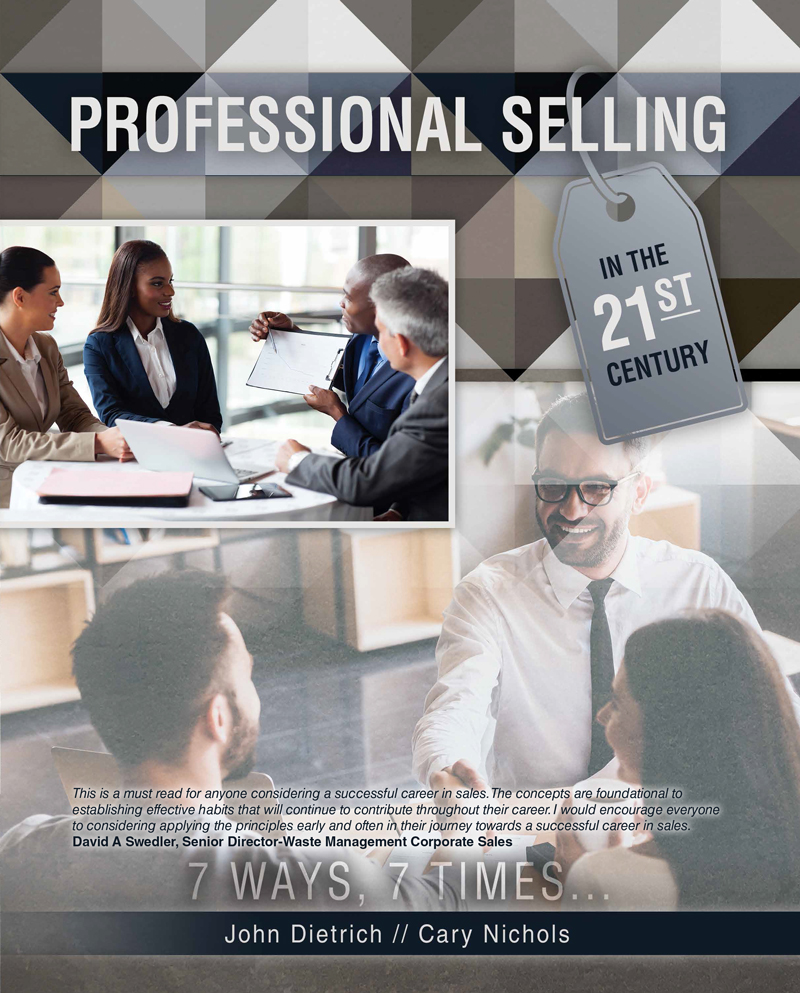 CHOOSE FORMAT ?
Details: Print Prod w/GoReact |
New Publication Now Available!
Selling principles permeate throughout our daily lives….
Every job interview, relationship, team, or club one tries out for requires putting best sales skills and behavior forward.
Professional Selling in the 21st Century: 7 Ways, 7 Times by John Dietrich and Cary Nichols not only demonstrates how readers can put concepts into practice, but examines how sales applies to ALL of our personal and professional lives as well.
Based on the authors' 40+ years of sales and education experience, Professional Selling in the 21st Century: 7 Ways, 7 Times:
Is Practical! The publication not only discusses the concepts, but presents a variety of ways to practice the behaviors right now – today!
Is Logical! To meet the structure of a typical undergraduate course, the text is divided into three categories: 1) Fundamentals of Building Relationships; 2) Targeting Your Audience and Positioning; and 3) Closing the Deal.
Challenges Readers! Each chapter includes a case study or homework assignment to spark classroom discussion and encourage readers to take and defend a position with specific reasoning, intellect, and problem-solving skills.
Chapter 1 Trust and Relatability
Chapter 2 Listening
Chapter 3 Sales Etiquette
Chapter 4 Networking and Prospecting
Chapter 5 Effective Communication
Chapter 6 Knowing Your Customers
Chapter 7 Overcoming Objection
Chapter 8 Positioning
Chapter 9 Closing the Deal
Chapter 10 Clients for Life
Chapter 11 What's Next…for the Sales Professional
The authors know marketing and sales front, back, and sideways. They understand it's like playing 3-dimensional chess in the dark – and it takes practice, know-how, and smarts. If you read one book on how to achieve success in professional selling and how to communicate in a professional environment – grab this one and come along on the ride to learn more.
Mark Pfeifle, Former Deputy Assistant to the President and Deputy National Security Advisor for Strategic Communications and Global outreach at the White House
As the president of an engineering firm I am very focused on our marketing team. The authors had me hooked from the first chapter and I will be recommending this to my team as a must read!
Lee Granquist, President of Larson Engineering, Inc.
Professional Selling in the 21st Century is excellent. It is a blueprint for anyone who wants to be successful as a sales professional. This book teaches you the 'what' and 'how' of proper salesmanship. It's written in a way that is easy to follow and learn from. It's filled with realistic examples of how today's sales person succeeds year after year. I really liked that the sales process is outlined for the reader. The chapters are connected, therefore, creating a fluid and transparent beginning, middle and end of what sales truly is today. If you're ready to learn how to be a consistently successful sales professional, this book is a must read.
Mark David, President, The Mark David Corporation
If you are an undergraduate student considering a career in sales, this is a highly recommended read. You will gain meaningful insight on how to build enduring relationships that will bring success to both your professional and person life.
John Haydon, Vice President of Marketing and Business Development, Kraus-Anderson Construction Company
As a student sales coach and instructor, I recommend this book to develop student confidence and success. The easy-to-apply techniques Dietrich and Nichols use, along with concise industry examples, help students visualize possible outcomes of their actions and deeply understand their application in any sales situation.
Jennifer Mitchell, Senior Marketing Lecturer, Northern Arizona University
This is a must read for anyone considering a successful career in sales. The concepts are foundational to establishing effective habits that will continue to contribute throughout their career. I would encourage everyone to considering applying the principles early and often in their journey towards a successful career in sales.
David A Swedler, Senior Director-Waste Management Corporate Sales
Print Package
$95.00
ISBN 9781524950262
Details Print Prod w/GoReact