RETURN TO SEARCH RESULTS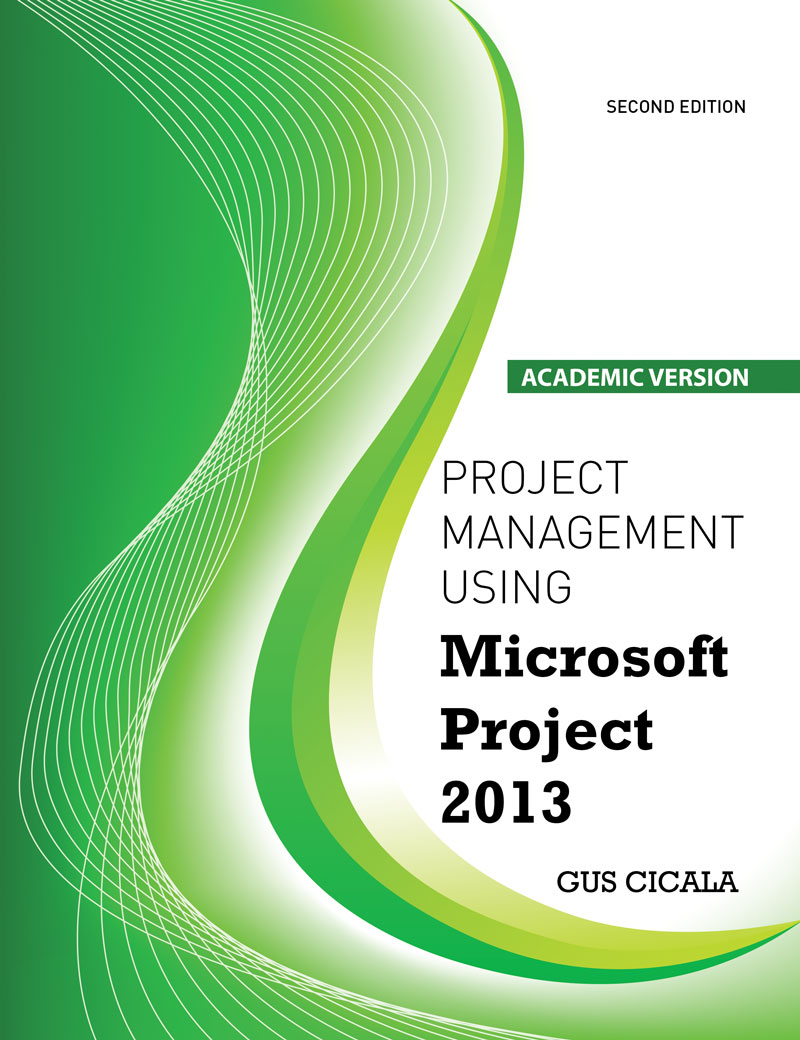 Project Management Using Microsoft Project 2013 - Academic Version
Author(s): Augustus J Cicala
Edition: 2
Copyright: 2016
Pages: 410




Details: Print Product Only (SA,CP, Pak, all Print) |
Project Management Using Microsoft Project 2013: A Training and Reference Guide for Project Managers Using Standard, Professional, Server, Web Application and Project Online introduces readers to the project manager's perspective on the latest version of Microsoft Project, Microsoft Project 2013. This set of software tools supports what is known as enterprise project management (EPM), the management of all projects across an organization.

Effective EPM allows organizations to better meet Portfolio commitments and achieve their goals. The process begins with the project manager, using a variety of tools described in this manual.

Presented in the context of what a project manager needs to know, Project Management Using Microsoft Project 2013 serves as a comprehensive reference and cohesive training guide, assembling content and best practices honed over many years of Microsoft Project and general project management training.

Project Management Using Microsoft Project 2013:
Is practical! The package demonstrates why software features and functions are important from a project management theory standpoint, and then demonstrates how to effectively leverage that value.
Is comprehensive! The publication serves as a guide to running a project from initiation to closeout with guides along the way for how to use Microsoft Project to facilitate that.
Is proven! The publication's content is based on the authors' 20+ years of project management and Microsoft Project consulting experience.
Is inclusive! The publication covers Microsoft Project 2013 Standard, Microsoft Project 2013 Professional, Microsoft Project Server 2013, Microsoft Project Web Application 2013 (PWA) and Microsoft Project Online 2013 for Office 365.
Gauges comprehension! The publication includes exercise files that use a standardized style to explain how to navigate the ribbon.
INTRODUCTION TO PROJECT MANAGEMENT
Introduction
1.1 Using This Guide
1.2 High-Level Overview of Microsoft Project 2013

Understanding Project Management Concepts
2.1 What is Project Management?
2.2 The Importance of Methodology to Project Management
2.3 Project Phases and the Project Life Cycle
2.4 Project Stakeholders and Organizational Influences
2.5 Project Processes

Introduction to Microsoft Project 2013
3.1 How Microsoft Project 2013 Handles Data
3.2 The Ribbon in Microsoft Project 2013
3.3 Navigating in Microsoft Project 2013 Views
3.4 Help Options in Microsoft Project 2013
3.5 Finding the Right Information

PROJECT DEFINITION
Understanding Project Definition
4.1 Defining Your Project and Understanding the Definition Process
4.2 Initiating a Project
4.3 Planning the Scope of a Project
4.4 Scope Definition
4.5 Scope Verification

Defining Your Project Using Microsoft Project 2013
5.1 Creating a New Project
5.2 Providing Project Information
5.3 Setting File Properties
5.4 Setting Local Calendar Information
5.5 Project Definition Review Exercise

PROJECT TASK PLANNING
Developing a Work Breakdown Structure
6.1 Creating a Project Work Plan
6.2 Determine Logical Relationships of Tasks in Your WBS
6.3 Resource Planning and Acquisition
6.4 Team Development
6.5 Cost Estimating and Budgeting

Building a Work Breakdown Structure with Microsoft Project 2013
7.1 Building the Work Breakdown Structure
7.2 Modifying and Editing the WBS
7.3 Creating Task Dependencies
7.4 Task Types and Scheduling
7.5 Estimating Task Size
7.6 Manual Task Scheduling
7.7 Task Planning Review Exercise

Managing Project Resources and Assignments
8.1 Defining Project Resource Types with Microsoft Project 2013
8.2 Assigning Resources to Tasks
8.3 Cost Planning with Microsoft Project
8.4 Constraints
8.5 Resource and Assignment Review Exercise

Using Microsoft Project 2013 to Optimize the Plan
9.1 Identifying the Critical Path
9.2 Adding Recurring Tasks and Using Task Calendars
9.3 Managing Resource Workloads and Resolving Resource Overallocations
9.4 Setting the Project Baseline
9.5 Communicating the Project Plan (Introduction)
9.6 Optimizing the Plan Review Exercise

ENTERPRISE PROJECT MANAGEMENT
Creating Enterprise Projects
10.1 How Microsoft Project 2013 Communicates with Project Server 2013
10.2 Publishing a Project to Microsoft Project Server 2013
10.3 Enterprise Resource Management
10.4 Working with Multiple Projects: Inter-Project Dependencies
10.5 Program Management
10.6 Managing Multiple Projects Review Exercise

Monitoring and Controlling – The Project Manager's Functions
11.1 Project Execution – Background
11.2 Tracking with Microsoft Project 2013
11.3 Entering Actual Progress Information

Using Project Web Application for Tracking
12.1 Publishing Project Assignments to Team Members
12.2 The Project Web App Home Page
12.3 Tracking Progress

Other Features in Project Web Application
13.1 Organizing and Viewing Information in Project Web Application
13.2 Web-based Projects
13.3 Team Builder
13.4 Resource Plans
13.5 Risks, Issues, Deliverables, and Documents
13.6 Project Details Page
13.7 Publishing a Task List in SharePoint Using Project Web App
13.8 Status Reports and Reporting
13.9 The Business Intelligence Center
13.10 Project Web App Review Questions

Variance Analysis, Plan Revision, and Project Communication
14.1 Variance Analysis
14.2 Plan Revision and Scope Management
14.3 Project Communication Principles

Presenting Project Information with Microsoft Project 2013
15.1 Communication Options
15.2 Using Tables, Filters, Views and Groups in Microsoft Project 2013
15.3 Defining and Using Custom Fields
15.4 Communicating Project Information
15.5 Exporting Project Information

Concluding Remarks
Index
Acknowledgements
About the Author
Print
$104.74
ISBN 9781465295422
Details Print Product Only (SA,CP, Pak, all Print)