RETURN TO SEARCH RESULTS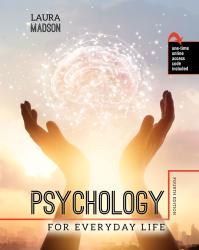 Psychology for Everyday Life
Author(s): Laura Madson
Edition: 4
Copyright: 2020




Details: Print Prod w/KHPContent Code | 180 days |
How can psychology help you keep your New Year's resolution to exercise regularly?
How can you get your roommate or significant other to stop annoying you and start doing things that make you happy?
How can you resist a billion dollar marketing industry working to convince you to buy stuff you think you need with money you know you don't have?
Your students will be able to answer these and many other questions with Psychology for Everyday Life, an accessible introduction to psychology book that emphasizes aspects of psychological science students can relate to in their daily lives.
Psychology for Everyday Life gives students an edge in the job market by helping develop key teamwork skills sought by employers. The book is specifically designed for use with a team-based learning teaching paradigm (Michaelsen, Knight, and Fink, 2002; www.teambasedlearning.org):
Students are assigned to permanent teams and work together on complex, authentic tasks.
Each reading assignment is followed by one or more activities that students complete in their teams.
Activities give students practice working in diverse teams on complex tasks.
Classes are therefore more engaging and fun.
Psychology for Everyday Life is a valuable resource from which you can draw active learning exercises for a traditional or team-based learning environment.
Reading assignments are in ALL CAPS.
Some of the in-class activities will be more effective if students have Internet access and an appropriate digital device. These activities are marked with asterisks (**).
How Do We Study Happy People?
Defining Happiness Activity
DEFINING HAPPINESS READING ASSIGNMENT
EEE Research Design Activity
EXAMPLE OF A STUDY IN PSYCHOLOGY READING ASSIGNMENT
WORKING IN TEAMS READING ASSIGNMENT
Safe Air, Water, and Food
INTRODUCTION TO GLOBAL CLIMATE CHANGE READING ASSIGNMENT
ATTITUDES AND ATTITUDE CHANGE READING ASSIGNMENT
Attitude Components and Attitude Change Activity
Commercial and Shopping Homework Assignment
Persuasion Activity
Team Processing Activity
Enough Money
PSYCHOLOGY AND PERSONAL FINANCE
Personal Finance Activity**
Budget Activity
Team Processing Activity
Meaningful Relationships
MEANINGFUL RELATIONSHIPS READING ASSIGNMENT
ROBOT AND FRANK WRITING ASSIGNMENT
COGNITIVE DEVELOPMENT READING ASSIGNMENT
Cognitive Development Activity
Developmental Case Study
Team Processing Activity
OBSERVATIONAL LEARNING READING ASSIGNMENT
Observational Learning Activity
OPERANT CONDITIONING READING ASSIGNMENT
Operant Conditioning Writing Assignment
Example of Operant Conditioning Writing Assignment
Operant Conditioning Activity
DECREASING UNWANTED BEHAVIOR READING ASSIGNMENT
Shaping, Chaining, and Conditioning Plan
Operant Conditioning Writing Assignment Peer Review Evaluative Criteria
Meaningful Work
HAPPINESS AND MEANINGFUL WORK
Meaningful Work Activity**
Meaningful Work Writing Assignment
Example of a Completed Meaningful Work Writing Assignment
O*netTM Interest Profiler
Good Physical Health
AGE-RELATED CHANGES IN PHYSICAL HEALTH READING ASSIGNMENT
Food Diary
EVOLUTION, EATING, AND EXERCISING READING ASSIGNMENT
Eating and Exercising Activity
STRESS AND COPING READING ASSIGNMENT
Individual Differences and Stress Activity
ALZHEIMER'S DISEASE READING ASSIGNMENT
Alzheimer's Disease Activity**
Team Processing Activity
Good Mental Health
ANXIETY AND MOOD DISORDERS
SCHIZOPHRENIA, DISSOCIATIVE DISORDERS, AND PERSONALITY DISORDERS
Who Needs Treatment Activity
Psychological Disorders Evaluation
Team Processing Activity
The Happiness Imposter: Recreational Drugs
NEURONS AND NEUROTRANSMITTERS READING ASSIGNMENT
RECREATIONAL DRUGS AND THE BRAIN READING ASSIGNMENT
Neurotransmitters and Behavior Activity
COMMON RECREATIONAL DRUGS READING ASSIGNMENT
Recreational Drug Evaluation
Drug Legalization Activity
Print Package
$92.40
ISBN 9781792482052
Details Print Prod w/KHPContent Code 180 days