RETURN TO SEARCH RESULTS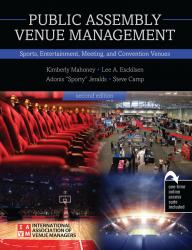 Details: eBook w/KHPContent Access | 180 days |
Those who manage public assembly venues are continually challenged to operate venues in such a way that brings success to venue ownership and meet the needs of those who utilize them. Accomplishing this daunting task is neither simple, nor is it consistent from venue to venue. Venues vary in mission based upon type, location, and goals set by those in leadership. In order to achieve the established goals, management must continually fine-tune their venue management skills and keep abreast of ever-changing social and economic trends in our society.
Public Assembly Venue Management: Sports, Entertainment, Meeting, and Convention Venues (2nd edition) addresses the functions common to all public assembly venues, including amphitheaters, arenas, convention centers, performing arts centers, and stadiums, amongst others. The textbook was written for use in both undergraduate and graduate-level courses within sport management, event management, hospitality management, entertainment management, and other related disciplines. The book is also used by venue management professionals and supports the certification and professional development programs of the International Association of Venue Managers (IAVM).
This book is organized in a logical sequence that takes the reader through the history and role of public assembly venues, followed by the other significant areas of venue management including venue ownership and management, business and financial management, booking the venue, marketing, ticketing, ancillary services and revenue sources, venue operations, event management, safety and security, and the newly added chapter on venue planning, financing, design, and construction. These chapters address the functions common to all public assembly venues and reflect current industry trends. The 2nd edition also includes new information regarding international venue management, venue emergency use scenarios, and the impact of COVID-19.
Textbook highlights:
FORMAT – Available in eBook and print editions
EXPERIENCE – Written by authors with 100+ years of ongoing industry experience, 50+ years of teaching experience, and all four with industry certifications
EASY ADOPTION – instructor resources includes modern presentations, test banks, class activities, class discussion topics, case studies, and key terms
WEBSITE – availability of the companion materials and learning tools through an engaging, customized website that facilitates learning
PRACTICAL TOOLS – the text includes an extensive glossary to help students learn industry terminology and numerous industry examples and supplemental information in the appendices to support the learning process
CHAPTER 1 – HISTORY AND ROLE OF PUBLIC ASSEMBLY VENUES
INTRODUCTION
HISTORY OF PUBLIC ASSEMBLY VENUES
TYPES OF PUBLIC ASSEMBLY VENUES
ROLE OF A PUBLIC ASSEMBLY VENUE IN THE COMMUNITY
FUNCTIONS COMMON TO PUBLIC ASSEMBLY VENUES
Administration and Management
Business and Financial Management
Booking the Venue
Marketing
Ticketing
Ancillary Services and Revenues Management
Venue Operations Management
Event Management
Safety and Security
INTERNATIONAL VENUE MANAGEMENT
VENUE COMPETITION AND FLEXIBILITY
SUMMARY
CHAPTER 2 – VENUE OWNERSHIP AND MANAGEMENT
INTRODUCTION
VENUE OWNERSHIP
Public Ownership
Private Ownership
Public vs. Private Ownership
Ownership by Academic Institutions
Ownership by Nonprofit Organizations
VENUE MANAGEMENT
Management by Government Department
Management by Authorities, Commissions, and Nonprofit Organizations
Management by Academic Institutions
Management by Private Companies
Public vs. Private Management
Management by Professional Sports Teams
KEY SKILLS OF A VENUE MANAGER
Ability to Communicate
Ability to Negotiate
Ethics
Managerial Leadership
Team Building Abilities
Entrepreneurial Instinct
PROFESSIONAL ASSOCIATIONS AND CONTINUING EDUCATION
SUMMARY
CHAPTER 3 – VENUE PLANNING, FINANCING, DESIGN, AND CONSTRUCTION
INTRODUCTION
THE PLANNING PROCESS
Perceiving a Need
Identifying a Need
Community Support Level
Venue Location Selection
Sizing the Venue
THE FINANCING PROCESS
Determination of Project Cost
Financing Options
Selecting the Best Option
Long Range Forecast
THE DESIGN PROCESS
Selection of an Architect
Visuals vs. Functionality
Placing Design on Selected Site
Identifying Venue Needs to Satisfy Users
Inclusion of All Parties
Development of Construction Documents
Making Necessary Changes
Final Construction Documents
Design-Build Process
THE CONSTRUCTION PROCESS
Selection of a General Contractor/Construction Manager (GC/CM)
Team Development
Construction Document Review
Site Preparation
Managing the Construction Timeline
Minimizing Changes
Construction Process
Post Construction and Opening
SUMMARY
CHAPTER 4 – BUSINESS AND FINANCIAL MANAGEMENT
INTRODUCTION
FINANCE DEPARTMENT
FINANCE DIRECTOR
OPERATING BUDGET
CAPITAL IMPROVEMENT BUDGET
FINANCIAL REPORTS
Profit and Loss Statement (P&L)
Balance Sheet
Capital Expenditures Report
COST ACCOUNTING
FINANCIAL PROCESSES
Cash Management
PCI Compliance
Inventory Control
Fixed Assets
Accounts Receivable and Payable
Purchasing and Procurement
Event Contracts
Event Settlement
Audits
HUMAN RESOURCES
Full-Time Staff
Part-Time Staff
Volunteers
Sources of Part-time Labor
Orientation and Training
SUMMARY
CHAPTER 5 – BOOKING THE VENUE
INTRODUCTION
BOOKING POLICIES & PROCEDURES
THE VENUE SCHEDULE
USER PRIORITIES
VENUE BOOKING TIMELINES
UNDERSTANDING THE PLAYERS
EVENT BOOKING PROCESS
Qualifying The Event
Prime Tenants and Annual Events
Holding Dates
Challenging Hold Dates
Date Protection
Freedom of Speech Issues
Contracting
SUMMARY
CHAPTER 6 – MARKETING
INTRODUCTION
MARKETING DEPARTMENT
MARKETING DIRECTOR
VENUE MARKETING
Industry Relationships
Venue Website
Promoter-Focused Marketing
EVENT MARKETING
In-House Advertising Agencies
Event Advertising and Promotions
Media Channels
Promotions
Customer Databases
Public Relations
EVENT MARKETING PROCESS
SALE OF COMMERCIAL RIGHTS
Naming Rights
Beverage Pouring Rights
Branding of Food and Beverage
Sponsorships
Advertising Signage
Additional Advertising Opportunities
Memorial Gifts
MARKETING & SALES OF PREMIUM ACCESS
SUMMARY
CHAPTER 7 – TICKETING
INTRODUCTION
TICKET OFFICE
TICKET MANAGER
FUNCTIONS OF A TICKET
Limited Contract and Revocable Permit
Means of Communication
Means of Financial Accounting and Inventory Control
TICKET FORMATS
QR-coded / Bar-Coded Tickets
Mobile Tickets
Season Ticket Cards, Team Cards, or Premium Access Cards
Radio Frequency Identification (RFID) Wristbands
SELECTING A TICKETING SYSTEM
MANAGING THE EVENT TICKETING PROCESS
Prior to On-Sale
On-Sale
Event Day
TICKET MARKETS
ADDITIONAL TICKETING OPPORTUNITIES
Premium Seating
Seat Licenses
Season Tickets & Subscriptions
Group Ticket Sales
DATABASE MANAGEMENT
PRICING STRATEGIES
Variable Pricing
Dynamic Pricing
SUMMARY
CHAPTER 8 – ANCILLARY SERVICES & REVENUE SOURCES
INTRODUCTION
GUEST-GENERATED ANCILLARY REVENUE
TICKETING
Venue Fees
Ticket Service Charge
VIP Order Fees
Interest Income
FOOD AND BEVERAGE
In-House vs. Contracted Food and Beverage Service
Food and Beverage Contractor Agreement
Design and Layout of Food and Beverage Service
Foodservice Staffing
Menu Development
Alcohol Sales Policies and Best Practices
Foodservice Marketing
Foodservice Trends
MERCHANDISE
Types of Merchandising Contracts
Merchandise Operations
Permanent Tenant Merchandise Stores
PARKING
Parking Services
Parking-Related Ancillary Revenue Sources
Parking Lot Events
PROMOTER-GENERATED ANCILLARY REVENUE
Labor Fees
Equipment Fees
Utility & Service Fees
In-House Marketing and Advertising Agency Fees
SUMMARY
Chapter 9 – VENUE Operations and Services
INTRODUCTION
OPERATIONS DEPARTMENT
DIRECTOR OF OPERATIONS
VENUE OPERATIONS MANAGEMENT
Workforce Management
Regulatory Compliance
Shipping and Receiving
Inventory Management
Asset Management
Capital Expenditures
Venue Analytics
SUSTAINABLE PRACTICES
Environmental Sustainability
Social Sustainability
Economic Sustainability
Sustainability Certifications
ENGINEERING
PREVENTATIVE MAINTENANCE
TRADES
HOUSKEEPING SERVICES
BACK-OF-HOUSE EVENT MANAGEMENT
Production Rider
Changeovers / Conversions
Rigging
BOH Labor
Labor Unions
BOH Event Equipment
Marshaling Areas
VENUE EMERGENCY USE SCENARIOS
SUMMARY
CHAPTER 10 – EVENT MANAGEMENT AND SERVICES
INTRODUCTION
EVENT SERVICES DEPARTMENT
EVENT MANAGER
EVENT PLANNING
Event and Production Planning
Production / Performance Rider
Internal Planning Documents
Event File
Event Timelines
Equipment
Staffing
Diagram Layouts and Floor Plans
FRONT-OF-HOUSE EVENT MANAGEMENT
Guest Communication
Guest Services
Training
Emergency Procedures & Preparedness
PARKING, TRAFFIC & TRANSPORTATION
EVENT DAY
PUBLIC IMAGE
SUMMARY
CHAPTER 11 – SAFETY AND SECURITY
INTRODUCTION
RISK MANAGEMENT
Risk Management Process
Building and Life Safety Codes
Fire Protection and Life Safety Systems
Crowd Management
Situational Awareness
EMERGENCY PLANNING AND MANAGEMENT
Principle Elements of Emergency Planning and Management
Venue Emergency Operations Plan
Event Medical Planning
Shelter-in-Place, Relocation, and Evacuation
Mega-Shelter Planning
SECURITY OPERATIONS
Venue Security Operations
Event Security Operations
Incident Reporting
Access Management
Screening Procedures
Alcohol Management
Cybersecurity
TRAINING
Venue Training Programs
Academy for Venue Safety and Security (AVSS)
National Center for Spectator Sports Safety and Security (NCS4)
SUMMARY
GLOSSARY
APPENDIX A – Industry Examples
APPENDIX B – Contract Components
APPENDIX C – IAVM Continuing Education and Professional Development
APPENDIX D – Related Organizations and Associations
Ebook Package
$81.04
ISBN 9781792426056
Details eBook w/KHPContent Access 180 days