RETURN TO SEARCH RESULTS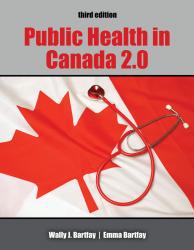 We invite you to partake on an exciting learning journey related to public health theory, practice, policy making and research in Canada and abroad that ranges from Alzheimer's disease trends to the Zika virus pandemic (A-Z). You will discover on your learning adventure that public health care professionals and workers provide essential health care services for the prevention, promotion and restoration of health for diverse populations across the lifespan; which include public health nurses, physicians, epidemiologists, health promoters and infection control specialists to name but a few. This comprehensive text has been written for upper level undergraduate and/or graduate students enrolled in public or community health science programs and professional programs (e.g., nursing, medicine, physiotherapy, kinesiology). This textbook consists of 14 chapters that were developed and designed based on the 36 core competencies deemed essential for all public health professionals and workers as outlined by the Public Health Agency of Canada (PHAC). We provide readers with the essential knowledge base and theoretical foundations to engage in safe and cost-effective evidence-informed public health services and policy development across the lifespan.
KEY FEATURES FOR EACH CHAPTER INCLUDE:
Learning objectives and a list of specific PHAC core competencies addressed.
Web-based resources boxes integrated throughout the chapter.
Group activity-based learning boxes.
Research focus boxes to reinforce the importance of evidence-informed practice & decision making.
Challenges and future directions for each chapter are highlighted.
Group review exercise boxes.
Chapter summaries presented in bullet form to highlight key concepts.
Critical thinking questions to encourage discussions, debates and mastery of concepts.
Glossary of key terms.
PEDAGOGICAL FEATURES INCLUDE:
Illustrations and flowcharts.
Tables and graphs.
Coloured photographs and illustrations.
References for each chapter.
Instructors manual with course outline, chapter highlights and test bank for each chapter.
Lecture slides highlighting key concepts and terms for each chapter.
SAMPLE LECTURE
Preface
Special Features and Learning Resources
About the Authors
Chapter 1 Foundations and Essential Concepts for Public Health
Learning Objectives
Core Competencies Addressed in Chapter 1
Introduction
What is public health?
Th e Five Essential Pillars of Public Health
Essential Pillar (i): Evidence-informed public health
Essential Pillar (ii): Health Promotion and Prevention
Essential Pillar (iii): Primary Health care
Essential Pillar (iv): Th e 15 Social Determinants of Health
Essential Pillar (v): Holistic Care Paradigm
Th e "Ripple Eff ect" in Public Health
Future Directions and Challenges
Summary
Critical Thinking Questions
References
Chapter 2 Understanding the Concept of "Health": Its Evolution and Definitions
Learning Objectives
Core Competencies Addressed in Chapter 2
Introduction
A Brief History of Health
Prehistory Times
Ancient Egypt
Persians
Traditional Chinese Medicine
Ancient India
Ancient Greece
Ancient Rome
The Middle Ages
The Renaissance Period
Industrial Revolution Era
Public Health Activities in Canada: 1900–1950
The Emergence of Holistic Definitions of Health
1950s to Present
The Lalonde Report, 1974
Alma-Ata Conference, 1978
The Epp Report, 1986
Ottawa Charter for Health Promotion, 1986
The Jakarta Declaration (1997)
Bangkok Charter for Health Promotion in a Globalized World (2005)
Current developments in public health in Canada: 2000 and onwards
Future Directions and Challenges
Summary
Critical Thinking Questions
References
Chapter 3 "Medicare" in Canada: History and Current Challenges
Learning Objectives
Core Competencies Addressed in Chapter 3
Introduction
Medicare
The Evolution of Health Services in Canada: A Brief History
Pioneer Nurses
The Grey Nuns
Pioneer Surgeons and Physicians
Early Outbreaks and Epidemics
British North American Act (1867)
The Emergence of the Medical Model of Health
The Flexner Report (1910)
Medical Breakthroughs by Canadians
Shift from Home and Community to Hospital-based Health Services
Redefining the Federal Governments Role in Health
Employment and Social Insurance Act (1935)
Marsh and Heagerty Report (1943)
Saskatchewan's Pioneering Health Care Reforms
National Health Grants Act (1948)
Hospital Insurance and Diagnostic Services Act (1957)
Medical Care Act (1966)
Federal Health Care Funding Arrangements
The Canada Health Act (1982)
Federal and Provincial/territorial Responsibilities Under the CHA
Chaoulli et al. Versus the Attorney General of Québec
Divergent Interpretations of the CHA
What is "medically necessary"?
Jake Epp's Letter
Diane Marleau's Letter
Penalties and Deductions
Rising Health Care Costs
Future Directions and Challenges
Summary
Critical Thinking Questions
References
Chapter 4 Indigenous Health in Canada
Learning Objectives
Core Competencies Addressed in Chapter 4
Introduction
Historical Perspectives
Indigenous Status
First Nations/Indian
Inuit
Métis
Aboriginal Languages
Jesuit Missionaries and Residential Schools
Treaties and Reserves
Indian Act and Bill C-31
Social and Health Consequences of Colonization
Indigenous Perspectives of Health
Delivery of Health Services
Cultural Safety and Public Health
Major Current Health Issues
Mental Health Issues, Injuries, and Drownings
Gasoline Sniffing
Health of Indigenous Families
Sexually Transmitted Infections
Cardiovascular Disease and Diabetes
Future Directions and Challenges
Summary
Critical Thinking Questions
References
Chapter 5 Essential Research Methods for the Practice of Public Health
Learning Objectives
Core Competencies Addressed in Chapter 5
Introduction
Basic and Applied Research
Evidence-informed Public Health and Research
Systematic Reviews
Meta-analysis
Meta-summaries and Meta-syntheses
The Research Process in Public Health
Step I: Identification of a problem (Conceptualization phase)
Step II: Review of the literature
Step III: Formulate research questions or hypotheses
Step IV: Design a study
Step V: Ethical approval
Step VI: Collect data (Empirical phase)
Step VII: Data analysis (Analytical phase)
Step VIII: Determine strengths and limitations of the findings
Step IX: Dissemination and application of research findings
Knowledge Utilization in Public Health
Future Directions and Challenges
Summary
Critical Thinking Question
References
Chapter 6 Epidemiology: Essential Concepts for Public Health
Learning Objectives
Core Competencies Addressed in Chapter 6
Introduction
Historical Developments in Epidemiology: A Brief Overview
Hippocrates of Cos (460–377 BC)
John Graunt (1620–1674)
Thomas Sydenham (1624–1689)
James Lind (1716–1794)
Edward Jenner (1749–1823)
William Farr (1807–1883)
John Snow (1813–1858)
Ignaz Philipp Semmelweis (1818–1865)
Twentieth-Century Developments in Epidemiology and Public Health
Doll and Hill's Landmark Studies on Smoking and Lung Cancer
Framingham Heart Study
Current Developments in Epidemiology and Public Health
Health Surveillance
Basic Concepts in the Epidemiological Triangle
The Epidemiological Triangle of Communicable Disease
Agent
Natural History of Disease
Revised and Updated Epidemiological Triangle
Common Epidemiological Measures
Disease Frequency
Measures of Association
Future Directions and Challenges
Summary
Critical Thinking Question
References
Chapter 7 Human Responses to Disease, Illness, and Sickness
Learning Objectives
Core Competencies Addressed in Chapter 7
Introduction
Nomenclature and Common Classifications of Disease
ICD-10
DSM-V
What is Disease?
What is Illness and Stages of the Illness Experience?
Stage I
Stage II
Stage III
Stage IV
Stage V
What is Sickness and the Sick Role?
The Five Disease Categories
What are Acute and Chronic Diseases?
What are Communicable and Noncommunicable Diseases?
Types of Immunity
Antigenicity
Acquired (Passive) Immunity
Natural Immunity
Active Immunity
Herd Immunity
Common Modes of Disease Transmission
Vertical and Horizontal Modes
Airborne or Respiratory Mode of Transmission
Fecal/Oral Mode of Transmission
Waterborne Mode of Transmission
Community- and Hospital-Acquired Nosocomial Infections
Parasitic Mode
Vector-borne Mode
Zoonotic Mode
Health Surveillance
Active Surveillance
Passive Surveillance
Reportable/Notifiable Disease Lists
Non-reportable/Notifiable Disease
Poisonings
Poisonous Plants
Pesticide Poisoning
Food Safety and Poisonings
Injuries and Disabilities
Bioterrorism
Future Directions and Challenges
Summary
Critical Thinking Questions
References
Chapter 8 Environmental and Occupation Health and Safety
Learning Objectives
Core Competencies Addressed in Chapter 8
Introduction
What Is Global Warming and Climate Change
Greenhouse Effect
International Framework and Protocols for Climate Change
How Does Global Warming and Climate Change Affect Human Health?
Public Safety and Emergency Preparedness Legislation in Canada
Emergency Management and Incident Management Systems
Infectious Diseases
Ozone Depletion and UV Radiation
Air Quality and Pollution
Sick-building Syndrome
Water Quality and Pollution
What Is Toxicology?
Examples of Commonly Known Toxic Heavy Metals and Chemicals
Mercury
Lead
Dichlorodiphenyltrichloroethane
Bisphenol A
Canadian Legislation to Preserve and Protect the Environment
Work Environments and Occupational Health and Safety
Bernardino Ramazzini (1633–1714)
Percival Pott (1714–1788)
Alice Hamilton (1869-1970)
Occupational Health and Safety in Canada
Work-related Stress
Environmental and Occupational Risk Assessments for Public Health
Future Directions and Challenges
Summary
Critical Review Questions
References
Chapter 9 Global Health: A Primer
Learning Objectives
Core Competencies Addressed in Chapter 9
Introduction
What are the Millennium Development Goals?
What are the Sustainable Development Goals?
What is Globalization?
Common Global Burden of Disease Measures
Disability-adjusted life year
Healthy life years (HeaLY) lost measure
Health-adjusted life expectancy measure
Quality-adjusted life year
Implications for Public Health
What are Neglected Tropical Diseases (NTDs)?
Global Spread of Infections
Future Directions and Challenges
Summary
Critical Thinking Questions
References
Chapter 10 Program Planning and Evaluation in Public Health
Learning Objectives
Core Competencies Addressed in Chapter 10
Introduction
Accessing and Developing Web-based Health Programs and Sites
What is Program Planning?
Strategic or Allocative Planning
Operational or Activity Planning
What is Program Evaluation?
What are the Types of Program Evaluations Conducted?
What is the Program Planning and Evaluation Process?
Step I
Step II
Step III
Step IV
Step V
Step VI
Step VII
Step VIII
What are Program Logic Models?
What is Health Services Research?
What is Outcomes Research?
Ethical Considerations for Public Health Professionals and Workers
Future Directions and Challenges
Summary
Critical Thinking Questions
References
Chapter 11 Current and Emerging Mental Health Issues in Canada
Learning Objectives
Core Competencies Addressed in Chapter
Introduction
What is mental health?
Mental Health Commission of Canada
School-based Mental Health Promotion
Mental Health First Aid Training in Canada
Major Theories Related to the Origins of Mental Illness and Disorders
Supernatural theory
Psychogenic theories
Somatogenic theories
What is Stress?
General Adapation Syndrome Model
Physiological Responses to Stressors
Nervous system
Endocrine system
Immune system
Personality-types and Stress
Coping and Managing Stressors
Positive coping and stress management techniques
Negative coping and stress management techniques
Public Health Caution Related to Natural Health Products and Stress
Major Mental Illnesses
Anxiety Disorders
Generalized Anxiety Disorder (GAD)
Obsessive Compulsive Disorder (OCD)
Post-Traumatic Stress Disorder (PTSD)
Panic Disorders
Phobias
Mood Disorders, Depression and Suicide
Depression
Bipolar disorder
Seasonal affective disorder
Suicide: A Canadian contex
Schizophenia
Major Eating Disorders
Anorexia nervosa
Bulimia nervosa
Bing-Eating Disorder (BED)
Public Health Challenges Related to Eating Disorders
Future Directions and Challenges
Summary
Criticial Thinking Questions
References
Chapter 12
Learning Objectives
Core Competencies Addressed in Chapter
Introduction
A Brief Overview of the Human Brain and Nervous System
Traumatic Brain Injuries and Concussions
Glasgow Coma Scale
TBI's: A growing public health concern
Helmets for the prevention of TBIs and concussions example
Parkinson's Disease
Prevalence of Parkinson's Disease
Impact of Parkinson's Disease and Implications for Public Health
Multiple Sclerosis
Amyotrophic Lateral Sclerosis
Myasthemia Gravis
Huntington's Disease
Dementia and Alzheimer's Disease
Direct and Indirect Health Care Costs Associated with Dementia
Future Directions and Challenges
Summary
Criticial Thinking Questions
References
Chapter 13 Major Emerging and Re-emerging Infectious Diseases: A Canadian Perspective
Learning Objectives
Core Competencies Addressed in Chapter
Introduction
What are Infectious Diseases?
What is the Chain of Infection?
A Brief Overview of the Human Immune System
What are Emerging and Re-emerging Infectious Diseases?
Global Surveillance and Risk Assessments of EIDs and REIDs
Examing Major Emerging and Re-emerging Infectious Diseases from a Canadian Context
Asian Influenza (Avian Flu or Bird Flu)
Blastomycosis (Gilchrists disease)
Chikungunya
Ebola Virus Disease (EVD)
Lyme Disease (Lyme Borreliosis)
Sudden Acute Respiratory Syndrome (SARS)
West Nile Virus (WNV)
Zika Virus Infections
Future Directions and Challenges
Summary
Critical Thinking Questions
References
Chapter 14 Major Noncommunicable Diseases: Current and Future Challenges
Learning Objectives
Core Competencies Addressed in Chapter
Introduction
Prevention of Noncommunicable Diseases in the 21st Century: Four Targeted Behavioural Risk Factors
Tobacco Use and Smoking
Physical Inactivity and Sedentary Lifestyles
Unhealthy Diet
Harmful Use of Alcohol
Premature Mortality and HALE Trends in Canada
Chronic Disease Multi-morbidity in Canadians
Major NCDs: A Canadian Perspective
i. Cancer
Is there a relationship between sugar consumption and cancer?
Palliative, End-of-life Care (EOLC) and Community-based Hospice Services
ii. Cardiovascular Disease
Ischemic Heart Disease
Hypertension
Stroke
iii. Chronic Respiratory Diseases
Asthma
Chronic Objective Pulmonary Diseaes (COPD)
iv. Diabetes (DM)
Insulin Metabolism
Prevalence of DM
Prediabetes
Impaired glucose tolerance and impaired fasting glycaemia
Type 1 DM
Type 2 DM
Gestational diabetes
Importance of Influenza Vaccinations for Clients with CRDs and CVD
Future Directions and Challenge
Summary
Critical Thinking Questions
References
Appendix A: 36 Core Competencies (Public Health Agency of Canada)
Glossary of Key Terms
Website
$83.02
ISBN 9781792460623
Details KHPContent 180 days