RETURN TO SEARCH RESULTS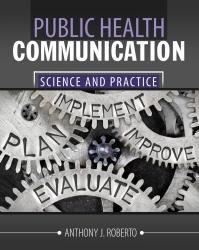 Public Health Communication: Science & Practice
Author(s): Anthony Roberto
Edition: 1
Copyright: 2022
Pages: 380




Details: Electronic Delivery EBOOK | 180 days |
Public Health Communication: Science and Practice provides a comprehensive overview of how to effectively plan, implement, and evaluate public health communication interventions.
Written in a clear and accessible style, this book:
reviews the social marketing and ecological approaches to health promotion.
examines multiple theoretical perspectives including the health belief model, social cognitive theory, the extended parallel process model, the reasoned action approach, and the transtheoretical model.
explains how to measure key theoretical construct reliably and validly.
summarizes results from seminal meta-analyses, with an emphasis on when various theories and techniques work best.
describes how to collect qualitative and quantitative data using individual and focus group interviews, survey research, and practical experimental design.
connects theory, research, and practice using real-world examples with which readers can easily identify.
Public Health Communication: Science and Practice is an excellent text for advanced undergraduate or graduate classes across a range of disciplines, and a valuable resource for practitioners and researchers interested in changing health behavior.
SECTION 1 Introduction to Public Health Communication Interventions
Chapter 1 Public Health, Health Communication, and Interventions
SECTION 2 Intervention Planning
Chapter 2 Introduction to Intervention Planning and Evaluation
Chapter 3 Social Marketing: A Consumer-Based Approach to Health Promotion
Chapter 4 The PRECEDE-PROCEED Model: An Ecological Approach to Health Promotion
SECTION 3 Theories and Models of Health Behavior Change
Chapter 5 Introduction to Theory and Meta-Analysis
Chapter 6 Health Belief Model
Chapter 7 Social Cognitive Theory
Chapter 8 Fear Appeals: The Extended Parallel Process Model
Chapter 9 The Reasoned Action Approach
Chapter 10 The Transtheoretical Model
SECTION 4 Evaluation Research Methods
Chapter 11 Individual and Focus Group Interviews
Chapter 12 Survey Research
Chapter 13 Practical Experimental Design
Index
As someone who is not especially scientifically minded, I really appreciated the real-life examples provided throughout Public Health Communication: Science & Practice. These examples gave me real perspective on language and concepts that might otherwise have confused me.
ASU Online MA Student
Public Health Communication: Science & Practice is easy to read, thoughtfully organized and well structured. The tables and models are very helpful to solidify understanding. The content felt extremely thorough and I expect to return to the book as a valued resource--not only for understanding health care interventions but also for research methods.
ASU Online MA Student
I greatly appreciated the tangible examples provided in Public Health Communication: Science & Practice. Though I am a communications professional, I struggle with comprehending much of the academic reading I have in classes--I always have. My brain simply doesn't "tick" that way, and I'm forced to read paragraphs over and over to fully absorb the information beyond the big words. I am a very visual person by nature and need detailed explanations when getting my information in readings. The consistent use of examples and detailed explanations made the readings a breeze!
ASU Online MA Student
Overall, Public Health Communication: Science & Practice was very easy to read and understand for a newcomer like myself who has no background or experience in public health communication. The author uses an educational (yet conversational) style that does not speak over the reader's head and actively encourages the desire to continue on.
ASU Online MA Student
I really appreciated how well-organized each chapter in Public Health Communication: Science & Practice is. Definitions are provided at the start of each section; many examples are given and explained; the clarity of the conceptual and operational definitions as well as examples of how they would be measured in a survey item.
ASU Online MA Student
I absolutely loved Public Health Communication: Science & Practice! I enjoyed learning how health communication relates to many different business and marketing concepts. Much of the content was familiar to me, just used in a different context. I enjoyed the chapter on the Social Cognitive Theory and learning the different research methods pertaining to health communication.
ASU Online MA Student
I had the online version of Public Health Communication: Science & Practice and I actually enjoyed it! It made taking notes very easy and keeping things all together. The book itself was very straightforward and didn't give you the feel that you were reading a textbook.
Online MA Student
Public Health Communication: Science & Practice is the most practical book and everything is explained clearly, evidently and in simplistic manner.
Online MA Student
Public Health Communication: Science & Practice is well-organized and written at a level that was easy to understand for someone with little background in this subject.
Online MA Student
Public Health Communication: Science & Practice is a great book. I often struggle with theories, but this textbook was well designed and easy to understand and apply.
Online MA Student
Ebook
$40.00
ISBN 9781792482045
Details Electronic Delivery EBOOK 180 days