RETURN TO SEARCH RESULTS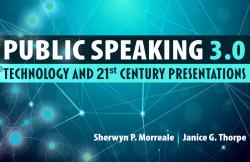 Public Speaking 3.0 is a turn-key, online course package that covers the scope of introductory public speaking and speech formation. It is tailored to the learning styles of today's students - concise enough to be comfortable using on a smartphone or tablet, but comprehensive enough to provide ample content and application for class.
Module 1: Understanding Communication and Public Speaking
Module 2: Preparing Your Speech Competently
Module 3: Presenting Your Speech Competently
Module 4: Speaking to Inform
Module 5: Speaking to Persuade
Module 6: Speaking at Work and Other Settings
Module 7: Visualizing Your Presentation
Module 8: Designing Your Presentation
Module 9: Creating Presentation with Technology
Module 10: Delivering Digital and Virtual Presentations
Feedback from a recent Peer Review:
"Fully modernized approach to teaching communication. I like the whole presentation of the book. It is refreshingly brief. It moves pretty briskly. I love the tech focus."
"I really like the topics selected and that the information is streamlined. Everything is uniform and laid out in an easy-to-read format, very concise and not repetitive. It does not gloss over anything, yet it does not linger too long on any one concept or topic. It is different in terms of the shorter paragraphs and many pictures. I think the tables and pictures mixed into the chapter(s) help keep students engaged."
"Students will really appreciate the straightforward manner in which the text is written, the examples, and relevant material. The writing style uses terms and concepts today's student can relate to. Students enjoy a multimedia approach to learning and the videos, worksheets, etc. help to reinforce the topics. I think this is definitely a step above other publications out there and the book I have used in years past."
"I like how the author uses simplicity to help those students who get lost when trying to grasp new concepts. I find it engaging because there is a mix of tables, quotes, and writing to break concepts up."
"Again, I enjoyed the variety of activities as well as having things embedded and easily accessible to students. The worksheet/activities are especially helpful so students can insert their own information about their topics."
Website
$115.76
ISBN 9781792492976
Details KHPContent 180 days