RETURN TO SEARCH RESULTS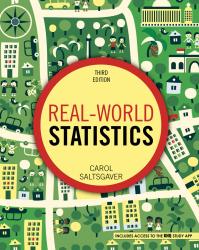 Real-World Statistics: In-Person Version
Author(s): Carol Saltsgaver
Edition: 3
Copyright: 2021




Details: Print Prod w/KHQ | 180 days |
Real-World Statistics was written for all college majors who have completed at least an intermediate algebra as well as a geometry course. The text contains many examples and exercises from a wide variety of statistical applications, making it appropriate for many different disciplines.
Real-World Statistics:
Exposes and engages students in introductory statistics using real data
Develops statistical literacy and critical thinking skills to help students better understand today's data-driven world.
Real-World Statistics features:
Technology – specifically, the TI-83/84® series calculators.
Frequently Used Formulas – organized by chapter for quick reference.
Group Activities – incorporates concepts learned in each chapter.
Margin Notes – including Try-Its, Key Points, Reminders, and Calculator Steps.
Answers to Selected Exercises – all odd numbered exercises are given so students can check their comprehension of the material.
PART 1: DESCRIPTIVE STATISTICS
Chapter 1 Introduction to Statistics
Chapter 2 Summarizing and Graphing Data
Chapter 3 Numerically Summarizing Data
Chapter 4 Probability
Chapter 5 Probability Distributions
Chapter 6 The Normal Distribution
PART 2: INFERENTIAL STATISTICS
Chapter 7 Confidence Intervals and Sample Sizes
Chapter 8 Hypothesis Testing: Mean and Proportion
Chapter 9 Inferences: Two Populations
Chapter 10 Correlation and Regression
Print Package
$130.20
ISBN 9781792467059
Details Print Prod w/KHQ 180 days