RETURN TO SEARCH RESULTS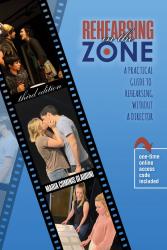 Rehearsing in the Zone: A Practical Guide to Rehearsing without a Director
Author(s): Maria Cominis Glaudini
Edition: 3
Copyright: 2020




Details: Print Prod w/KHPContent Code | 180 days |
New Third Edition Now Available!
Rehearsals can be challenging without a director. Students are required to rehearse independently with their scene partner but often not taught the tools of how to rehearse.
Without a leader, actors often don't know what to accomplish in rehearsal and end up accomplishing nothing or at best telling each other what to do.
Maria Cominis Glaudini's Rehearsing In The Zone is the actor's road map to independent rehearsal. Each Zone provides tool to prepare for rehearsal and goals to achieve in rehearsal.
Partners will learn how to respectfully allow each other to explore their choices without judgment or contradiction and work collaboratively through specificity and concentration. Prepare, practice and take ownership of your work.
Discover pre-rehearsal preparation tools.
Use time efficiently and establish a work ethic
Apply technique (any acting technique)
Gain confidence with a strong point of view
Eliminate actor conflicts
Implement strong character-driven choices from the beginning
Find rehearsal an exciting and creative place to discover
Also, teachers will:
Find students more prepared
Raise the level of the class
Reduce potential student conflicts
Eliminate resistance
This edition includes an online companion that demonstrates Zone work and helps students visualize how to approach the various Zone rehearsals in process.
Rehearsing in the Zone 1st edition was reviewed in 2015 in Methods Journal.
INTRODUCTION
PART I: PROCESS
CHAPTER 1 FOUNDATION & TERMS
Training, A Brief History of Modern Acting, American Training Inspired by Stanislavski, The Physical World of Acting, Key Terms
CHAPTER 2 PRE-REHEARSAL PREP
The Rules & Agreements, Pre-Rehearsal Meeting, Rehearsal Agreement, Rehearsal Log, To Rehearse or Not to Rehearse..., Choosing Material, Reading the Play
CHAPTER 3 THE REHEARSAL ROAD MAP
The Road Map, The Zone, Intangible Tools, Rehearsing bit by bit, beat by beat, Zone 1 Meaning, Obstacles, Action, First Read of the Play, Exercise 1, Zone 1 Rehearsal Goals, Preparation between Rehearsals, Relationship Exploration, Zone 2 Relationship to Place and Partner, Second Reading of the Play, Exercise 2, Zone 3 Inviting Character, Third Reading from the Character's Point of View, Exercise 3 Ponder the play as the person you Play, Character Narrative, Questions that Build Character, Walk and Talk, Application of the Zone, Zone Flow Chart, Fear
CHAPTER 4 PRACTICE
Open Scenes for Practice, Setting the Set, Workshop and Feedback, Need To Speak/Memorization, Guided Discussion, Relationship Exercises, Work of Art, There was a Man/There was a Woman Exercise, The Moment Before, The Objective Worksheet, Action & Archetypal Gesture, There is no Life, Where's the Heat?, Awaken your Centers, Improvisation, Shove/Hug Exercise, Troubleshooting, One Fry at a Time, What Am I Looking For?
CHAPTER 5 FROM ZONE TO PERFORMANCE
Opening Night & Beyond, Rejection
PART II: THE PROFESSION
CHAPTER 6 PROFESSIONAL PROTOCOL
Nudity, Fight Scenes, Sobriety, Auditions, Performance Protocol
CHAPTER 7 PROFESSIONAL RELATIONSHIPS
Building a Team, Teacher/Coach, Casting Director, Agents & Associates, Managers, Producers/Writers, The Director, The Actor
CHAPTER 8 PROFESSIONAL PERSPECTIVE
Interviews: Mark Ramont, Brian Dykstra, Brian George, Skyler Zurn, Mariko Ballentine, Brian Kite, Svetlana Efremova
CHAPTER 9 AFTERWORD
BIBLIOGRAPHY
Rehearsing in the Zone: A Practical Guide to Rehearsing without a Director is an easy-to-read concise and well-worded guide to understanding how to build a character. It is also a guide to professional comportment as a actor - knowing that is important for acting students to know for whatever job they choose.
Marnie Andrews - State University of New York at Albany
Rehearsing in the Zone is a brilliant guide. Actors get more accomplished in a 20 minute rehearsal using this technique than I have ever seen. It explores the core concepts of text analysis and turns them into action in the rehearsal.
Christopher Shaw, Assistant Professor of Theatre Practice in Acting and Directing at USC School of Dramatic Arts
Rehearsing in the Zone is an essential tome for any actor or acting teacher wishing to instill in their craft the highest rehearsal standards.
Hugh O'Gorman, Professor and Head of Performance at California State University Long Beach
Print Package
$33.06
ISBN 9781524994600
Details Print Prod w/KHPContent Code 180 days