RETURN TO SEARCH RESULTS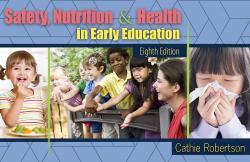 Safety, Nutrition and Health in Early Education
Author(s): CATHIE ROBERTSON
Edition: 8
Copyright: 2021
New Eighth Edition Now Available!
Safety, Nutrition and Health in Early Education explores early childhood safety and nutrition in a variety of facets, including indoor and outdoor safety, emergency procedures, nutrition and food safety, as well as a chapter on holistic wellness in early childhood education. Topics such as diversity and development ensure that students receive a well­rounded understanding of the material in this interactive, online book.
Written in a grounded approach by an author that is in today's classrooms, Safety, Nutrition and Health in Early Education:
features Reality Check vignettes that address current issues that have an impact on the well being of children. They bring an in-depth approach to some of the more critical areas affecting children and early childhood education environments today.
​integrates Case in Point vignettes throughout each chapter so that students can "observe" stories based on real-life events in culturally diverse settings.
promotes learning and comprehension through What Would You Do? boxes located within the text to allow students an opportunity to reflect on how the information might pertain to their work and career situations.
is interactive! Videos, assessments, learning objects, and more are available to all students and adopting instructors.
Section One: A Holistic Environmental Approach to Wellness in Early Childhood Education
Chapter 1: A Holistic Environmental Approach to Healthy Development in Early Childhood Education
Section Two: Safety in Early Childhood Education
Chapter 2: Creating Safe Environments
Chapter 3: Indoor Safety
Chapter 4: Outdoor Safety
Chapter 5: Emergency Response Procedures
Section Three: Nutrition in Early Childhood Education
Chapter 6: Basic Nutrition for Children
Chapter 7: Protecting Good Nutrition for Healthy Development
Chapter 8: Providing Good Nutrition for Diverse Children
Chapter 9: Menu Planning and Food Safety
Section Four: Health in Early Childhood Education Environments
Chapter 10: Tools for Promoting Good Health in Children
Chapter 11: Preventing Illness through Infection Control
Chapter 12: Promoting Wellness and Healthy Development through Supportive Health Care
Chapter 13: Providing for Special Health Care Needs
Section Five: Current Issues in Early Childhood Education Safety, Nutrition, and Health
Chapter 14: Child Maltreatment
Chapter 15: Fostering Good Mental Health and Emotional Well-Being in Children
Website
$103.32
ISBN 9781792453267
Details KHPContent 180 days