RETURN TO SEARCH RESULTS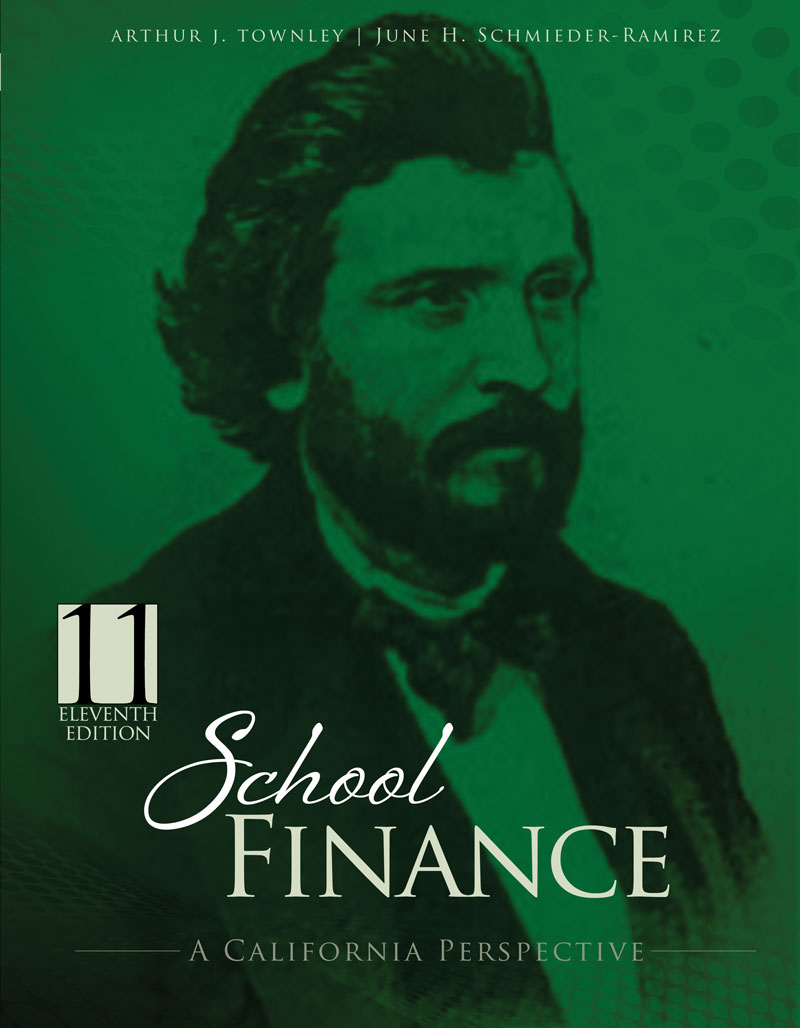 Details: Print Prod w/Ancillary Site | 180 days |
California school finance resembles quantum physics in that both are extremely complex. California school finance has endured tremendous upheaval in the last three decades. Meeting the educational needs of an increasing and diverse student population remains a major challenge for the citizens of this state.
School Finance: A California Perspective:
Illuminates a path through the thicket of financial terms and presents the subject in a straightforward way.
Examines the history of school finance in California and the evolving environment of education in the state.
Presents the roles of the Chief Business Official (CBO) and essential information regarding revenues, fund accounting, income and expenditures, projections, and audits.
Discusses the wide-ranging responsibilities of the CBO: transportation, maintenance and operations, food services, and facilities.
Includes coverage of school site budgeting and fiscal management of student body organizations.
Written and designed with today's student in mind, School Finance: A California Perspective includes pedagogical features such as a list of key terms and review questions in each chapter. In addition, a workbook, masters of overhead transparencies, and PowerPoint outlines are provided to adopting instructors and students.
CHAPTER 1 Financing Education in an Atmosphere of Change
Introduction
Debates and Dilemmas in School Finance
Widely Accepted Concepts
School Finance Issues Under Debate
Looking Ahead
Summary
Key Terms
Discussion/Essay Questions

CHAPTER 2 History of California School Finance
Introduction
Student Population
Second Half of the 20th Century & Early 21st Century
1968—Serrano v. Priest
1972—Senate Bill 90
1977—Assembly Bill 65
1978—Proposition 13
1979—Gann Limit
1983—Senate Bill 813
1984—Proposition 37: California State Lottery
1988—Proposition 98
1990—Proposition 111
1991—Assembly Bill 1200: School District Accountability
1996—Senate Bill 1777: Class Size Reduction
1997—Senate Bill 1468: Average Daily Attendance Accounting
1997—Senate Bill 376: Standardized Testing and Reporting (STAR) Program
1998—Proposition 227: Bilingual Education
1999—Assembly Bill 1600: Charter Schools Funding
1998–2003—Governor Davis
1999—Morgan-Hart Class Size Reduction
1999—Teacher Peer Assistance and Review Program (PAR)
1999—High School Proficiency Examination
2000—Proposition 20: Cardenas Textbook Act of 2000
2000—Proposition 38: Schools of Choice (The Voucher Initiative)
2000—Proposition 39: General Obligation Bonds
2002—Proposition 49: After-School Education and Safety
2003–2010—Election of Schwarzenegger
2010—Election of Brown
2010—Senate Bill X5.1—Common Core Standards
2012—Proposition 30—Temporary Tax to Fund Education
2013—ASSEMBLY BILL 484: California Assessment of Student Performance and Progress (CAASPP)
2014—Election of Jerry Brown
2016—Proposition 55—Extension of Proposition
Summary
Key Terms
Discussion/Essay Questions

CHAPTER 3 California Education: Challenges and Opportunities
Introduction
Control of California Public Schools
Financial Condition of the State and Its People
Resources Allocated to Education
Increase in State Population
Student Achievement
Class Size
Common Core Standards
California Assessment of Student Performance and Progress (CAASPP)
Virtual Teaching/Learning
Charter Schools
Special Education
Facilities
Teacher Shortage and Recruitment
Summary
Key Terms
Discussion/Essay Questions

CHAPTER 4 Role of the Chief Business Officer
Introduction
Title and Preparation
Duties and Responsibilities
Getting Started
Summary
Key Terms
Discussion/Essay Questions

CHAPTER 5 Managing the Budget
Introduction
The State Budget Calendar
The District Budget Calendar
The District Educational Plan
Basic Legal Requirements Governing Budget Development
State Emergency Loans and AB 2756
Fiscal Crisis and Management Assistance Team (FCMAT)
Interim Financial Reports
Fiscal Advisors
Characteristics of Ineffective Budgeting
Community and Individual School Participation
Summary
Key Terms
Discussion/Essay Questions

CHAPTER 6 School District Revenue
Introduction
Taxes
Classification of Taxes
Consumption Taxes
Determining District Income
Revenue Estimation for the Next Year
Local Control Funding Formula (LCFF)
Local Control Accountability Plan (LCAP)
Other Sources of Revenue
Donations
Revenue Accounts
Summary
Key Terms
Discussion/Essay Questions

CHAPTER 7 Program Budgeting and Expenditures Accounting
Introduction
Incremental or Historical Budgeting
Planning-Programming-Budgeting System (PPBS)
Zero-Based Budgeting (ZBB)
Site-Based Budgeting (SBB)
History of the California School Accounting Manual
California's Account Code Structure
School District Expenditures
Objects of Expenditure
Summary
Key Terms
Discussion/Essay Questions

CHAPTER 8 School District Funds
Introduction
Public School Accounting
Classification and Types of Funds
Governmental Funds
Proprietary Funds
Fiduciary Funds
Capital Assets
Summary
Key Terms
Discussion/Essay Questions

CHAPTER 9 School Site Budgeting
Introduction
Budget Worksheet
School Site Accounting
Using Excel to Build and Monitor the School Site Budget
Organizing the Site Level Budget
Summary
Key Terms
Discussion/Essay Questions

CHAPTER 10 The Annual Audit
Introduction
Required Audit
Fees for the Audit
Audit Guidelines
Objectives of the Audit
Audit Procedures
General Fund
Student Body Fund
Auditor's Opinion
Value of the Audit Report
Management Recommendations—Theft/Embezzlement
Audit Committee
Summary
Key Terms
Discussion/Essay Questions

CHAPTER 11 Student Body Organizations
Introduction
Legal Status and Purpose of Student Body Organizations
Establishment of Student Body Organizations
Student Activities
Student Body Activity Cards
Athletics
Other Fund-Raising Activities
Student Fees
Managing Income of a Student Body Organization
Chart of Accounts and Financial Reports
Auditing of Student Body Accounts
Summary
Key Terms
Discussion/Essay Questions

CHAPTER 12 Transportation
Introduction
The History of School Bus Transportation
Policy Issues
Financing School Transportation
Computerized School Bus Routing
Auditing Bus Routes
Preventive Maintenance
Student Safety and Seat Belts
States Test-Drive Hybrid School Buses
Transportation Fees
Fees for Extracurricular Activities
Contracting for Service
Summary
Key Terms
Discussion/Essay Questions

CHAPTER 13 Maintenance and Operations
Introduction
Definitions
Board and District Policies
Organization
Maintenance and Operations Budget
Summary
Key Terms
Discussion/Essay Questions

CHAPTER 14 School Food Service Program
Introduction
History of the Food Service Program
Young People's Eating Habits: A Call for Change
Good Nutrition and Student Achievement
National School Lunch Program (NSLP)
California's School Lunch Program
School Breakfast Program (SBP)
District Reimbursement
Hungry Children—Free and Reduced-Price Meals
Organization of the Food Service Program
Keeping the School Food Service Program Self-Supporting
Personnel Costs
Supplies and Equipment
Energy Costs
Donated Commodities
Increased Revenues
Trends in Food Services
Summary
Key Terms
Discussion/Essay Questions

CHAPTER 15 Facilities: A California Challenge
Introduction
History of Funding for Facilities
Finance and Facilities
School Building Lease/Purchase Programs—Leroy Greene Funds
Local Funding Options
Coalition for Adequate School Housing (CASH)
Summary
Key Terms
Discussion/Essay Questions

References
Selected School Finance Terms
Index
Print Package
$137.81
ISBN 9781524952822
Details Print Prod w/Ancillary Site 180 days