RETURN TO SEARCH RESULTS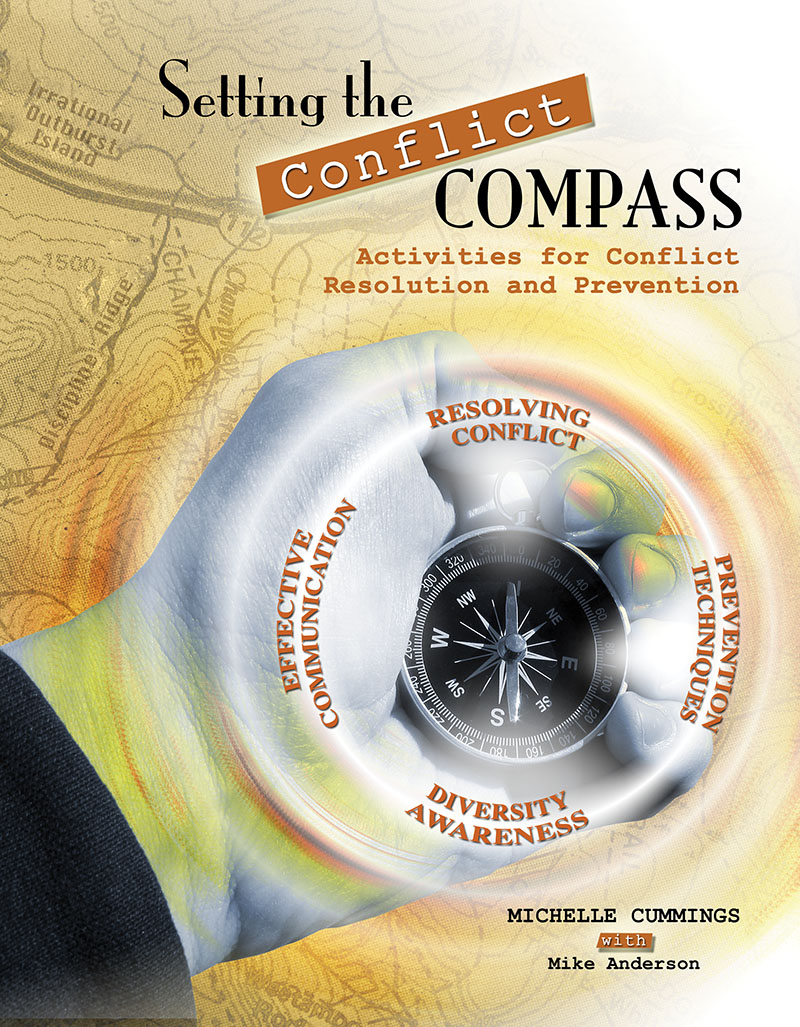 Setting the Conflict Compass: Activities for Conflict Resolution and Prevention
Author(s): Michelle Cummings, Mike Anderson
Edition: 1
Copyright: 2010
Pages: 368
CHOOSE FORMAT ?
Details: Electronic Delivery EBOOK | 180 days |
A compass can be used in many ways, from telling which way is North to finding hidden treasure or following an unmarked path over wilderness terrain. In any conflict, you have to get your bearings on what happened in order to best determine how to resolve the issue. Conflict is inevitable, and despite how many of us feel about it, conflict is not always a bad thing.
The activities in Setting the Conflict Compass: Activities for Conflict Resolution and Prevention will help participants become aware of how they perceive and deal with conflict, while gaining tools and techniques for increasing collaboration, resolving disputes, and ultimately finding win/win resolutions to workplace and classroom conflicts. Having strategies for dealing with conflict are essential to healthy relationships. Setting the Conflict Compass explores these strategies and present a framework for conflict management. This framework can be described as an experiential learning approach for helping individuals understand the influence of contextual factors and perspective in conflict resolution and management.
Setting the Conflict Compass: Activities for Conflict Resolution and Prevention examines and discusses:
Assumptions about Conflict
Experiential Activities for Conflict Resolution
Recognizing Others' Points of View
Methods to Resolve and Diminish Conflict
Perspective Awareness
Diversity Awareness
PART 1 Compass Basics: What is Conflict?
Characteristics of a Compass; Characteristics of Conflict
Compass Parts and How They Relate to Conflict
Finding a Bearing
Following a Bearing
PART 2 Strategies for Dealing with Conflict
PART 3 The Importance of Processing and Debriefing
The Value of Reflection
Participant-Directed Processing
Metaphoric Objects and Images
Trust the Process
PART 4 Quotes on Conflict
PART 5 Conflict in Corporate Environments
Activities
Arrows
As If
The Body Part Debrief - Embodying Conflict
Bright I Blurry I Blind
Buzz Ring
Change Debrief
Conflict Resolution Thumball
Cross the Line
Grizzli Grapefruit
Helium Pole
Knot Exchange
Lines of Communication
Pocket Processor
Rejection
Rope Puzzles
The Other Side
Traffic Debrief
Trash Can Conflict
UFO Ball-The Value of Connection
Wagon Wheels
What a Way To Meet
Who Am I?
Your Piece of the Puzzle
Zoom or Re-Zoom
PART 6 Conflict Activities in a Youth Environment
Sequencing
Sample 8-Week Sequence
Research Findings
Bullying Prevention
What Is Bullying?
Why Do Kids Bully Other Kids?
Are You Being Bullied?
What Not to Do if You Are Bullied
Do You Bully Others?
References
Best Practices in Bullying Prevention
Activities Section
All Mixed Up
As If
Award-Winning Drama
Batten Down the Hatches
The Blind Men and the Elephant
Blind Shapes
Body Part Debrief
Building Our House
Buzz Ring-Talking in Circles
Change Debrief
Choice and Consequences
Conflict Animals
Conflict Resolution Thumball
Consensus Cards
Consensus Thumbs-Thumbs Up, Thumbs Sideways, Thumbs Down
Conversation Cards©
Cross the Line
Deck of Card Debrief
Do You? Does It?
Dots
Dramatic Conflict Resolution
Finger Jousting
Get Into Your Groups
Handshakes and Greetings
Helium Pole
How Many Hands
In Group Out Group
Inside Outside Cards
The Interview
Laughing Matters
Marriage
Mix and Match Emotion Stencils
Mood Dudes
Multicultural Picture Cards
Old Maid or Old Mister
Pocket Processor
Pokerface
Privilege
Push Off
Rejection
Rope Puzzles
Sharing Connections
Stop 'N Go Poly Spots
The Other Side
The Sneetches
Traffic Debrief
UFO Ball-The Value of Connection
Unfair Game
We're All Different
Zoom or Re-Zoom
References and Suggested Reading
Ebook
$31.15
ISBN 9781465238702
Details Electronic Delivery EBOOK 180 days