RETURN TO SEARCH RESULTS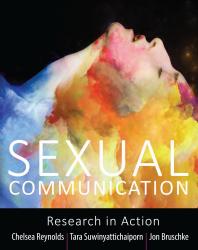 Details: Print Product |
Sexual Communication: Research in Action provides a comprehensive introduction to sexual communication topics and terminology.
The textbook reviews scholarly findings about sexual communication in interpersonal relationships, in mass media, and online. Readers will learn about sexual communication from historical, legal, social scientific, and critical theoretical perspectives.
Written by three colleagues at California State University, Fullerton, the authors center progressive discourses about sex. Each chapter resists stigma while using peer-reviewed research to affirm women, queer folks, and others with marginalized identities.
Filled with practical advice for students of every age, Sexual Communication: Research in Action will support readers' personal development and demonstrate that sexual communication can be fun.
Chapter highlights include conversations about:
•The production of Western knowledge about sex. Judeo-Christian values and deviance in sex research.
•Sex positive communication before, during, and after sex. Active consent, STI prevention,and contraceptive use.
•Improved sexual satisfaction. Advice for flirting, sexting, and pillow talk in hookups and long-term sexual relationships.
•Sharing sexual desires, fantasies, kinks, and taboo sexual interests. Monogamous and non-monogamous relationship structures.
•Sexual health communication, including communication about pregnancy, miscarriage, and abortion. Sex therapy and sexual mindfulness. Sex across the lifespan.
•Legal and ethical frameworks for sex work, pornography, and abortion rights. Policy responses to sexual violence.
Chapter 1: Paradigms of Sexual Communication Research
Chapter 2: The History of Sexual Communication Research
Chapter 3: Sex Education and Sexual Debut
Chapter 4: Sexual Orientation and Gender Identity
Chapter 5: Understanding Sexual Desire
Chapter 6: Communication Before Sex
Chapter 7: Communication During Sex
Chapter 8: Communication After Sex
Chapter 9: Sexual health Communication
Chapter 10: Relationship Structures
Chapter 11: "Deviant" Sexual Behaviors
Chapter 12: Sexual Media and Computer-Mediated Communication
Chapter 13: Adult Entertainment and Sex Work
Chapter 14: Consent, Abuse, and Relational Violence
Chapter 15: Legal Frameworks and Campus Regulation
Chapter 16: Sexual Well-Being and Sexual Satisfaction
Print
$101.90
ISBN 9798765706060
Details Print Product