RETURN TO SEARCH RESULTS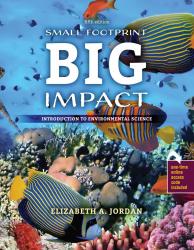 Small Footprint, Big Impact: Introduction to Environmental Science
Author(s): Elizabeth Jordan
Edition: 5
Copyright: 2019




Details: Print Prod w/KHPContent Code | 180 days |
Small Footprint Big Impact is an accessible, user-friendly, resource for non-majors who are interested in examining environmental problems and solutions. The book accelerates major environmental issues to the forefront of discussion and offers insight that enables students to think critically and make informed decisions about such issues. It comprehensively and candidly examines issues from both a scientific and social justice standpoint. Students learn the impact of human consumption and lifestyle on the planet, and who bears the brunt of it. The book also offers suggestions for pro-action in advocating for the environment to empower and encourage readers to become responsible stewards of their environment.
Chapter 1 Introduction to Environmental Science
Did You Know?
What Is Environmental Science?
Terms to Know
What Is Life?
Life—Small to Large
History of Environmental Philosophy
A Brief History of Conservation in the United States
Why Study Environmental Science?
How Do Scientists Evaluate the Environment?
Major Causes of Environmental Problems
Will History Keep Repeating Itself?
Chapter 2 A Scientific Look at Life, Atoms, Molecules, Matter, pH, and Energy
Did You Know?
Chemistry of Life
Properties of Water and pH
Acid Rain
Energy
How Do Organisms Obtain Energy?
Chapter 3 Biodiversity and Evolution
Did You Know?
Biodiversity
Factors that Influence Biodiversity
Why Protect Biodiversity?
Threats to Biodiversity
Protecting Biodiversity
Evolution
Chapter 4 Ecosystems and Energy
Did You Know?
Ecosystem Energy Flow
Chemical Cycling
H2O
Carbon
Nitrogen
Phosphorus
Sulfur
Community Interactions
Growth Curve Trends
Survivorship Trends
Chapter 5 Nonrenewable Energy
Did You Know?
Fossil Fuels
Petroleum
Natural Gas
Oil Shale
Coal
Nuclear Energy
The Impact of Nuclear Energy on Biodiversity and Human Health
How Do We Make Nuclear Energy Safer?
Are you a NIMBY?
Chapter 6 Renewable Energy
Did You Know?
Why Renewable Energy?
Solar Energy
Active and Passive Solar Energy
Wind Energy
Geothermic Energy
Impacts of Using Geothermal, Wind and Solar Energy on Biodiversity and Human Health
Water Power/Hydroelectricity
Biomass
Ways that Biomass is Converted to Energy
Impacts of Using Biomass on Biodiversity and Human Health
Algaculture
Hydrogen Fuel Cells
The Future of Renewable Energy
Chapter 7 Renewable and Nonrenewable Resources
Did You Know?
Forests
Minerals
A Dynamic Earth
The Various Plate Boundaries
Land and Soil
Land
Soil
Water
Food
Fisheries
Chapter 8 Toxins, Waste, and Pollution
Plastic
Air Pollution
Common Outdoor Pollutants
How Do We Reduce Air Pollution?
Indoor pollution
Soil Pollution
Water Pollution
How Do We Deal with Water and Soil Pollution?
Waste Management
Chapter 9 Water! Aquatic Ecosystems, Fisheries, Aquaculture, and Water Purification
Did You Know?
Water in the Ecosystem
Aquatic Habitats
Irrigation
Water Crisis
Dams
Water Purification
Chapter 10 Earth's Biomes
Did You Know?
Climate Influences Biomes
Tundra
Taiga
Deciduous Forest
Grasslands
Desert
Tropical Rainforests
Temperate Rainforests
Chaparral/Mediterranean Woodland
Climate Change Causes Biomes to Shift
Chapter 11 Bioengineering, GMOs, and Agriculture
Did You Know?
Manipulating Nature
How Does Genetic Engineering Work?
Pros and Cons of Genetic Engineering
Pros
Cons
Agriculture
Industrial Agriculture
Organic Farming
Chapter 12 Climate Change
Did You Know?
What Is Global Warming?
UNFCC
Kyoto Protocol
Paris Agreement
Who Is Responsible for Climate Change?
Earth's Atmosphere
Greenhouse Gases
Trends in Global Emissions
Pollution and Cloud-Cover Effect Global Temperatures
The Ozone Layer
Effects of Global Warming
What Do We Do about Global Warming?
Chapter 13 Conservation Biology
Did You Know?
Extinctions and the Decline of Species
CITES
Preserving Species
The Problem with Zoos and Living in Captivity
What Factors Influence the Success of Conservation?
An Ecosystem Disturbance and Succession
Chapter 14 Human Health
Did You Know?
Pathogens
Bacteria
Viruses
Fungus
Protozoa
Prions
Cancer
Other Environmental Risks
How Our Body Protects Itself from Pollution
Chapter 15 A Sustainable Planet
Did You Know?
A Growing Human Population
Demands of a Growing Population
Urbanization
Can Microcredit Help Curb Population Growth and Eradicate Poverty?
Work and Environmental Health
OSHA
NEPA
Economics and the Environment
Co-Ops
Are We Moving Toward a Global Green Economy?
Getting Involved
The World Takes Action
Sustainable Development Goals
Glossary
Print Package
$158.76
ISBN 9781792411977
Details Print Prod w/KHPContent Code 180 days