RETURN TO SEARCH RESULTS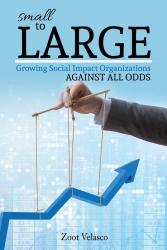 small to LARGE: Growing Social Impact Organizations Against All Odds
Author(s): Zoot Velasco
Edition: 1
Copyright: 2021
Pages: 334




Details: Print Product |
Small to LARGE: Growing Social Impact Organizations Against All Odds is the culmination of a lifetime of experience, coupled with a year of research. Author Zoot Velasco, shares knowledge from his time working for the "industry," community organizations, and colleges. The year of research shared was centered on the question of whether or not there is a common thread of best practices that allows for some organizations to grow in crisis while the majority shrink.
Introduction
Chapter 1 Financing with the Stars: The Study That Inspired This Book
What If I Told You That Everything We Believe in "Nonprofit Fundraising" Is Wrong?
As We Head into a New Recession, How Can We Do Better?
So, What Do These Organizations Have in Common?.
What Did We Learn?
Chapter 2 A Cycle of Resources
Chapter 3 Starting from Scratch
Fiscal Sponsorship
Chapter 4 NEED: Defining the Need for All
Needs Assessment Tool (Logic Model)
Chapter 5 GATHER: Gathering People to Your Cause
CureDuchenne
Social Impact Leadership
Networking
L.E.A.D
Online Social Networking
Structural Holes
Multilevel Marketing
Strategic Partnerships
Resource Mapping Instructions (Potential Strategic Partners)
In-Kind Resources
Social Enterprise/Earned Income
Endowment
Capital Campaign Ideas
Action Planning
COVID Example
Chapter 6 GATHER: Gathering Resources to Your Cause
In-Kind Donations
Government Support
Grants
Contracts
Earned Income
Fees for Service
Contracts
Social Enterprise
Individual Investment
Fundraisers
Support Groups
Corporate Investment
Strategic Partnerships
Grants
Capital Campaigns
Endowment
Chapter 7 LEAD: The Ten Universal Truths of Leadership
What Is Leadership?
Chapter 8 LEAD: Building, Managing, and Supervising Boards and Teams
Supervision
Funders and Partners
Volunteers
Staff
Boards
What Is the Job of a Board?
Board Membership Recruitment
Invigorating the Board
Our Team
Incentivizing and Building Loyalty
Troubleshooting Teams
Progressive Discipline
Immediate Termination
Progressive Mediation
Parting Ways
Management (Continued in Chapter 7)
Chapter 9 PLAN: How Planning Feeds Back to Leading and Forward to Success
Start with a Comprehensive Evaluation
Interviews
Surveys of All Major Stakeholders
Focus Groups
Reviewing Past Documentation
The Evaluation Report
SWOT Analysis
Stakeholder's Retreat
Mission Statement
Vision Statement
Values Statement
Planning Goals
Planning Objectives
After the Retreat
Chapter 10 DO: Doing the Work
A Program Design
What: The Abstract
Why: The Need
Who: The Clients and the Program Leader
How: The Narrative
Where: The Site
When: The Timeline
How Much: The Budget
Creation of New Programs
The Revamp of an Existing Program
A New Program Triggered by Evaluation
A New Program Triggered by Funding
A New Program Triggered by Planning
A New Program Triggered by Partnership
Innovation
Pitches
TED Talk Tips
PIXAR Rules of Storytelling (Abridged)
Sample Pitch
Chapter 11 TELL: Telling Our Story 175 Three Kinds of Media
Marketing Plans
Mission Statement
Logo
Goals
Appeals, Reports, and Brochures
Social and IRL Networks
Website
Press Releases
Lists and eblasts
Crowdsourcing
Crowdfunding
Site Visits
Marketing Help with Grants, Proposals, and Pitches
Aesthetics
Additional Marketing Tips
Chapter 12 GROW: Scaling Up
It Is OK to Change Course
Breadth versus Depth
Scaling Up
Partnership and the Pen
Management of Growth
Appendix A Case Studies
Appendix B Templates & Tools
Appendix C Community Organization Capacity Assessment (COCA)
Appendix D Board and CEO Responsibilities
Index
Print
$46.31
ISBN 9781792461842
Details Print Product