RETURN TO SEARCH RESULTS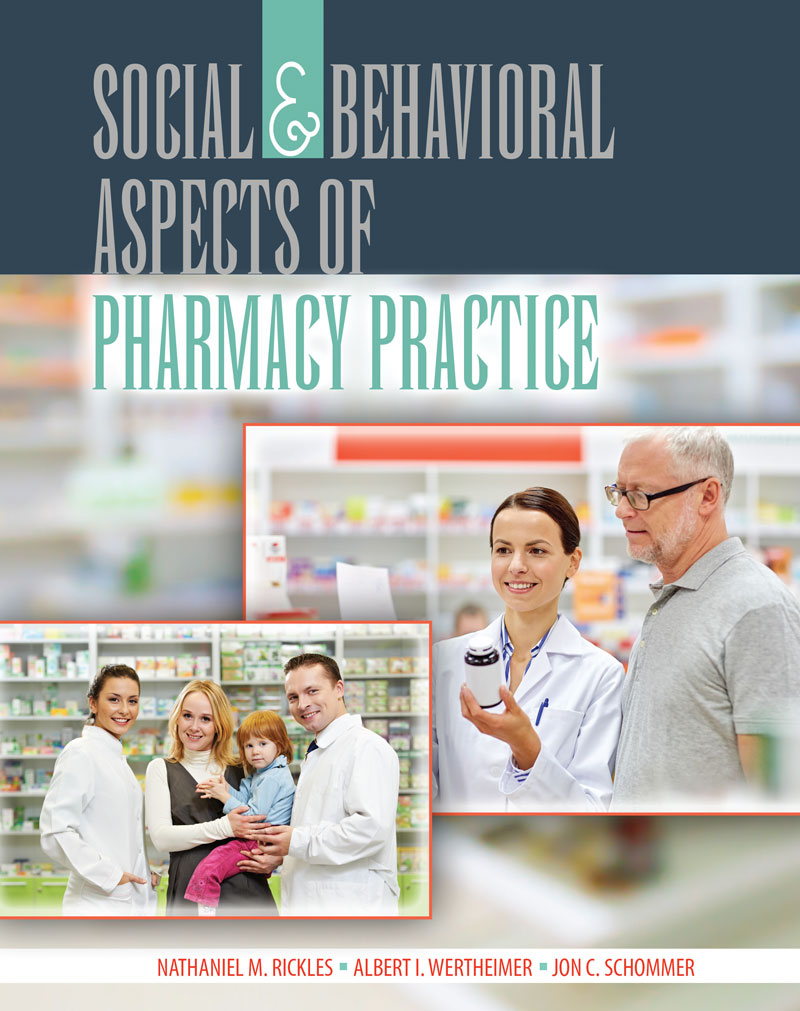 Details: Print Product Only (SA,CP, Pak, all Print) |
Social and Behavioral Aspects of Pharmacy Practice evolves around the field of medical sociology, with a more specific focus on the psychosocial aspects of medication use. With updated research findings included, a plethora of cases and theory applications allows the reader to learn modern day, real-time, pharmaceutical concepts. From analyzing perspectives on health behaviors to how pharmacy practice has fully evolved, this book engulfs the reader's mind and teaches the field from various angles.
Organized in four main parts, Social and Behavioral Aspects of Pharmacy Practice:
Describes how societal and individual behaviors intersect with health and illness behaviors.
Explores different systems and personal experiences when engaging a variety of treatment options.
Considers how the pharmacy practice has evolved and the factors affecting the delivery of specific pharmacy services.
Explains contributing factors to the structure and function of medication-use processes.
Now includes:

information on alternative health behaviors in the Behavioral Medicine Chapter.
Health and Illness chapters linking clearly back to medication use making the information more applicable to students than ever before!
more figures and tables throughout.
information on current hot topics: social aspects of tailoring drugs to patient's genetic predispositions, network theory and social interactions, social aspects of using patient/pharmacy technologies, behavioral economics, and more!
Part I Interpretation of the Health Problem and Need for Treatment
Section A Concepts of Health and illness

Chapter 1 Definitions and Meaning of Health and Illness
Chapter 2 Social Epidemiology

Section B Models and Frameworks for Health and Illness Behaviors

Chapter 3 Individual and Interpersonal Models of Health and Illness Behavior
Chapter 4 Health Services Programs: Planning and Evaluation
Part II Approaches to Resolve Health Problems
Section A Behavioral Medicine

Chapter 5 Behavioral Medicine

Section B Medication Use Services and Care

Chapter 6 Professional Socialization of Pharmacists
Chapter 7 Organizational Change

Section C Treatment Planning and Participation

Chapter 8 Prescribing Behavior
Chapter 9 Engaging Patients in Healthcare and Decision-Making: Understanding and Facilitating the Process
Chapter 10 Interpersonal Communication for Patient Care
Chapter 11 Pharmaceutical Care: Incorporating the Needs and Perspectives of Family Careers

Section D Evaluating Patient Medication Use, Behavior, and Need for Change

Chapter 12 Psychosocial Aspects of Medication Adherence
Chapter 13 Facilitating Behavioral Change
Chapter 14 Patient-Centered Outcomes Assessment in Health Care
Part III Targeting Care of Specific Patients
Chapter 15 Children and Adolescents
Chapter 16 Medication Use Among Older Adults
Chapter 17 Death and Dying
Chapter 18 Psychosocial Aspects of Caring for Individuals with Mental Illness
Chapter 19 Cultural Influences on Medication Use
Part IV System-Level Topics Involving Pharmacy Practice
Chapter 20 A Psychosocial Approach to Medication Errors
Chapter 21 Ethical Issues and the Provision of Pharmaceutical Care
Chapter 22 Networks of Care: Social Networks in Health and Care Delivery
Print
$110.25
ISBN 9781465252579
Details Print Product Only (SA,CP, Pak, all Print)