RETURN TO SEARCH RESULTS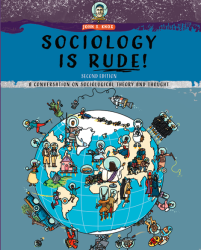 Sociology Is Rude!: A Conversation on Sociological Theory and Thought
Author(s): John Knox
Edition: 2
Copyright: 2023




Details: Print Prod w/KHQ, Student Ancillary Site | 180 days |
Sociology Is Rude!: A Conversation on Sociological Theory and Thought helps readers learn more about the foundational theories that sociology rests upon (functionalism, conflict theory, symbolic interaction); to make sense of the tools of careful sociological research; to perceive the dramatic roles of groups and organizations in society; to comprehend the social forces connected to one's family, race, ethnicity, gender, and religion; to fathom the depths and significance of life stages and the aging process; and to work out the role, power, and influence of social institutions in all human existence.
It is important to keep in mind that critical thinking is not optional when it comes to sociology. Conscientious social scientists are not afraid to ask questions about social realities and consequences, no matter how uncomfortable or annoying the topics or findings. They push against oversimplified social notions, they seek to debunk false and harmful social narratives, they question actions and ideas taken for granted, and they look beyond the façade to pinpoint factual social forces. Additionally, they are also open to persuasive evidence and analyses that challenge social conventions long established or promoted. Not surprisingly, such an approach is often considered to be rude by some people in postmodern culture.
In addition, this introduction to sociology textbook helps readers make heads and tails of the study of Sociology—from Above, from a biblical perspective by integrating Sociology from Above vignettes in each chapter.
Finally, the publication includes Voices from the Streets vignettes, links to videos and vocabulary terms for each chapter.
1 Introduction
2 Research
3 Sociological Pioneers
4 Culture
5 Socialization
6 Family
7 Religion
8 Stratification
9 Gender
10 Race and Ethnicity
11 Social Problems
12 Warfare
13 Globalism and Technology
14 Social Psychology
15 Social Work
References
Contributors
Index
Print Package
$80.00
ISBN 9798765740736
Details Print Prod w/KHQ, Student Ancillary Site 180 days