RETURN TO SEARCH RESULTS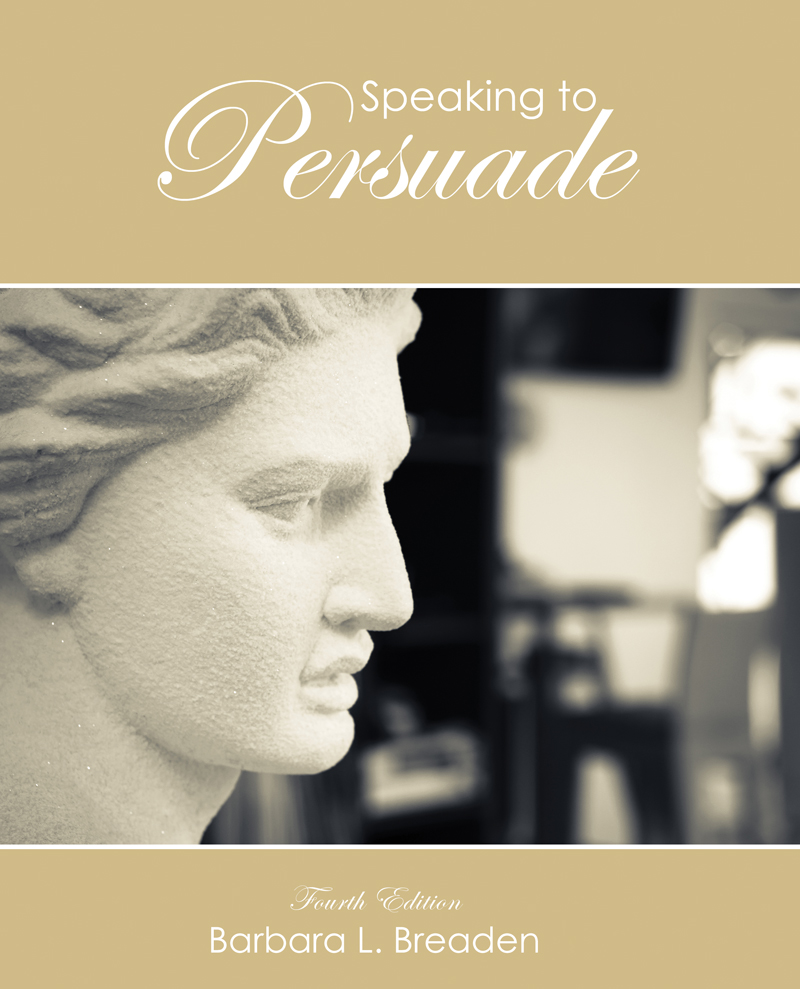 Details: Ebook w/KHQ | 180 days |
Speaking to Persuade views controversy as constructive rather than obstructive. Framing persuasion as a cooperative act based on dialectical interchange between speakers and listeners, this text provides a roadmap for achieving productive civic engagement in democratic societies, however polarized they may be.
This fourth edition again translates theory into practice, first by emphasizing invention and critical thinking to formulate ideas, and second by advancing practice in the rhetorical canons:
awakening vivid language and reliable memory to enliven speech delivery
developing reasoning and refutation skills
organizing coherent and convincing messages,
navigating political polarization, balancing inclusive speech with freedom of speech, and stimulating rigorous evidence analysis
adapting basic persuasive principles to prominent persuasive genres: sales, legal summations, public advocacy, and social commentary.
In addition, students have access to KHQ—an independent study app available on Google Play and Apple Stores—that includes customized study sections, flash cards, quizzes, explanations of incorrect answers, and an overview of personal performance.
To make the transition to the publication virtually seamless for adopting instructors, the author has developed sample syllabi, a full slate of course assignments and grading rubrics, video speech links, slide presentations, and a test bank.
As a textbook for the college persuasion course, Speaking to Persuade also serves as a self-help workbook in speech skills and as a speech-writing guide for professional speechwriters and their clients. Annotated sample speeches with online examples demonstrate how others have practiced well the art of rhetoric in an array of contexts.
PREFACE
ACKNOWLEDGEMENTS
ABOUT THE AUTHOR
Part One Perspectives on Persuasion

CHAPTER 1 THE WHYS AND WHATS OF PERSUASION
Why Persuasion?
The Importance of Persuasion
Democracy and Polarization
Benefits of Persuasion
Persuasion through Dialectic
So What Is Persuasion?
Does Persuasion Infringe on Others' Rights?
How Persuasion Differs from Force
Considering Propaganda and False Information
Authentic Persuasion and Free Will
Is Persuasion Common to All Societies?
Since You Asked . . .
The Canons of Rhetoric: Stages of Persuasive Speaking
In Summary
Theory into Practice
Oral Practice
Part Two Invention: Preparing to Persuade

CHAPTER 2 THINKING ABOUT CONTROVERSIES
Considering Controversies and Issues
What Is Worth Arguing?
When We Must Choose a Subject
Defining the Purpose
Framing the Proposition
Types of Propositions
Looking for and Using Evidence
Why Evidence?
Primary versus Secondary Sources
Sources of Evidence
The Foundational Value of Online Information
Online Resources: Academic Searches
Online Resources: General Searches
About Wikipedia
First-Hand Sources
Types of Evidence
Testimony
Examples
Facts and Data
Considering "Facts" and Disinformation
Since You Asked . . .
Evaluating Evidence
Questioning Your Evidence
In Summary
Theory into Practice
Speech Subject Brainstorm
CHAPTER 3 DISCOVERING ARGUMENTS: USING THE COMMON TOPICS
The Search for Ideas
Critical Thinking and Persuasion
The Function of the Common Topics
Putting the Topics to Use
Since You Asked . . .
Speech Preparation Checklist
In Summary
Theory into Practice
Speech Preparation Worksheet
CHAPTER 4 DISCOVERING ARGUMENTS: ANALYZING AND REPAIRING YOUR CREDIBILITY
Finding Arguments in Ethos
The Ancient View
A Contemporary Perspective
Credibility and Leadership
Credibility and Power
The Variability of Credibility
What Can We Do about Our Ethos ?
Since You Asked . . .
Ethical Considerations for the Persuasive Speaker
In Summary
Theory into Practice
Oral Practice
CHAPTER 5 ANALYZING THE AUDIENCE
Uncovering Audience Information
First Steps
Cautions and Considerations
The Opportunity for Audience Polling
Constructing an Audience Questionnaire
The Likert Scale
The Semantic Differential
Fixed Alternative Questionnaires
Open-Ended Questionnaires
What to Do with Audience Information
About Me, the Speaker
About Experience
Since You Asked . . .
About Knowledge
Audience Attitude and the Proposition
Modifying the Proposition
In Summary
Theory into Practice
Sketching out the Audience Survey
Part Three Organization and Style: Speech Construction
CHAPTER 6 PERSUASIVE SPEECH ORGANIZATION
Core Structure
Organization and the Proposition
Propositions of Fact
Propositions of Value
Propositions of Policy
Dealing with Counterarguments
Looking over the Outline
Introductions and Conclusions
Introductions
Attention
The Primacy of Stories
Connect Audience and Issue
Since You Asked . . .
Proposition
Signposts
Conclusions
Review
Recall the Proposition
Reinforce Audience Connection
In Summary
Theory into Practice
Oral Practice
Outline Worksheet for Speech of Fact
Outline Worksheet for Speech of Value
Outline Worksheet for Speech of Policy
CHAPTER 7 REASONING AND REFUTATION
The Nature of Reasoning
Forms of Reasoning
Deduction
Induction
Causal Reasoning
Comparison
Vulnerable Reasoning and Fallacies
Faulty Reasoning
Types of Fallacies
Hasty Generalization, Stereotyping, and Ad Hominem Arguments
Appeals to Conformity, Popular Sentiment, and Tradition
False Cause
Faulty Comparison
Building a Refutation
Since You Asked . . .
In Summary
Theory into Practice
CHAPTER 8 VERBAL STYLE IN PERSUASIVE SPEAKING
Language and Emotional Appeal
The Persuasive Use of Imagination
Why Images?
Metaphor and Persuasion
Finding Places for Images
Since You Asked . . .
Creating Persuasive Images
Terminology and Audience Identification
Ultimate Terms and Persuasion
Political Correctness, Inclusiveness, and Ultimate Terms
Inclusiveness
Inclusive Speech and Freedom of Speech
Finding a Middle Ground
Gender and Ultimate Terms
Other Perspectives on Usage
In Summary
Theory into Practice
Oral Practice
Part Four Memory and Delivery: Speech Presentation
CHAPTER 9 MEMORY: ENHANCING RECALL AND REDUCING ANXIETY
On the Accuracy of Memory
How Memory Works
Memory in Speechmaking
Memory and Invention
Mnemonic Devices
Thinking and Talking about the Subject
Grouping Arguments by Common Topics
Memory and Organization: Preparation Outlines versus Speaking Outlines
Using Notes
Additional Memory Aids
Since You Asked . . .
Memory and Speech Anxiety
In Summary
Theory into Practice
CHAPTER 10 DELIVERY DECISIONS
The Dominance of Delivery
The Persuasive Persona
Demonstrating Attitude through Dress
Demonstrating Attitude through Voice
Demonstrating Attitude through Body Action
A Word about Delivery Style
Since You Asked . . .
Climate Control
Physical Context
Time
Space
The Visual Aid Decision
Presentation Software
Managing Data
Presentation Choices
Presentation Guidelines
When to Use Visual Aids
What Can Go Wrong: A Word of Caution
In Summary
Theory into Practice
Speech Delivery Checklist
Part Five Beyond the Speech: Adaptation and Analysis
CHAPTER 11 ADAPTING THE PERSUASIVE SPEECH
Speeches of Advocacy
Social or Political Advocacy
Sales Persuasion
Sales as Dialectic
Considering Form
The Elevator Pitch
Informal Debate
The Public Deliberation Option
Is There Value in Debate?
A "Culture of Debate"
Establishing Format
Isolate the Proposition
Define the Terms of the Proposition
Determine Affirmative and Negative Positions
Rebuttal
Speeches of Interpretation, Accusation, and Defense
Social Commentary
Legal Persuasion
Since You Asked . . .
In Summary
Theory into Practice
CHAPTER 12 ASSESSING SPEECH EFFECTIVENESS
Listening to Persuasion
Why Is This Person Speaking?
Recognize and Evaluate the Speaker's Reasons
Recognize and Analyze Emotional Appeals
Evaluating Ethics
Framing and Phrasing a Useful Critique
How to Critique
Since You Asked . . .
What Makes a Good Speech?
In Summary
Theory into Practice
Critique for a Generic Persuasive Speech
Critique for a Fact or Value Persuasive Speech
Critique for a Policy Persuasive Speech
Glossary
Index
Barbara Breaden's book is an excellent blend of theory and practice. She uses engaging examples and challenging exercises to illustrate and reinforce key principles. Speaking to Persuade is more than a "how to" manual. Not only does it detail ways to become a successful practitioner, it underscores the importance of persuasive discourse in a democracy. This thoughtful and pragmatic approach to persuasion is a must-read for anyone interested in communication.
Dr. Molly A. Mayhead
Western Oregon University
Barbara Breaden has written a scholarly, accessible, and timely introduction to ethical persuasive speaking. Breaden grounds her approach in the traditional canons of rhetoric while including up-to-date social scientific research and current theory development in persuasion. In this era of "alternative facts" and "fake news," it seems increasingly important for students to learn how to develop and deliver sound ethical persuasive messages. Speaking to Persuade is a huge step in the right direction!
Jay Frasier
Lane Community College
Given that we all seek to persuade, Speaking to Persuade makes the argument we should speak to persuade. From its earliest roots in antiquity up to the current moment, from abstract theory to the rough and tumble of the real world, persuasive speaking is the means to the ends we all desire: to be heard, to move hearts and minds, and to change the world.
Dana Rubin
Leadership Communication Strategist and Founder, VizibilityLab, New York, NY
Barbara Breaden's Speaking to Persuade is the book instructors should assign for students in 100-200 level persuasion courses offered by community colleges, small liberal arts colleges, and STEM courses concerned with persuasion. The book joins 2000 years of research on the theory of persuasion to the development of persuasive skills. Speaking to Persuade is a well-written, approachable, and practical introduction to the art and science of persuasive presentations.
David A. Frank, Ph.D., Professor of Rhetoric
Clark Honors College, University of Oregon
If you have any intention of going into consulting, sales, or any field where you may have to get people to follow your lead, Speaking to Persuade is a terrific resource.
Steven Bernard Zwickel
University of Wisconsin-Madison College of Engineering
Ebook Package
$81.04
ISBN 9781524984021
Details Ebook w/KHQ 180 days