RETURN TO SEARCH RESULTS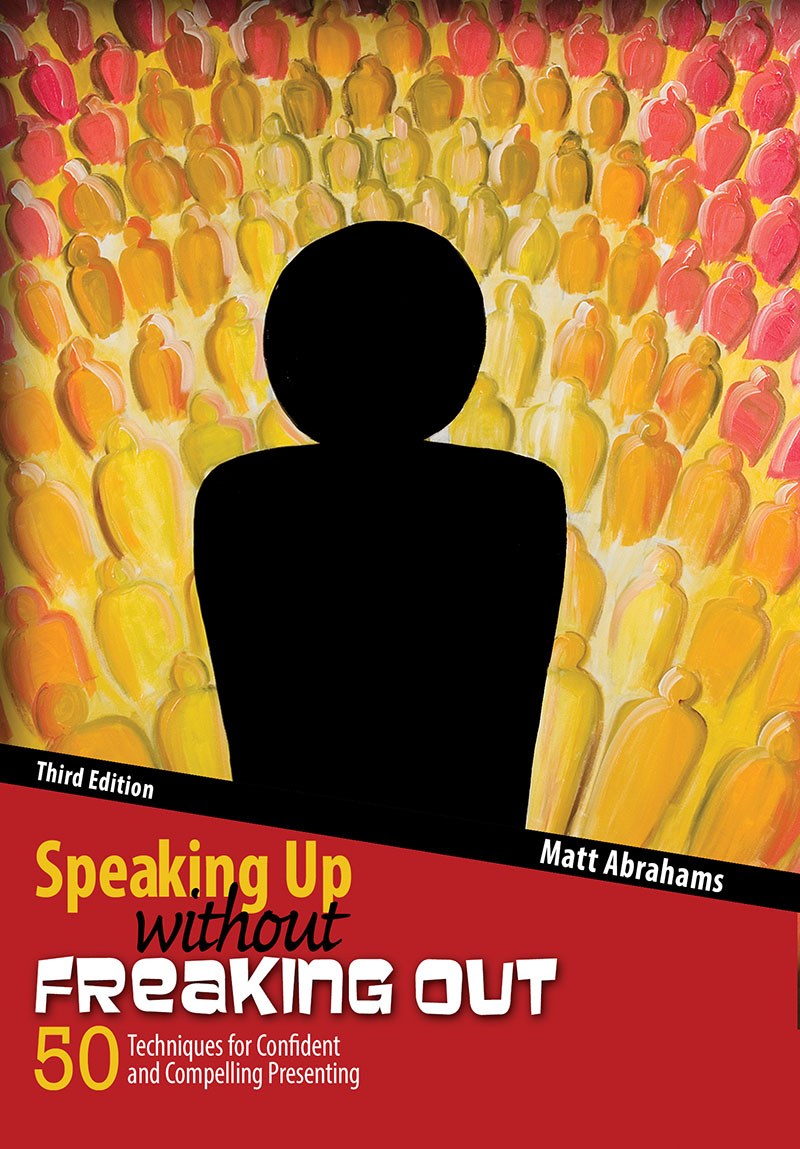 Speaking Up without Freaking Out: 50 Techniques for Confident and Compelling Presenting
Author(s): Matthew Abrahams
Edition: 3
Copyright: 2016
Pages: 178






Details: Electronic Delivery EBOOK | 180 days |
50 Scientifically-Supported Techniques to Create More Confident and Compelling Speakers
Speaking Up without Freaking Out by Matt Abrahams is an easy-to-read book containing over 50 anxiety management techniques that are based on scientifically supported theory and evidence that will help you become a more confident and compelling communicator regardless of where you present -- on stage, in a meeting or virtually.
Confident and compelling presenting involves a complicated mix of physiological and psychological factors. In the 3rd edition, this book provides specific guidance and opportunities to practice developing the skills you will need to feel more comfortable speaking in front of others in an engaging way.
This book is divided into seven chapters:
Chapter 1 describes speaking anxiety, how it shows itself, its negative effects, and how you can appear less nervous.
Chapter 2 describes the main theories about why people feel anxious when speaking and, importantly, offers you several specific techniques to reduce speaking anxiety and bolster your confidence.
Chapter 3 details how you can use your nonverbal presence and voice to not only appear more confident, but also feel more confident.
Chapter 4 how focusing on your audience's needs and connecting your content to them can reduce your anxiety and make your presentations more compelling.
Chapter 5 provides techniques and guidance on how to structure your presentations to better help you and your audience remember what you present.
Chapter 6 teaches how to resist and stop some self-defeating beliefs and behaviors that perpetuate and exacerbate anxiety.
Chapter 7 addresses how to put all this information to work for you by creating your own Anxiety-Management Plan.
A glossary is included that will explain the more technical, scientific terms found in the book, along four appendixes
Appendix A suggests techniques for managing anxiety that comes from audiences not immediately present for your speech (e.g., conference calls and web presentations).
Appendix B gives additional suggestions for those who are not native English speakers.
Appendix C addresses how to feel confident during a question and answer session, while providing clear and concise answers.
Appendix D discusses two specific techniques/approaches to motivating and persuading your audience.
Preface

How to Use This Book

Chapter 1 Confidence: Explanation and Manifestations

Chapter 2 Anxiety Sources and Solutions

Chapter 3 Presenting Confidently

Chapter 4 Audience Focus and Connection

Chapter 5 Structure and Story

Chapter 6 Behaviors to Avoid

Chapter 7 Putting It All Together

Appendix A: The Audience Beyond the Room

Appendix B: Anxiety Management for Non-native Speakers

Appendix C: Commanding the Room with Confidence during Q&A

Appendix D: Framing and Action Forces: Effective Persuasive Practices

Appendix E: Anxiety-Management Techniques

Glossary

Bibliography

About the Author

Index
Ebook
$11.96
ISBN 9781465290786
Details Electronic Delivery EBOOK 180 days