RETURN TO SEARCH RESULTS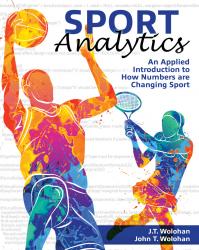 Sport Analytics: An Applied Introduction to How Numbers are Changing Sport
Author(s): J.T. Wolohan, John Wolohan
Edition: 1
Copyright: 2021
Pages: 382




Details: Print Prod w/Ancillary Site | 180 days |
Sport Analytics: An Applied Introduction to How Numbers are Changing Sport provides readers with an analytical foundation required to do sport analytics and an overview of the canonical methods in sport analytics.
To achieve the methods simultaneously, Sport Analytics introduces the most important in sport analytics and teaches the practical and theoretical considerations for these methods: from OPS, to DVOA, to weighted plus-minus and beyond. The text covers all four major American sports, soccer, individual sports and eSports.
J.T. Wolohan and John T. Wolohan's Sport Analytics: An Applied Introduction to How Numbers are Changing Sport:
• is intended for undergraduate or introductory graduate level sport analytics students or a sport-specific supplement to the education of economics, data science, computer science, mathematics, or engineering students.
• is the only publication that discusses the metrics that are critical to an analytical understanding of contemporary sport.
• combines discussion of these metrics with practical examples in R of how to calculate these metrics, providing readers with valuable data analysis skills.
• emphasizes the metrics in context and teaches the game-theoretic aspects and backdrop of sport analytics—understanding sport analytics through the lens of decision making theory.
• is student friendly! The publication integrates objectives, case studies, review questions, programming exercises, key terms, and the source code repository for metrics covered in the book.
Acknowledgments
Preface
About the Authors
CHAPTER 1 Introduction to Sport Analytics
CHAPTER 2 Statistical Programming and Sport Analytics
CHAPTER 3 Pythagorean Wins and Probability in Sport Analytics
CHAPTER 4 Baseball and Sport Analytics
CHAPTER 5 Hockey, Basketball and Sport Analytics
CHAPTER 6 Football and Sport Analytics
CHAPTER 7 Monte Carlo Methods in Sport Analytics
CHAPTER 8 Game Theory in Sport Analytics
CHAPTER 9 Optimization Methods in Sport Analytics
CHAPTER 10 Deep Learning in Sport Analytics
CHAPTER 11 Player Projection Systems in Sport Analytics
CHAPTER 12 Ranking and Rating Systems in Sport Analytics
CHAPTER 13 Analytics and Sports Business
CHAPTER 14 Analytics and Esports
CHAPTER 15 Sports Gambling and Fantasy Sports
CHAPTER 16 Legal & Ethical Considerations
Glossary
Index
Print Package
$88.20
ISBN 9781792453977
Details Print Prod w/Ancillary Site 180 days