RETURN TO SEARCH RESULTS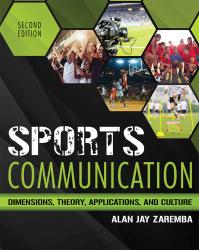 Sports Communication: Dimensions, Theory, Applications, and Culture
Author(s): Alan Jay Zaremba
Edition: 2
Copyright: 2022
Pages: 288




Details: Print Product |
New Second Edition Now Available!
Sports Communication: Dimensions, Theory, Applications, and Culture by Alan Jay Zaremba examines the interdependent relationships between sport and communication that affect culture, economic, politics, team performance, educational systems, and social interaction.
The NEW Second Edition of Sports Communication: Dimensions, Theory, Applications, and Culture:
discusses communication principles and theoretical underpinnings as they relate to sports contexts, crisis communication in sports, communication within team contexts, and communicating with the public.
uses recent events to describe the effects of sports communication on society, history, and culture, ethical issues for sports communicators, and the impact of fandom on society.
features Sport Communication Prompts, Fair or Foul: Questions of Ethics, First Person Narratives, and Practitioner Perspective vignettes that encourage readers to learn from experts and empowers them to apply content to real-life situations.
Promotes critical thinking! The publication integrates prompts at the beginning of each chapter to encourage students to take and defend a position on a sports communication issues.
Is interactive! The package includes SportsChats prompts that encourage readers to respond online to sports communication questions and react to classmates' articulated positions.
Is up-to-date! References to popular books and cases are included throughout the publication – including content from Megan Rapinoe, Carli Lloyd, John Feinstein, Julie DiCaro, and Larry Olmstead.
Preface
Acknowledgments
About the Author
Chapter 1 Sports Communication: An Introduction
What is Sports Communication?
A First Look at Scope
Sports Communication in Everyday Life
Compartmentalizing The Field
Sports Communication within Contexts
Effects of Sports Communication
Ethical Issues
Influences of New and Conventional Media
FAIR OR FOUL: Questions of Ethics
Social Construction Theory
TEST YOURSELF: Apply the Principles
Defining Sport
Physical Activity
Rules for Competition
An Outcome not Predetermined
Book Organization
Text Features
Chapter Conclusion—Take-Aways
Questions
PRACTITIONER PERSPECTIVE: Kendall Coyne
FIRST PERSON: Stimulation vs. Catharsis Theory
Chapter 2 Sports Communication: Focusing the Lens
Introduction
Defining Communication in Sports Contexts
Communication During Sporting Events
Transmission and Constitutive Perspectives
TEST YOURSELF: Apply the Principles
A Manageable Definition
Communication is a NonLinear Process
Communication can be Intentional or Unintentional
Communication can be Verbal or Nonverbal
Sending a Message is Not Synonymous with Communicating
Communication is Different from Understanding
Understanding the Process
FAIR OR FOUL: Questions of Ethics
Elements
The Concept of Noise
Inadequate Communication Skill Sets
Biases, Cultural Ignorance, and Interpersonal Tension
Selectivity and Cognitive Dissonance
Credibility and Ethos
Serial Transmission
Recurring Counsel
Know When to Communicate
Know your Audience
Develop and Craft a Message
Select a Method
Develop a Feedback Channel
Improve Communication Skill Sets
Accurate Identification of Stakeholders
A Sports Communication Model
Chapter Conclusion—Take-Aways
Questions
PRACTITIONER PERSPECTIVE: Rich Coren
FIRST PERSON: Selective Perception
Chapter 3 Communication and Sports Organizations
Introduction
Systems Theory
What is a theory?
What is Systems Theory?
What are the Key Principles of Systems Theory?
FAIR OR FOUL: Questions of Ethics
Feynman's Theory and Upward Networks
Applying Systems Theory Tenets
UNC Academic Fraud Case
How systems theory applies
Applying Feynman's Theory
Transmission vs. Constitutive Perspectives
TEST YOURSELF: Apply the Principles
Chapter Conclusion—Take-Aways
Questions
PRACTITIONER PERSPECTIVE: Dave Echols
FIRST PERSON: Avatar
Chapter 4 Crises, Sports, and Communication
Ten Sports Crises
What Is a Sports Communication Crisis?
What Do Crisis Communicators Do?
Myths about Crisis Communication
Myth 1—Crisis Communication is solely a Reactive Activity
Myth 2—Crisis communication is synonymous with media relations. The primary activity of crisis communicators involves dealing with the media
Myth 3—Crisis Communication is about spin control. The job of the crisis communicators is to spin a negative situation so it seems like a positive one
Myth 4—Crisis communication involves communicating only to external audiences
Myth 5—Crisis Communication is a Linear Activity
Key Crisis Communication Terms
Stakeholders
Stakeholder theory
Legitimacy
Image Repair Theory
Four Rs
Stability
Instructing Information
Nuggets/messages
Halo and Velcro Effects
Supporting Behavior and Honoring the Account
TEST YOURSELF: Apply the Principles
Image Repair Approaches
Attack
Bolstering
Compassion
Compensation
Corrective Action
Defeasibility
Denial
Differentiation
Displacement
Intimidation
Minimization
Mortification
Penitential and Causal Apologies
Suffering
Transcendence
FAIR OR FOUL: Questions of Ethics
Best Practices
Use Accommodation vs. Avoidance Approaches
Address the Crisis
Avoid Stonewalling
Stay on Message and Respond Quickly
Remember your internal stakeholders
Anticipate potential responses and be prepared to respond
See the Media as a Potential Ally
Be Proactive and Plan Intelligently
Chapter Conclusion—Take-Aways
Questions
PRACTITIONER PERSPECTIVE: Peter Roby
FIRST PERSON: Somehow a Crisis
Chapter 5 Teams, Communication, and Culture
Introduction
Nonsummativity
What Affects Nonsummativity?
Conflict
Emotional Intelligence
Climates, Cultures, and Communication
Supportive Cultures
Defensive Cultures
Functionalists and Interpretivists
TEST YOURSELF: Apply the Principles
Leadership and Coaching
Theory X and Theory Y
The Hawthorne Studies and Team Communication
The Jackass Fallacy
Critical Theory and Manufactured Consent
Organizational Identification and Concertive Control
FAIR OR FOUL: Questions of Ethics
Four Cs
Chapter Conclusion—Take-Aways
Questions
PRACTITIONER PERSPECTIVE: Hilary Witt
FIRST PERSON: Theory X and Y and Sports
Chapter 6 Sports Communication and Social Issues
Sports, Communication, Activism, and Culture
TEST YOURSELF: Apply the Principles
Handshakes and Flashbulbs
Mexico City
Battle of the Sexes and Beyond
Sports Communication and Title IX
Wimbledon has sent me a message: I'm only a second-class champion
Three Prongs, Facilities, and Scholarships
King and Riggs—A Seminal Moment
Presence On The Air And In The Booth
FAIR OR FOUL: Questions of Ethics
Marathon Bombing
Chapter Conclusion–Take-Aways
Questions
PRACTITIONER PERSPECTIVE: Sarina Morales
FIRST PERSON: July 4 International Tournament
Chapter 7 Ethics and Sports Communication
Introduction
Covering Up
Physical Play
Ice Hockey Great
Rain Delay
Illegal Activities
Website Decision
Guarantee Games
Let's Go For Lunch
The Spread
Obstacles to Ethical Decision-Making
Using Instrumental vs. Value Rationality
Employing Euphemisms for Unethical behavior
Rationalizing Unethical Behavior
Normalizing Deviance
Recurring Counsel
FAIR OR FOUL: Questions of Ethics
Do the Right Thing: Using Ethical Tools
The Categorical Imperative
Utilitarianism
Veil of Ignorance
Situational Ethics
Aristotle's Golden Mean
TEST YOURSELF: Apply the Principles
Chapter Conclusion—Take-Aways
Questions
PRACTITIONER PERSPECTIVE: Bob Donnan
FIRST PERSON: Hedons and Dolors
Chapter 8 Fandom and Sports Communication
Introduction
Why are there Fans?
Fanatics
Tomkins, Burke, and Wann
Affect Theory
Identification
TEST YOURSELF: Apply the Principles
Participatory Culture
Fever Pitch
Eustress
FAIR OR FOUL: Questions of Ethics
Communicating with Fans
Hypodermic Needle Theory; Uses And Gratification Theory
Talk Radio: The Toy Department and Candy Store
PRACTITIONER PERSPECTIVE: Paul Rogers
Recurring Counsel: How Should Teams Communicate With Fans
Substantive Content is Essential
Platforms
Beyond the Game
Inclusiveness
Chapter Conclusion—Take-Aways
Questions
FIRST PERSON: 2–1 in 5083
Chapter 9 Communicating with the Public
Introduction
Steps and Missteps
Using Social Media
What exactly is Social Media?
Social Media Coaching
TEST YOURSELF: Apply the Principles
Sports Information Directors
PRACTITIONER PERSPECTIVE: Matthew Houde
Movies, Documentaries, Books, and Sites
Agenda Setting and Framing
Academic Research
International Journal of Sport Communication
Communication and Sport
Critical Studies in Media Communication
International Journal of Sports Marketing and Sponsorship
Journal of Sports Media
Journal for the Study of Sports and Athletes in Education
Journal of Applied Sport Psychology
Journal of Sport and Social Issues
Journal of Sport Behavior
Communication Quarterly
Sociology of Sport Journal
Sports Marketing Quarterly
Sport in History
Sport Journal
The Sports Lawyers Journals
FAIR OR FOUL: Questions of Ethics
Chapter Conclusion—Take-Aways
Questions
FIRST PERSON: Swimsuit Edition
References
Index
Print
$90.00
ISBN 9798765706664
Details Print Product