RETURN TO SEARCH RESULTS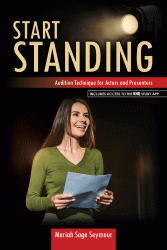 Start Standing: Audition Technique for Actors and Presenters
Author(s): Mariah Sage Seymour
Edition: 1
Copyright: 2022




Details: Print Prod w/KHQ | 180 days |
Start Standing is a book for new and experienced actors and presenters who wish to deliver more impactful and engaging performances. Mariah Sage Seymour offers a progressive approach to acting and the auditioning. She begins with type and branding guidance, helping students identify their natural attributes and strengths so they can be used to their advantage.
This book provides immediate techniques for selecting, analyzing, physicalizing, activating and personalizing scenes and monologues. Students learn how to approach any scene or monologue using clear, repeatable steps.
Start Standing is for anyone interested in a comprehensible approach to acting or who wishes to audition more confidently and successfully. This book is also for anyone who is interested in becoming a more self-assured and memorable public speaker by using the tools of the actor.
Introduction
Chapter 1 Type & Branding: Who are You as an Artist?
Chapter 2 How to Choose Winning Material for Yourself
Chapter 3 Where to Start/What to Focus On
Chapter 4 Space, Shape, and Tempo
Chapter 5 Why Is that Line in All Caps?
Chapter 6 Actions and Tactics: What Do I Want? How Do I Get It?
Chapter 7 How to Analyze a Scene
Chapter 8 How to Turn Your Analysis Into Behavior
Chapter 9 Making the Most of Your Monologue
Chapter 10 Entrances, Introductions, Exits, and Transitions
Chapter 11 Headshots, Acting Resumes, and Audition Attire
Chapter 12 How to Handle "Tell Me about Yourself" and Other Interview Questions
Chapter 13 Ten-Minute Warm-up
Chapter 14 Be More Memorable
Chapter 15 How To Find Auditions In Your Area
Chapter 16 How to Create A Self-Taped Audition
Chapter 17 Checklist: Ten Things You Can Do to Make Your Audition Rise to the Top
Print Package
$46.20
ISBN 9781792494222
Details Print Prod w/KHQ 180 days