RETURN TO SEARCH RESULTS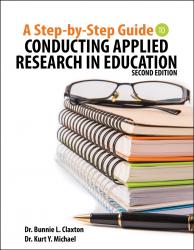 Details: Print Prod w/Ancillary Site | 180 days |
A Step-By-Step Guide to Conducting Applied Research in Education guides candidates through the doctoral process as candidates work to solve a specific problem or improve a practice in a real educational setting. Applied research incorporates a multimethod design that includes both qualitative and quantitative data collection and analysis strategies. Doctoral candidates conduct applied research to make improvements through practical research that involves participants who are knowledgeable about the problem. Educators may use applied research methods to improve academic achievement, assessment outcomes, social skills, challenging behaviors, teaching skills, teacher retention, or a variety of other problems prevalent in education today. This book provides the step-by-step process from beginning to end.
This title is part of a Step-By-Step book series designed to teach educators how to conduct research in an educational setting. This approach guides the educator through the entire research process from developing a research topic to presenting a final manuscript.
Every edition includes a step-by step-approach to conducting research using a template. This series of books includes a detailed explanation of each step, examples of each step, videos to further understanding, chapter highlights to reinforce critical information, and quiz bank questions to assess understanding. This book will lead the researcher through the research process in an educational setting from commencement to culmination.
Chapter One: Applied Research in Education
Introduction
Applied Research Defined
Reasons to Conduct Applied Research in Education
How to Conduct Applied Research
Conducting Applied Research
Conclusion
Chapter Highlights
Chapter Two: How to Write Front Matter for an Applied Research Report
Introduction
Outline of an Applied Research Report
How to Write the Front Matter
How to Write a Title Page
How to Write a Signature Page
How to Write a Table of Contents
How to Write an Abstract
How to Write the Role of the Researcher
How to Write the Permission to Conduct Research
How to Write the Ethical Considerations
Conclusion
Chapter Highlights
Chapter Three: How to Write the Introduction
Introduction
How to Write the Overview
How to Write the Organizational Profile
How to Write the Introduction to the Problem
How to Write the Significance of the Research
How to Write the Purpose Statement
How to Write the Central Research Question
How to Write the Definitions
How to Write a Summary Section
Conclusion
Chapter Highlights
Chapter Four: How to Write a Literature Review
Introduction
How to Write the Overview
How to Write a Literature Review
How to Write a Theoretical Framework
How to Write a Summary Section
Conclusion
Chapter Highlights
Chapter Five: Interviews
Introduction
Interviews
Procedures
How to Analyze Interview Data
Conclusion
Chapter Highlights
Chapter Six: Focus Groups
Introduction
Focus Groups
Procedures
How to Analyze Focus Group Data
Conclusion
​Chapter Highlights
Chapter Seven: Quantitative Surveys
Introduction
Quantitative Surveys
How to Write Quantitative Survey Prompts
How to Write Demographic Questions
How to Create a Quantitative Survey
How to Conduct Quantitative Survey Research
Procedures
How to Analyze Quantitative Survey Data
Conclusion
Chapter Highlights
Chapter Eight: Qualitative Questionnaires
Introduction
Qualitative Questionnaires
How to Write Qualitative Questionnaire Questions
How to Create a Qualitative Questionnaire
How to Conduct Qualitative Questionnaire Research
Procedures
How to Analyze Qualitative Questionnaire Data
Conclusion
Chapter Highlights
Chapter 9: Observations
Introduction
Observations
How to Conduct an Observation
How to Analyze Observation Data
How to Analyze and Report Field Notes
Procedures 140 Conclusion
Chapter Highlights
Chapter 10: Documents
Introduction
Documents
How to Conduct a Qualitative Document Analysis
Procedures
How to Conduct a Quantitative Document Analysis
Procedures
Conclusion
Chapter Highlights
Chapter 11: How to Write Findings for an Applied Research Report
Introduction
How to Write the Overview
Interview Findings
Focus Group Findings
Quantitative Survey Findings
Qualitative Questionnaire Findings
Observation Findings
Documents Findings
Quantitative Document Analysis
How to Write a Discussion of the Findings Section
How to Write a Summary Section
Conclusion
Chapter Highlights
Chapter 12: How to Write Recommendations for an Applied Research Report
Introduction
How to Write the Overview
How to Write the Recommendations
How to Write the Roles and Responsibilities of Stakeholders
How to Write the Resources Needed
How to Write the Timeline
How to Write the Summary Section
Conclusion
Chapter Highlights
Chapter 13: Applied Research Report Example
Chapter 14: Applied Research Report Template
Glossary of Terms
References
Appendix A: Applied Research Report Outline
Appendix B: Individual Scholarly Works Template
Appendix C: Comparative Scholarly Works Template
Appendix D: Interview Data Collection Template
Appendix E: Themes and Codes Table
Appendix F: Frequency of Codes and Themes Template
Appendix G: Focus Group Data Collection Template
Appendix H: Observation Table Template
Appendix I: Qualitative Document Analysis Template
Appendix J: Quantitative Document Analysis Template
Index
A big part of my success in this class was Conducting Applied Research in Education. I felt like I finally have a book that actually relates to the course, it is easy to read and gives the examples for me to follow. The book painted the picture for me to follow as I worked each week. I feel confident because I now have more than a general idea of what the final product will be and can get my mind focused on my final project.
Student
Print Package
$73.00
ISBN 9781792456640
Details Print Prod w/Ancillary Site 180 days