RETURN TO SEARCH RESULTS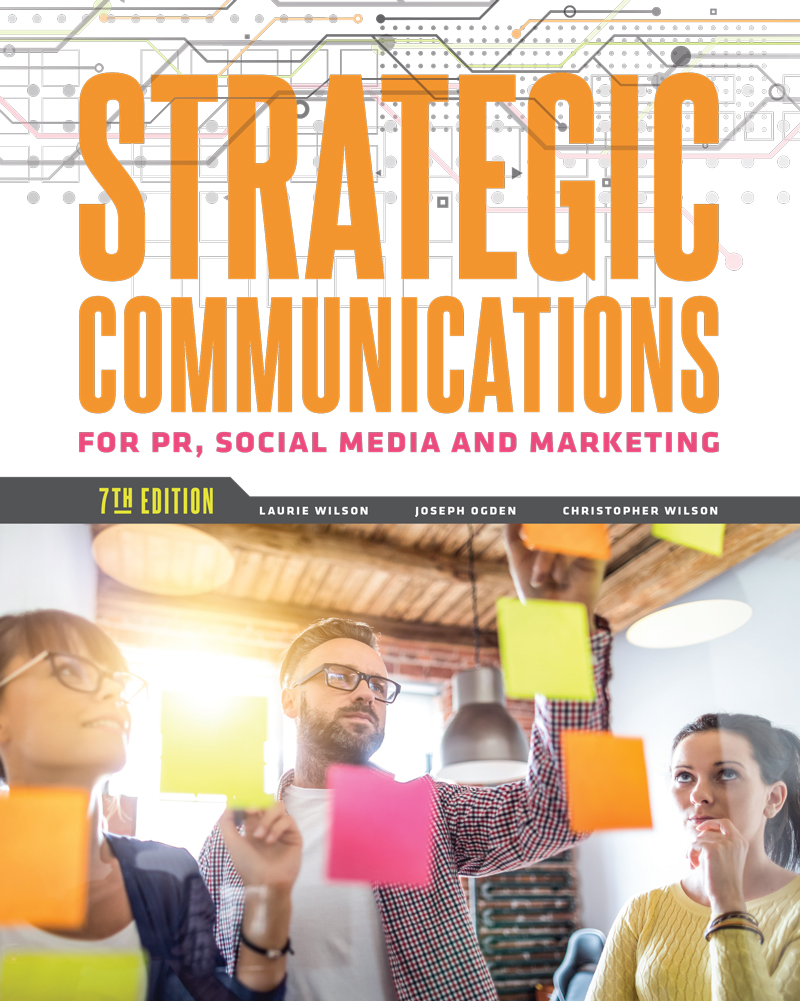 Details: Ebook w/KHQ | 180 days |
The rapid advance of social and digital media technology has changed the landscape of communication and business entirely.
One of the top-selling PR strategy and campaign texts for several years, the new seventh edition of Strategic Communications for PR, Social Media and Marketing features a new author that brings fresh perspectives, current trends and practices in communications, marketing and business.
Strategic Communications for PR, Social Media and Marketing by Laurie J. Wilson, Joseph D. Ogden, and Christopher E. Wilson:
Integrates an updated and revised Strategic Communications Matrix that focuses research, including stakeholder research, on results that provide a foundation for communication efforts.
Presents an updated and expanded treatment of social and digital media – such as using social media for message amplification rather than just message delivery and how to leverage social media based on analytics.
Includes a revised chapter on RFPs with a broader look at cultivating new business through business pitches.
Is Contemporary! The publication includes new examples, and case studies taken from today's headlines. In addition, Tips from the Pros and Matrix Applied vignettes provide advice from successful communication practitioners.
Preface
Acknowledgments
About the authors
Chapter 1 THE RELATIONSHIP-BUILDING APPROACH TO COMMUNICATIONS
LEARNING IMPERATIVES
TRUST
Most trusted groups
An integrated approach
Tips from the pros: Strategic communications
WHAT DOES IT MEAN TO BE "STRATEGIC?"
THE DEVELOPMENT OF COMMUNICATIONS AND PR FUNCTIONS IN BUSINESS
SOCIETAL TRENDS
BUILDING RELATIONSHIPS WITH PUBLICS
Mini case: Target
THE STRATEGIC COMMUNICATIONS MATRIX
SUMMARY
EXERCISES
8-Step Strategic Communications Matrix
REFERENCES AND ADDITIONAL READINGS
Chapter 2 PUBLIC INFORMATION AND PERSUASIVE COMMUNICATION
LEARNING IMPERATIVES
BEHAVIOR: THE ULTIMATE OBJECTIVE
Shaping attitudes to change behavior
The influence of mental shortcuts on behavior
Using behavior to segment publics
PUBLIC OPINION
Opinion formation
Tips from the pros: Shaping public opinion
The phenomenon of perception
Opinion leaders
Measuring public opinion
METHODS OF PERSUASION
Using mass media to influence publics
Persuasive appeals
Mini case: Arby's
Research-based persuasion efforts
The ethics of persuasion
SUMMARY
EXERCISES
REFERENCES AND ADDITIONAL READINGS
Chapter 3 COMMUNICATIONS RESEARCH METHODS
LEARNING IMPERATIVES
THE ROLE OF RESEARCH IN COMMUNICATION
RESEARCH METHODS AND THE DIVERSITY OF TOOLS
SECONDARY RESEARCH
Organizational research
Internet and library research
External organizations
Media research
PRIMARY RESEARCH
Focus groups
Copy and product testing
Psychographic studies
Social media analytics
Tips from the pros: Beyond sampling error
Survey research and opinion sampling
Mini case: Just Born Quality Confections
SUMMARY
EXERCISES
REFERENCES AND ADDITIONAL READINGS
Chapter 4 STRATEGICALLY APPLYING RESEARCH AND SOCIAL INSIGHTS
LEARNING IMPERATIVES
Strategic Communications Matrix: Research background, situation analysis and core problem/opportunity
BACKGROUND
Matrix applied: Research background, situation analysis and core problem/opportunity
Stakeholder research
Identifying self-interests
Identifying opinion leaders
Mini case: KOA
Tips from the pros: Advice for the datacentric communicator
Assessing relationships
SWOT analysis
SITUATION ANALYSIS
CORE PROBLEM OR OPPORTUNITY
SUMMARY
EXERCISES
REFERENCES AND ADDITIONAL READINGS
Chapter 5 SETTING GOALS AND OBJECTIVES
LEARNING IMPERATIVES
THE MATRIX APPROACH TO PLANNING
Strategic Communications Matrix: Action planning goal and objectives
Matrix applied: Writing goals and objectives
Establishing goals
Identifying objectives
Informational versus motivational objectives
Tips from the pros: Differentiating between goals and objectives
SUMMARY
EXERCISES
REFERENCES AND ADDITIONAL READINGS
Chapter 6 CREATIVITY AND BIG IDEAS
LEARNING IMPERATIVES
CREATIVITY
Knowing what will stick
Creativity and strategy
Strategic Communications Matrix: Action planning big idea
Marrying creativity and strategy
Breaking habits
Brainstorming and ideation
Mini case: WestJet
Tips from the pros: Stoking creativity for award-winning ideas
Observing and seizing opportunities
Giving yourself permission
Overcoming fear
Creative environments and people
BIG IDEAS
What is a big idea?
Matrix applied: Big idea
Crafting big ideas
Slogans, tag lines and hashtags
Generating big ideas
Mini case: Tobacco Free New York State
Executing big ideas
A big idea at HP
SUMMARY
EXERCISES
SOLUTION TO SHALLCROSS TEST
REFERENCES AND ADDITIONAL READINGS
Chapter 7 KEY PUBLICS AND AUDIENCES
LEARNING IMPERATIVES
Public versus audience
Objective-focused
Strategic Communications Matrix: Action planning key publics
DETERMINING KEY PUBLICS
Tips from the pros: Breaking through in B2B PR
Segmenting publics
Matrix applied: Selecting key publics
Intervening publics
Plan each public separately
Mini case: Johnson & Johnson
SUMMARY
EXERCISES
REFERENCES AND ADDITIONAL READINGS
Chapter 8 MESSAGES, STRATEGIES AND TACTICS
LEARNING IMPERATIVES
MESSAGE DESIGN
Primary messages
Secondary messages
Essential factors
Strategic Communications Matrix: Action planning messages, strategies and tactics
Delivering messages
STRATEGIES
Informational versus motivational strategies
Tips from the pros: Massaging your message
Choosing strategic channels
Mini case: Zyrtec
How channels help focus your tactics
Declining importance of mass media channels
New technologies and the internet
Citizen journalism and blogs
Social media and the way we connect
Tips from the pros: Building a successful blog
TACTICS
Tactics as strategic tools
The difference between strategies and tactics
A diversity of tactics
Highly personal and interactive
Mini case: Taco Bell
Segmented and moderately interactive
Mass-produced mass media
Sponsored content and social responsibility
Other considerations in selecting tactics
Matrix applied: Message design, strategies and tactics
CREATING INDIVIDUAL TACTICS
Strategy briefs
SUMMARY
EXERCISES
REFERENCES AND ADDITIONAL READINGS
Chapter 9 USING SOCIAL AND DIGITAL MEDIA FOR MESSAGE AMPLIFICATION
LEARNING IMPERATIVES
WHAT IS SOCIAL MEDIA?
Scope and trends
Tips from the pros: The power of human-to-human marketing
HOW TO CHOOSE THE BEST PLATFORMS
Mini case: United Airlines
SOCIAL MEDIA CONTENT
Branded content
Supplementing traditional media
Newsjacking
SOCIAL MEDIA TOOLS
Social media listening
Social media ROI
SUMMARY
EXERCISES
REFERENCES AND ADDITIONAL READINGS
Chapter 10 CALENDARING AND BUDGETING
LEARNING IMPERATIVES
Strategic Communications Matrix: Action planning calendar and budget
CALENDARING
Mini case: Hunter PR
Matrix applied: Calendar
BUDGETING
Matrix applied: Budget
Tips from the pros: Spending your money strategically
SUMMARY
EXERCISES
REFERENCES AND ADDITIONAL READINGS
Chapter 11 IMPLEMENTATION AND COMMUNICATIONS MANAGEMENT
LEARNING IMPERATIVES
Strategic Communications Matrix: Communication implementation
MANAGING BY CALENDAR
MANAGING BY TASK LIST
Matrix applied: Implementation task list
MANAGING BY BUDGET
Tips from the pros: Moving from planning to implementation
QUALITY CONTROL
Mini case: Volkswagen
Tips from the pros: How to manage integrated campaigns
ONGOING MONITORING AND FEEDBACK
SUMMARY
EXERCISES
REFERENCES AND ADDITIONAL READINGS
Chapter 12 COMMUNICATIONS MEASUREMENT AND EVALUATION
LEARNING IMPERATIVES
EVALUATION MODELS
Mini case: Boehringer Ingelheim and Eli Lilly and Company
EVALUATION CRITERIA
Strategic Communications Matrix: Evaluation criteria and tools
Matrix applied: Evaluation criteria and tools
EVALUATION TOOLS
Tips from the pros: Measuring social media
Adding evaluation tools to calendars and budgets
SUMMARY
EXERCISES
REFERENCES AND ADDITIONAL READINGS
Chapter 13 CULTIVATING AND PITCHING NEW BUSINESS
LEARNING IMPERATIVES
REFERRALS
PITCHING NEW BUSINESS
Developing a new business pitch
Tips from the pros: Finding new business
RESPONDING TO RFPS
The RFP process
Parts of an RFP response
Tips from the pros: A strategic response to RFPs
DECIDING WHEN TO PITCH NEW BUSINESS OR RESPOND TO AN RFP
Begin with some math
Evaluate your position
IMPROVING YOUR WIN RATE
Do your research
Carefully evaluate
Make it visual
SUMMARY
EXERCISES
REFERENCES AND ADDITIONAL READINGS
Chapter 14 PRESENTATIONS
LEARNING IMPERATIVES
FOLLOWING A STRATEGIC COMMUNICATIONS APPROACH
Selecting the appropriate type of presentation
Tips from the pros: Overcoming presentation anxiety
Respecting your audience
PRESENTING YOUR PLAN
Using technology
SUMMARY
EXERCISES
REFERENCES AND ADDITIONAL READINGS
Chapter 15 ETHICS AND PROFESSIONALISM
LEARNING IMPERATIVES
A shifting landscape
ETHICS
Organizational ethics
Codes of ethics and professional standards
Personal ethics and decision-making
CHARACTERISTICS OF PROFESSIONALISM
Personal and professional development
Work habits and job performance
Personal conduct
Human relations
Tips from the pros: How to preserve your reputation
EMBRACING DIVERSITY
SUMMARY
EXERCISES
REFERENCES AND ADDITIONAL READINGS
Appendix A TIPS FROM THE PROS
Appendix B STRATEGY BRIEFS
Appendix C PROFESSIONAL CODES OF ETHICS
GLOSSARY
INDEX
The planning matrix developed by Wilson and Ogden has been a touchstone for our master's program since its launch. Recognized for our progressive, applied approach to learning, we can be confident that our curriculum is firmly anchored in strategy. Our students build this muscle by applying the matrix to multiple, real-time client challenges during their time at Georgetown, and bring this mindset to their careers.
Denise Keyes, Senior Associate Dean, Georgetown University
This is my absolute favorite textbook. I actually use it for two classes. I love it, I tell students how much I love it because it's so visual and simple. I tell them it's the only one they can't sell back!
Colleen Lemza, Professor, SUNY Plattsburgh
The matrix and strategy briefs rock! I've been told that my writing is right on message and my secret is I always use strategy briefs. They not only save me time but also make me look good.
Craig Severinsen, President and Founder, Bright Works PR
The importance of learning and applying strategic communications can't be overemphasized. It is the reason why I require each professional who joins my agency, regardless of their years of experience, to not only become intimately familiar with the Matrix but more importantly to become proficient in its practice. Strategic Communications is an essential tool for students and professionals alike.
Chris Thomas, President, Intrepid Agency
I've used Wilson and Ogden's methods in my classroom for 10 years and my graduates have continued to use their methods to gain employment and create strategic communication plans for some of the top companies in the world. My students have also used their methods in national competitions and have received over a dozen awards for their work using the Matrix process.
Farah A.C. Sanders, Utah Valley University
The hands-on approach and the matrix framework help students understand all the components and issues involved in planning successful campaigns. I have been using this textbook for the past 12 years at the graduate level as strategic analysis and a solid planning process are essential in designing campaigns for real clients as part of our service learning pedagogical model. I'm also planning to use it in a new capstone course in Public Relations and Integrated Communication Plan in our hybrid/online master's degree.
Wanda Del Toro, Professor, Universidad del Sagrado Corazón, San Juan, Puerto Rico
Ebook Package
$73.50
ISBN 9781524999025
Details Ebook w/KHQ 180 days