RETURN TO SEARCH RESULTS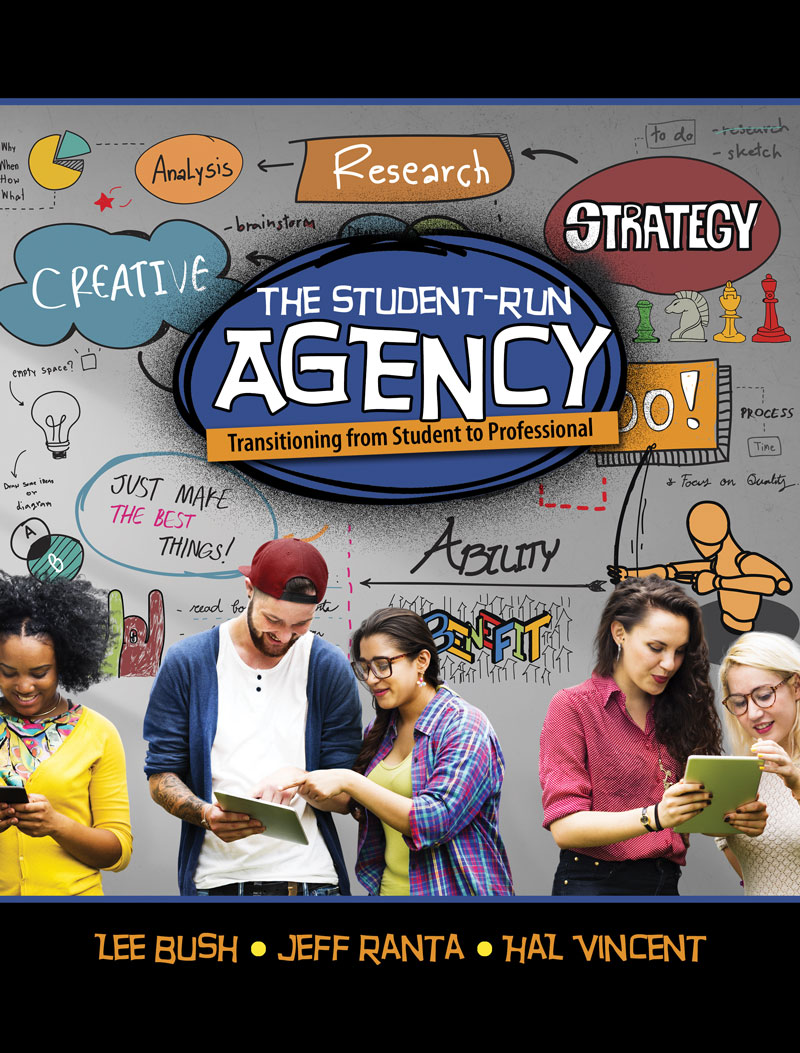 CHOOSE FORMAT ?
Details: Print Product |
New Publication Now Available!
Student-run advertising, public relations and integrated communications agencies mimic the structure of professional agencies, and provide students with real-world experience working for real clients. Student agency members are unique in that they are still learning basic communications principles, but are interacting with clients who expect them to conduct themselves professionally and understand how the business world operates.
The Student-Run Agency: Transitioning from Student to Professional is the first textbook written specifically for students to help them navigate their student agency tenure. It serves as both a comprehensive resource for a complete student agency experience, and as a reference guide as specific client situations arise.
The authors have founded and managed student-run agencies, worked for years in professional agencies, and conducted extensive research on the structure and learning benefits of student agencies.
The Student-Run Agency: Transitioning from Student to Professional:
Gives students a full understanding of the agency business, how agencies operate, and agency processes and protocols.
Helps students develop effective client programming, manage client relationships, develop professional identities, and promote their work.
Includes 10 articles written by agency professionals on best practices.
Is a valuable resource for Campaigns courses and for students embarking on agency internships.
Introduction
Part I: Shaping the Student Agency
Chapter 1: Overview of the Agency Industry
History of advertising and PR agencies; agency ownership and holding companies; types of agencies; agency structures; the agency of the future; industry trade associations, media, and awards.
Chapter 2: Organizing the Student Agency
Agency needs, resources, and mission; agency structures, titles/ roles, organizational charts, and funding sources; office space and equipment; agency branding and culture; mining, prospecting, and cultivating student staff.
Chapter 3: Building Your Agency's Business
Categories of client organizations; types of client/agency relationships; developing a new business plan including prospecting, preparing materials, and conducting outreach; the agency search process (RFIs and RFPs); making a new business pitch.
Chapter 4: Agency Processes
Recruiting and hiring processes; developing client contracts, staffing the account and holding your first meeting; moving work through the agency using workflow processes, briefs, status reports, and shared agency drives; internal agency communications; measuring agency success.
Chapter 5: The Business Side of Communications
Agency money management, financial terminology, balancing revenues and expenses; creating student agency budgets; program estimating and budgeting; client invoicing; agency revenue models.
Chapter 6: Diversity and Inclusion
Unpacking the industry's "diversity problem"; creating an inclusive workplace by recognizing unconscious bias, understanding intersectionality, and using inclusive language; communicating with multicultural audiences by avoiding stereotypes and cultural appropriation, testing content, and using the total market approach.
Part II: Program Planning and Management
Chapter 7: Client Relationship Management
Making a good first impression; being a counselor versus order taker; managing client relationships, communications, and expectations; making mistakes and addressing them; dealing with difficult clients.
Chapter 8: Writing a Strategic/Semester Plan
The nature and importance of plans/planning; characteristics and elements of a good plan; types of plans; strategic communications planning process; developing a strategic communications plan; creating a semester plan.
Chapter 9: Project Management
The origins of project management and the traffic department; defining project management; strategic communications project management; developing a project management process and utilizing technology systems; agency project management from beginning to end.
Chapter 10: Developing a Professional Identity
Understanding the agency working environment; developing communications competency; problem solving, resourcefulness and resilience; working successfully in a team; getting and giving feedback; creative thinking and problem solving; managing stress.
Chapter 11: Selling Your Ideas
Selling your ideas to the client through persuasive appeals and storytelling; creating presentation content and bringing ideas to life; using successful techniques to deliver your presentation to the client; holding effective client meetings.
Chapter 12: Legal Ease and Ethics Considerations
Legal considerations in student agencies related to content creation and use, photographing and filming, and client programming; keeping legal files and utilizing legal counsel; ethics considerations in the agency business.
Chapter 13: Wrapping Up the Semester
Leaving your client account in good shape for the following semester including deliverables completion and transfer, writing end-of-semester reports, presenting final reports to the client, and conducting client evaluations; wrapping up with your agency including archiving materials, presenting work to agency staff, and transferring knowledge to the next account team; ways to measure agency success and student learning.
Part III: Professional Practices
Articles written by agency professionals on programming and best practices:
Research Real Talk: Revelations, Realizations, and Radical Simplicity
Adrian Fogel, Senior Vice President, Strategy Director, Y&R
Unleashing Your Creativity: A Primer on How to Push Past the Obvious and Create More Engaging Work
Shamika Brown, Barbosa Writer/Entrepreneur
Media Relations: Best Practices for Working With Journalists
Mary-Elisabeth Grigg, Senior Vice President, DiGennaro Communications
Social Media Marketing: Content Development Planning, Creating and Curating Content, Building a Fan Base, Social Media Analytics
Michael Stern, Senior Vice President, Global Account Director, Leo Burnett
Spending Other People's Money: Media Planning and Placement
Theresa Chang, Senior Partner, Group Director, Mediacom
A Comprehensive Introduction to Experiential Marketing
Shelby Roehre, Industry Consultant and Production Manager
Video Production: Telling Your Story With Motivation and Passion
Bill Grant, Owner, Cinema Couture
A Crash Course in Copywriting
Michele Lashley President, Karacom Creative Owner, The Smarter Writing Lab
Creating the Essence of a Brand Through Design
Jay Picard, Founder, Think Say Feel
Designing a Solid Website
Blake DuBose, President, DuBose Web Group
Part IV: Leaving a Legacy
Chapter 14: Promoting Your Student-Run Agency
Reasons to promote your agency; ways to engage in agency promotion including doing a brand audit, documenting case studies, establishing and communicating thought leadership, and displaying your professionalism and culture; planning and executing agency promotion through content marketing, media, and messaging.
Chapter 15: Advancing Your Work
Using your student agency experience to get in front of employers and land your perfect job; building your personal brand, developing materials and an online portfolio; gathering intelligence and prospect targeting; techniques to prepare for and conduct interviews; using your experience in your first position.
Print
$65.00
ISBN 9781524919672
Details Print Product