RETURN TO SEARCH RESULTS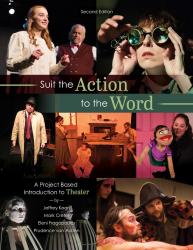 New Publication Now Available!
Suit the Action to the Word uses project based learning (PBL), a method of instruction that emphasizes learning and applying skills and knowledge in real life situations. By presenting students with project challenges that require creativity, collaboration, adherence to deadlines, and presentation skills, PBL more closely resembles adult life challenges that will be found in the workplace, home projects, hobbies, and civic engagement.
One may ask how these project challenge requirements apply to the theatre?
Creativity – The essence of theatre.
Collaboration – Theatre is the ultimate collaborative art form.
Adherence to Deadlines – The ultimate deadline of the theatre is the first preview of the show.
Presentation Skills – These skills are necessary across a wide range of activities well beyond the theatre.
In this nontraditional introduction to theatre textbook, students will "learn by doing" through collaborative hands-on project work that will have them on their feet and involved both physically and mentally.
Chapter 1: Introduction
Chapter 2: Storytelling
Chapter 3: Playwriting
Chapter 4: Beginnings
Chapter 5: Greek and Roman Theatre 5
Chapter 6: The Medieval Theatre
Chapter 7: Re-emergence of Theatre in the Renaissance
Chapter 8: Shakespeare
Chapter 9: Realism vs. Experimental Theatre 1860-1945
Chapter 10: Modern Theatre 1946-present
Chapter 11: Musical Theatre
Chapter 12: Acting
Chapter 13: Designers—Set, Costume, Light, and Sound
Chapter 14: Reviewing
Chapter 15: Careers in Theatre
Website
$77.70
ISBN 9798765742471
Details KHPContent 180 days