RETURN TO SEARCH RESULTS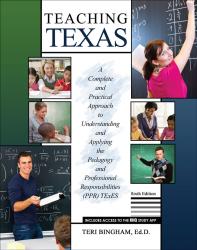 Teaching Texas: A Complete and Practical Approach to Understanding and Applying the Pedagogy and Professional Responsibilities (PPR) TExES
Author(s): Teri Bingham
Edition: 6
Copyright: 2021




Details: Print Prod w/KHQ | 180 days |
Teaching Texas: A Complete and Practical Approach to Understanding and Applying the Pedagogy and Professional Responsibilities (PPR) TExES is a hands-on guide for preservice teachers to prepare for the TExES examination. The publication integrates real-life scenario-based questions, tips, theory, and additional invaluable information for the preservice teacher to analyze situations and make professional decisions.
Teaching Texas by Teri Bingham (West Texas A&M University):
Features expertly-written content in the 13 competencies of all four domains of the TExES exam.
Includes a description, key terms, lesson designs, discussion outlines and activities, task analyses, instructional objectives, sample test questions/answers, references, additional links, and more for each competency.
Integrates Tips for Competency vignettes within each of the competencies. These bulleted tips, provided by experts in the field, aid the reader in passing the PPR exam.
DOMAIN 1 Designing Instruction and Assessment to Promote Student Learning
Competency 1 Human Development
Teri Bingham
Competency 2 Multiculturalism and Education: Opportunities for All Students
Teri Bingham and Angela Spaulding
Competency 3 Designing Effective Planning
Teri Bingham
Competency 4 How Learning Occurs
Teri Bingham
DOMAIN 2 Creating a Positive, Productive Classroom Environment
Competency 5 The Importance of a Positive Classroom Environment to Enhance Academic Achievement and to Promote Effective Social Interactions
Teri Bingham and Angela Spaulding
Competency 6 Managing Student Behavior
Teri Bingham and Sheryn Johnston
DOMAIN 3 Implementing Effective, Responsive Instruction and Assessment
Competency 7 Principles and Strategies for Effective Communication
Teri Bingham and Amy Andersen
Competency 8 Student Motivation and Engagement
Teri Bingham and Judy Lopez-Kutcher
Competency 9 Using Technology as an Effective Instructional Tool
Jim Rutledge
Competency 10 Assessment
George Mann, Teri Bingham and E.W. Henderson
DOMAIN 4 Fulfilling Professional Roles and Responsibilities
Competency 11 Increasing Parental Involvement: A Key Component of School Improvement and Reform
Angela Spaulding and Teri Bingham
Competency 12 Reflective Practice and Professional Responsibilities
Teri Bingham and Angela Spaulding
Competency 13 Legal and Ethical Requirements for Educators
E.W. Henderson
Print Package
$102.90
ISBN 9781792461781
Details Print Prod w/KHQ 180 days