RETURN TO SEARCH RESULTS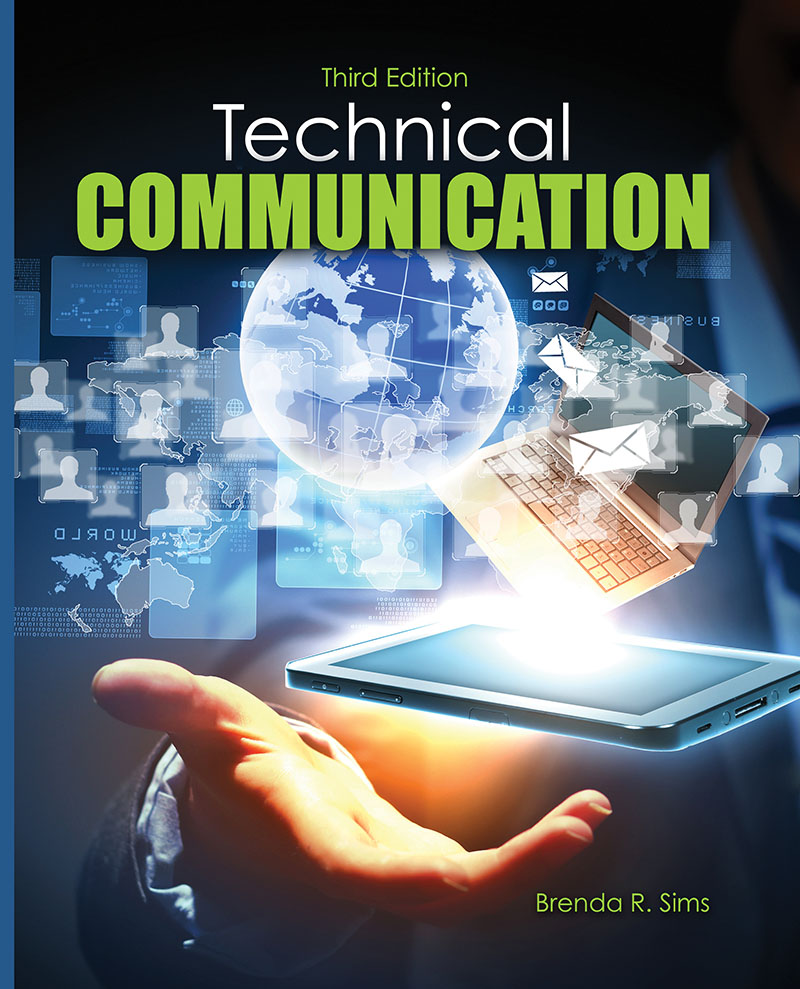 Technical Communication
Author(s): Brenda Sims
Edition: 3
Copyright: 2015




Details: eBook w/KHPContent Access | 180 days |
New Third Edition Now Available!
Writing and communication are invaluable skills in any field….

Technical Communication is an integrated enhanced online learning text and website package that helps the reader to write effectively as a professional. By utilizing instructor and student friendly pedagogical features Technical Communication brings the material to life!

These pedagogical features incorporated within the text and accompanying website include Tip Boxes, examples of student and professional writing, case studies, teamwork exercises, and Taking It into the Workplace boxes that present up-to-date research in technical communication from the vantage point of the workplace professional.

Technical Communication:
Explains the reader's role as a writer in the workplace and introduces some issues that he/she may face as a technical professional.
Discusses the "tools" that a writer needs to create effective technical documents. Topics include researching information using primary and secondary sources, writing easy-to-read documents, and designing reader-focused documents.
Presents specific guidelines for writing effective letters, memos, emails, and job correspondence to your targeted readers.
Examines the types of work-related documents the reader is likely to write (including informal/formal reports, proposals, descriptions, instructions, and websites) and demonstrates how to prepare and deliver memorable presentations.
Chapter 1 Technical Communication and Your Career
How Will Writing Impact Your Career?
How Does the Workplace Affect What and How You Write?
Taking It to the Workplace: Visiting with a Professional in Your Field
What Makes Technical Communication Excellent?
What's Ahead in This Book?
Case Study Analysis: Embarrassing Typo Costs County $40,000
Exercises

Part 1 Understanding Your Role as a Writer
Chapter 2 Writing for Your Readers
Determine Your Purpose for Writing
Identify Your Readers
Determine Your Readers' Purpose, Needs, and Preferences
Analyze Your Readers' Attitudes and Expectations
Create a Reader Profile
Case Study Analysis: Microsoft's Clippy
Taking It to the Workplace: Readers and the Web
Exercises
Real World Experience

Chapter 3 Collaborating in the Workplace
Collaborative Writing in the Workplace
Managing the Project and Conducting Effective Team Meetings
Collaborating Effectively
Taking It to the Workplace: Cell Phones at Work: Convenience or Nuisance?
Using Social Media and Other Electronic Tools to Collaborate More Efficiently
Case Study Analysis: Collaborating on a Public Relations Dilemma
Exercises
Real World Experience

Chapter 4 Facing Ethical and Legal Challenges
Understanding Ethics
Applying the Frameworks
Understanding Your Legal Responsibilities
Making Ethical Decisions
Taking It to the Workplace: Understanding Ethics in Your Profession
Follow the Principles for Ethical Communication
Case Study Analysis: The Human Radiation Experiments
Exercises

Part 2 Knowing the Tools of the Writer
Chapter 5 Researching Information
Plan Your Research
Select Appropriate Primary Research Tools
Select Appropriate Secondary Research Tools
Taking It to the Workplace: Copyright Laws and Your Research
Understand Social Media and Similar Research Tools
Evaluate the Sources and the Information
Case Study Analysis: Prominent Doctor Admits to Creating Phoney Research
Exercises
Real World Experience

Chapter 6 Organizing Information for Your Readers
Readers and Your Documents
Decide How to Organize Your Document
Consider Using the Standard Patterns of Organization
Prepare an Outline
Taking It to the Workplace: Organization Does Make a Difference
Use Overviews to Tell Readers What You Are Writing about
Use Headings to Show the Organization
Use Lists to Emphasize Important Information
Case Study Analysis: Online Sources and Presidential Campaigns
Exercises
Real World Experience

Chapter 7 Writing Easy-to-Read Documents
Focus on Actors and Actions
Make the Actors the Subjects of Your Sentences
Use the Active Voice When Appropriate
Put the Action in the Verbs
Emphasize the Important Information in Your Sentences
Writing Easy-to-Read Paragraphs
Case Study Analysis: Bad Writing Costs State Governments Big Money
Taking It to the Workplace: How Are Your Editing Skills?
Exercises

Chapter 8 Using Reader-Focused Language
Use Specific and Unambiguous Language
Use Only the Words Your Readers Need
Use Simple Words
Use Positive Language When Possible
Use Inoffensive Language
Consider Your Readers' Culture and Language
Taking It to the Workplace: What Is Simplified Technical English?
Case Study Analysis: Why Clear Language Matters
Exercises

Chapter 9 Building Persuasive Arguments
Identify Your Desired Outcome
Consider the Constraints That Could Impact Your Argument
Structure a Persuasive Argument
Select the Appropriate Medium for Presenting Your Argument
Sample Documents
Taking It to the Workplace: Persuasion and Leadership
Case Study Analysis: Persuading a City Council
Exercises
Real World Experience

Chapter 10 Designing Reader-Focused Documents
Principles of Effective Design
Envision the Document Design as You Plan Your Document
Choose Design Elements That Motivate Readers to Read
Choose Design Elements That Help Readers Locate Information
Choose Design Elements That Help Readers Read Your Documents
Taking It to the Workplace: Using Color to Structure Information
Sample Document Designs
Case Study Analysis: Why Aren't Students Using the Career Center?
Exercises
Real World Experience

Chapter 11 Creating Effective Visual Information for Your Readers
Why Use Visual Information?
Plan Your Visual Information
Select the Appropriate Graphic
Taking It to the Workplace: Using Visual Information to Communicate with Intercultural Readers
Design Graphics That Are Clear
Integrate Graphics into the Text
Use Software and Digital Graphics
Case Study Analysis: Forest Service Accused of Using Misleading Photos to Promote Forest Management
Exercises

Part 3 Using the Writer's Tools to Correspond with Your Reader
Chapter 12 Writing Reader-Focused Letters, Memos, and Emails
Determine the Objectives of Your Letter, Memo, or Email
Find Out about Your Reader and How He or She Will Perceive Your Message
Use the Appropriate Format
Organize Your Correspondence to Meet Readers' Needs
Creating a Professional Image through Your Correspondence
Taking It to the Workplace: Email Etiquette at Work
Case Study Analysis: When Email Becomes Public: How Microsoft Learned an Embarrassing Lesson
Exercises
Real World Experience

Chapter 13 Writing Reader-Focused Job Application Materials
Create Your Professional Brand
Plan Your Job Search
Prepare an Effective Résumé
Write a Reader-Focused Letter of Application
Prepare for a Successful Interview
Use Letters or Email to Follow Up
Taking It to the Workplace: Designing Your Résumé to Land an Internship
Case Study Analysis: Will Your Social Networking Sabotage Your Job Search?
Exercises

Part 4 Using the Writer's Tools to Create Effective Documents and Presentations
Chapter 14 Writing Reader-Focused Informal Reports
Find Out about Your Readers
Anticipate and Answer Your Readers' Questions
Select the Appropriate Format
Writing Directives
Writing Progress Reports
Writing Meeting Minutes
Writing Field and Lab Reports
Writing Trip Reports
Sample Informal Reports
Taking It to the Workplace: Conducting Effective Meetings
Case Study Analysis: The Mailbox Problem
Exercises
Real World Experience

Chapter 15 Writing Reader-Focused Formal Reports
Types of Formal Reports
Identify the Readers and Purpose of Your Report
Formulate Questions and Do Research When Needed
Make Conclusions and Recommendations Based on Sound Research
The Conventional Sections of Formal Reports
Preparing the Front Matter
Preparing the Back Matter
Taking It to the Workplace: Smartphones and Protecting Company Information
Number the Front and Back Matter Correctly
Focus on Feasibility Reports
Two Sample Reports
Case Study Analysis: Front and Back Matter in Online Documents
Exercises
Real World Experience

Chapter 16 Writing Persuasive Proposals
Find Out about the Readers
Taking It to the Workplace: Examining the Forms of Bids and Proposals
Anticipate and Answer Readers' Questions
The Conventional Sections of Proposals
Two Sample Proposals
Case Study Analysis: With an Eye on Quality, Price Becomes Secondary in Awarding Bid
Exercises
Real World Experience

Chapter 17 Writing Reader-Focused Definitions and Descriptions
Planning Definitions and Descriptions
Writing Reader-Focused Definitions
Taking It to the Workplace: Understanding the Technical Professional's Role in Writing Marketing Materials
Writing Reader-Focused Descriptions
Case Study Analysis: How Expanding the Definition of 'Obesity' Would Impact Children
Exercises
Real World Experience

Chapter 18 Writing User-Focused Instructions
Find Out How Much the Users Know about the Task
Use an Accessible Design
Taking It to the Workplace: Liability and Safety Information— Could You or Your Company Be Liable?
Use User-Focused Language
The Conventional Sections of Instructions
Evaluate the Usability of Your Instructions
Sample Instructions
Case Study Analysis: The Importance of the Human Factor in Product Design and Usability Testing
Exercises
Real World Experience

Chapter 19 Creating User-Focused Websites and Online Documents
Characteristics of User-Focused Websites and Online Documents
Identify the Users and the Content
Design User-Focused Websites and Online Documents
Create Credible and Trustworthy Websites and Online Documents
Evaluate Your Site
Sample Online Pages
Taking It to the Workplace: Creating a Personal Website
Case Study Analysis: Websites, Sustainability, and Environmental Stewardship
Exercises
Real World Experience

Chapter 20 Preparing and Delivering Memorable Oral Presentations
Understand the Types of Oral Presentations
Plan for the Audience and the Occasion
Prepare Audience-Focused Visual Aids
Use Effective Strategies to Deliver Memorable Presentations
Taking It to the Workplace: Taking Cues from the Audience
Case Study Analysis: An Award-Winning PowerPoint Hits Theaters
Exercises
Real World Experience

Appendix A Documenting Your Sources
Appendix B Common Sentence Errors, Punctuation, and Mechanics

References

Index
Ebook Package
$90.76
ISBN 9781465287106
Details eBook w/KHPContent Access 180 days