RETURN TO SEARCH RESULTS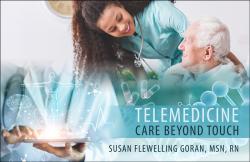 Telemedicine: Care Beyond Touch
Author(s): Susan Goran
Edition: 1
Copyright: 2022
Telemedicine: Care Beyond Touch prepares students to participate in the integration of telehealth/telemedicine in healthcare as a knowledgeable consumer, healthcare provider, or educator. This turn-key online course package provides a foundational curriculum that provides key telehealth concepts, the benefits, and challenges to the utilization of telehealth, the various environments in which telehealth or telemedicine provides a care advantage, the impact on the various healthcare roles, and the history and future of telehealth. It is designed to promote learning by using strategies to stimulate learning with written content, videos, reference tools, self-assessment, and Power Point presentations highlighting key chapter points. It integrates a conversational writing style to entice students to read and learn, but the provided links offer additional resources for further topic depth or details as desired.
Although this package introduces students to the technology being used in healthcare delivery, it is not all encompassing, nor will you complete the course familiar with all the vendor choices available today; that is beyond the scope of this course as the technology changes rapidly. However, it will equip students to evaluate how the use of the telehealth technology may influence the care you provide. It will also stimulate you to think clearly about the ethical and legal issues related to the use of technology and how to ensure the protection of patient privacy and confidentiality while expanding access to care. It is offering the reader a base level of knowledge; it will be up to him / her to build on this foundation with experience.
CHAPTER 1: What is Telehealth?
CHAPTER 2: History of Telehealth: Need as the Mother of Invention
CHAPTER 3: Challenges to Telehealth Growth
CHAPTER 4: Changing the Role of Healthcare Players
CHAPTER 5: Changing Care at the Bedside
CHAPTER 6: Remote Patient Monitoring: Empowering the Patient
CHAPTER 7: High-Risk Population Management: Maternal and Child Telehealth
CHAPTER 8: High-Risk Populations: Care of the Elderly
CHAPTER 9: Behavioral/Mental Health Challenges
CHAPTER 10: Specialty Care and Unique Settings
CHAPTER 11: Designing the Future of Telemedicine
Website
$78.75
ISBN 9781792489549
Details KHPContent 180 days