RETURN TO SEARCH RESULTS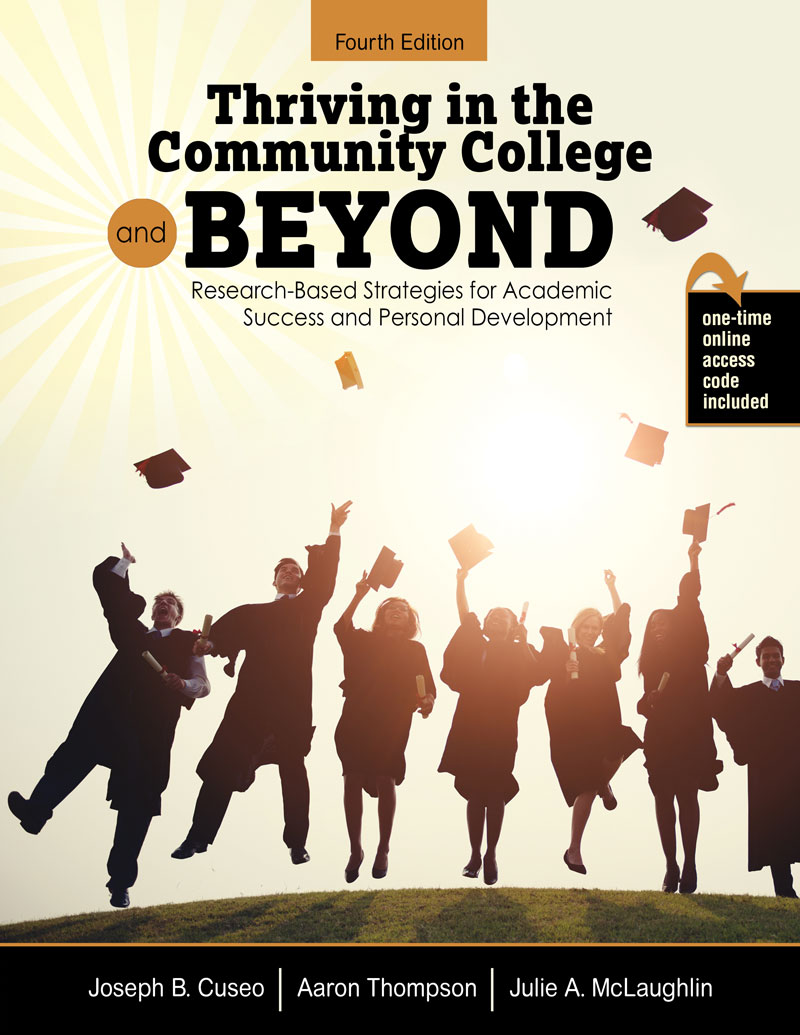 Details: Print Product w/Achieve Works and KHQ | 180 days |
Thriving in the Community College & Beyond covers the full range of topics and issues that impact student success. Content is delivered through multiple formats and learning modalities, including snapshot summary boxes, concept maps, content-relevant cartoons, inspiring quotes from successful students and famous people, and poignant personal stories from the authors.
The book is:
1. Substantive
Research-based material builds on scholarship from different academic disciplines and student development theories.
Models citation of scholarly references that students can emulate.
Educates students not only about what they should do to be successful, but provides compelling reasons why they should do it.
2. Interactive
Pre-chapter questions activate students' thinking and prior knowledge about the upcoming topic.
Within-chapter journal entries punctuate students' reading with opportunities for reflection.
Post-chapter exercises promote consolidation and application of knowledge acquired from the chapter.
Thriving in the Community College and Beyond promotes pride in the community college and articulates the value of an associate degree.
The new fourth edition of Thriving in the Community College and Beyond features:
a new chapter on mental health (psychological wellness)
career readiness/employability skills included in an expanded career development chapter and infused across chapters
new material on the value and relevance of general education for career preparation and personal development
new material on information literacy and oral communications skills • new material on student leadership
strategies for promoting civility and campus community
additional material on grit and resilience
newly-revised online resources for further exploration of chapter topics
a new pre/post course-assessment instrument accompanies the text
Thriving in the Community College & Beyond focuses on the student as whole person, including both academic and personal strategies that are applicable to success in college and life beyond college.
Adopting instructors are provided comprehensive professional development materials including research-based guidelines for course design, delivery, and assessment. The extensive Instructor's Manual includes:
Information on course planning, topic placement/sequencing, and syllabus design.
Strategies for incentivizing and ensuring that students read the book.
Specific learning objectives to guide student reading that align directly with test-bank questions.
Step-by-step instructional directions for in-class exercises and out-of-class assignments that engage students in active, interactive, and collaborative learning.
Detailed strategies for course and program evaluation, including course-embedded strategies for assessing student learning outcomes, pre/post assessment instrument designed to measure positive changes in student knowledge, behaviors, and attitudes, plus student and instructor course-evaluation surveys.
Chapter 1: College Knowledge
Chapter 2: Making Connections: Four Steps to Your Success
Chapter 3: Goal Setting and Motivation
Chapter 4: Time Management
Chapter 5: Higher-Level Thinking
Chapter 6: Deep Learning
Chapter 7: Test-Taking Skills and Strategies
Chapter 8: Diversity and the Community College
Chapter 9: Financial Literacy
Chapter 10: Social and Emotional Intelligence
Chapter 11: Psychological Wellness
Chapter 12: Physical Wellness
Chapter 13: Educational Planning and Decision-Making
Chapter 14: Career Exploration, Preparation, and Development
Print Package
$78.75
ISBN 9781524990015
Details Print Product w/Achieve Works and KHQ 180 days