RETURN TO SEARCH RESULTS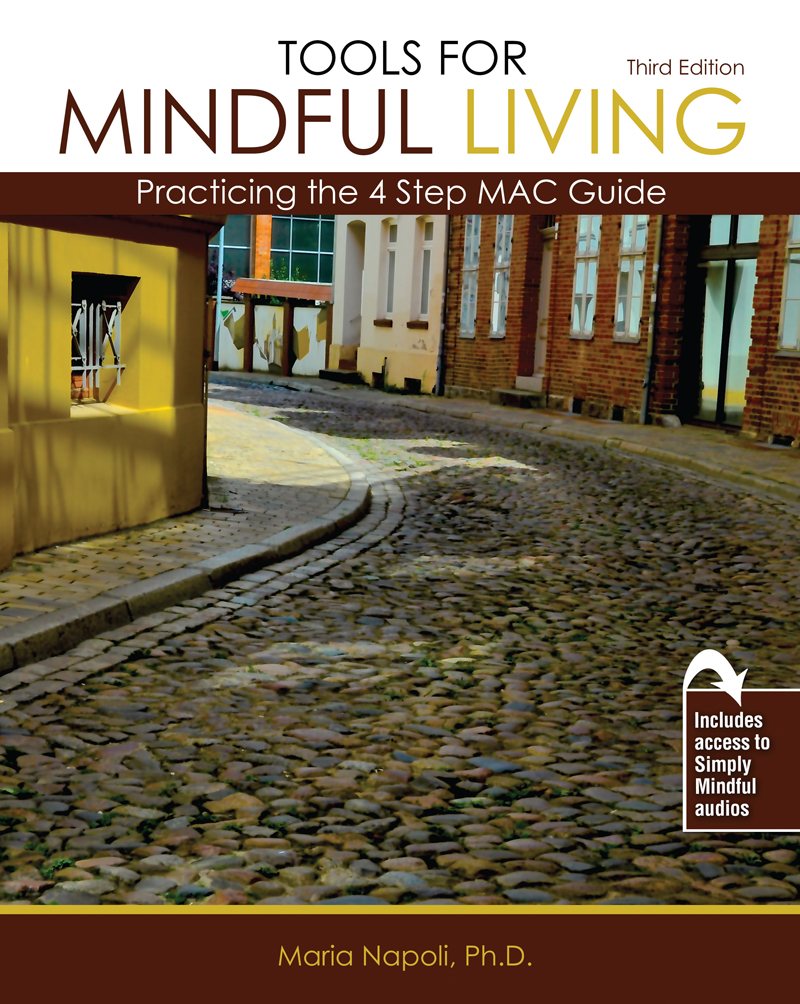 Tools for Mindful Living: Practicing the 4 Step MAC Guide
Author(s): Maria Napoli
Edition: 3
Copyright: 2016
Pages: 206




Details: Electronic Delivery EBOOK | 180 days |
Tools for Mindful Living: Practicing the 4 Step MAC Guide offers you an opportunity to understand mindfulness and identify markers on how stress impacts your life. Each chapter offers the reader various opportunities to practice mindfulness using the simple and applicable 4 Step MAC Guide. Focusing on how one reacts or responds to their experiences and conscious attention to information communicated by one's breath, senses, body, thoughts, emotions and instincts will be discussed throughout the book. Discovering personal communication styles that impact every day occurrences and relationships will contribute to living mindfully. As you integrate mindfulness into your daily life, being present for all of your experiences without internal or external filters will become second nature. Get ready for a transformational ride!
Preface
About the Author
Acknowledgements
Recommended Mindful Readings
Part 1: Mindfulness Straight Talk
CHAPTER 1: Be As You Are
CHAPTER 2: Four Step MAC Guide
CHAPTER 3: Becoming Stress-Less
Part 2: Developing Your Mindfulness Practice
CHAPTER 4: Are You Breathing?
CHAPTER 5: MAC Your Body
CHAPTER 6: Stretch Your Body to Your Personal Edge
CHAPTER 7: Your Senses Are Calling
CHAPTER 8: Emotions Run Deep
CHAPTER 9: Witness Your Thoughts
CHAPTER 10: Mindful Communication
"The MAC model practiced in the Stress Management Tools course potentially saved my life during an incredibly unfortunate situation. I am finding that the concepts I learned in this book are also beneficial to my healing process as I continue on with my life."
- Elaina Yutze, Anthropology Student
"Tools for Mindful Living is entertaining and accessible. Napoli's "MAC" Guide makes the elusive concept of "mindfulness" tangible for users, thereby helping them to better adopt the approach in their own lives. It's a pleasure to see how my students explore their experiences with the "Mindful Awareness Reflection Journals" offered at the end of each chapter. It really, really works!"
- Faith Boninger, Ph.D. Research Associate, University of Colorado, Boulder
"The Mindful MAC Model has opened the door of my mind to happiness. As someone who has struggled for years with anxiety and difficulty managing my emotions, utilizing the MAC Model allows me to process my thoughts and emotions while accepting them as part of my unique and worthwhile human experience."
- Sarah Saucedo, Sociology Student
"I have seen my students benefit first hand from the MAC Guide in Tools for Mindful Living as they utilize the guide to become responsive versus reactive to the many stressors such as balancing school, work, family and friends. Every semester students tell me how they had nearly dropped out but realized through the lessons in Tools and their utilization of the MAC Guide that they now know how to positively respond, no longer looking at stress as an enemy but as a part of life that can be managed."
- Jamie Valderrama, MA, Faculty, Arizona State University, Tempe
Ebook
$61.74
ISBN 9781524975449
Details Electronic Delivery EBOOK 180 days