RETURN TO SEARCH RESULTS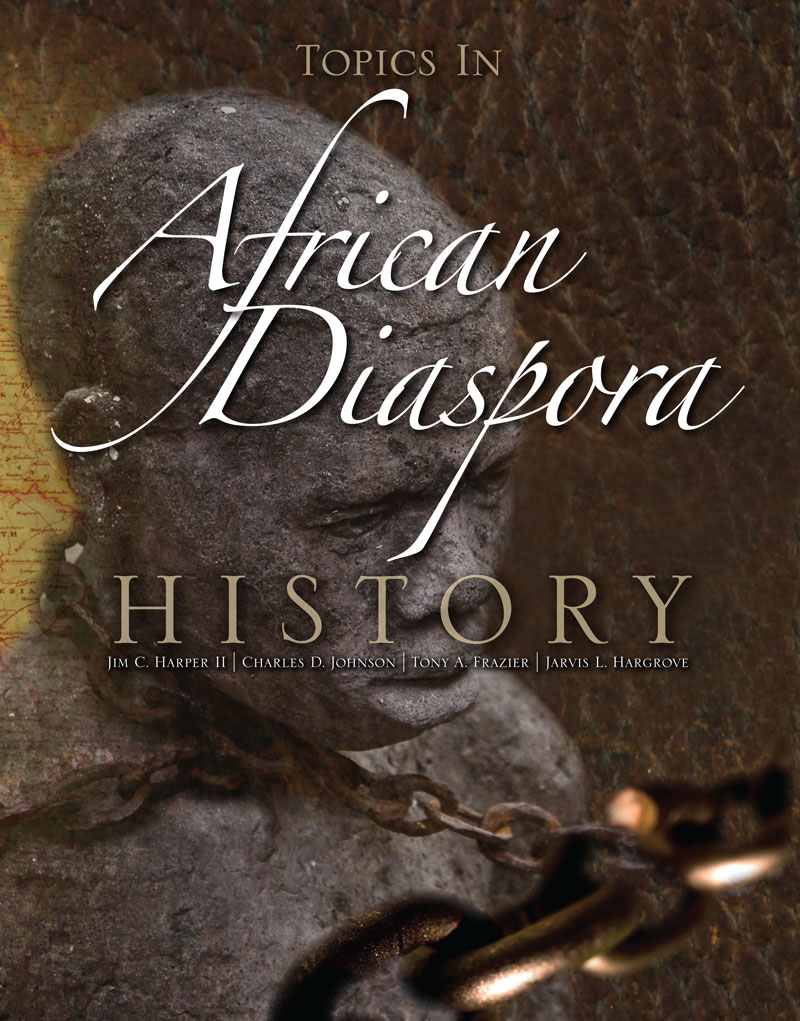 Details: Print Prod w/KHPContent Code | 180 days |
Topics in African Diaspora History is a diverse body of various themes in the study of the African Diaspora. These themes include African Nationalism, Resistance, Pan-Africanism, Spirituality, Black Power and Transnationalism and they cover a broad spectrum of the Diaspora experience that spans across the globe. For purposes of this text, we are defining the African Diaspora as the dispersal of people of African descent to a location around the world (involuntary or voluntary) where they developed diasporic identities in their new locations and their eventual return or connection to their homeland of Africa.
Topics in African Diaspora History:
provides perspectives of the stories of the economic, political, religious, and social impact of Africans and people of African descent around the world from an African-centered perspective.
strengthens the study of the African Diaspora through historical methodology, theory and research.
is a collection of essays that depict the stories of a people who transcended the physical, mental and emotional realities of very brutal environments in which they survived.
Part I: Sankofa: Remembering the Source But Moving Forward
1. The Importance of Studying the Scholarship of African History within
the Historical Context of the African Diaspora
Jarvis L. Hargrove
2. The Invisible Woman: A Historiography of African Diasporic Scholarship
TaKeia N. Anthony
3. Global White Supremacy, Skin Bleaching, and the Commodification of Whiteness
Yaba Blay
Part II: Forced Migrations in the Atlantic Basin and Indian Ocean Realm 49
4. The Acquisition and Use of Labor in Africa and the Start of the
Trans-Atlantic Slave Trade
Jarvis L. Hargrove
5. The Atlantic Slave Trade: A Comparative Critique of the Literature Since Curtin
Charles D. Johnson
6. The African Diaspora in Europe: The Black Presence in England from the
Fifteenth to the Eighteenth
Tony Frazier
7. The Slave Trade and the African Diaspora in the Indian Ocean: The Case of
East Africa, Arabian Peninsular, and the Indian Subcontinent Slavery
Azaria Mbughuni
Part III: Fighting Back and Growing New Roots: Spirituality, Black Power,
and Cultural Adaptations
8. Combatting Slavery: The Three Hundred Years War in the Circum-Caribbean
Carleen Payne Jackson
9. Priestesses, Conjure Women, and Other Ritual Experts in Organized Resistance
to American Enslavement
Iyelli Ichile
10. Black Power in the African Diaspora
Quito Swan
11. The Language of Us
Msomi Moor
12. Blackness in the Spanish Caribbean
Pedro R. Rivera
Part IV: Transnationalism and the Ties that Bind
13. African American Exceptionalism and the Politics of Transnational Resistance:
Early Encounters Between African Americans and South Africans
Charles D. Johnson
14. Knowledge Becomes Power: Western Education and the Emergence of
Western-Educated Elite Resistance in Kenya, 1840–1950
Jim C. Harper, II
15. Education for Freedom: Black South Africans in the United States, 1870–1970
Charles D. Johnson
16. "The Ties That Bind": African American Consciousness of Africa through
Culture and Sports
Neo Lekgotla Iaga Ramoupi
Part V: Migration and Resistance Movements: Twentieth Century
17. Caribbean Migration to Great Britain in the Twentieth Century
Tony Frazier
18. Employment Patterns among Black Immigrant Mothers: Implications for
Child Well-being
Nina Smith
19. Kenyan Nationalism and the Architects of the Kenyan Student Airlifts
Jim C. Harper II
20. Following Their Footsteps: Tracing Puerto Ricans' Sociopolitical Activism
in New York City from an Afrocentric Perspective
Milagros Denis-Rosario
21. Protesting for South African Liberation in a Negotiated Space: The Cold War,
American Antiapartheid Activists, and the Vital Center, 1946–1954
Charles D. Johnson
Print Package
$137.81
ISBN 9781524905941
Details Print Prod w/KHPContent Code 180 days