RETURN TO SEARCH RESULTS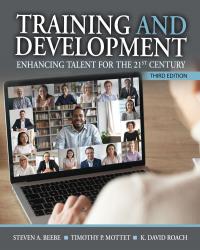 Details: Print Prod w/GoReact | 180 days |
Communication competencies are among the most coveted skills on the planet—whether applied in the workplace, social settings, or at home.
Training and Development: Enhancing Talent for the 21st Century teaches people how to develop essential communication and leadership talent. It is not just a book about training; it is a book that prescribes how to do training.
Recently revised to emphasize e-Learning and web-based training during the COVID-19 pandemic, the NEW third edition of Training and Development features a robust discussion of e-Learning methods throughout the publication, a new chapter dedicated to Using Web Training for e-Learning, and strategies for presenting training online using e-Learning methods.
Featuring a needs-centered approach that stresses effective training programs should be based on meeting trainees' needs, Training and Development: Enhancing Talent for the 21st Century
is theory-based; yet helps students develop practical skills and methods for designing and presenting communication and leadership training programs.
fills a gap by presenting a comprehensive approach to training that will help both undergraduate and graduate students learn practical principles for developing a communication training program from start to finish.
is perfect for instructors in business, education, and other disciplines that teach students how to design and present training programs.
integrates a new, comprehensive discussion of communication training best practices as developed by educators, trainers, and scholars from the National Communication Association.
features Training Today vignettes which present practical contemporary applications of technology and other new strategies designed to help readers be on the cutting-edge of training principles and practices.
is easy to adopt! Instructors are provided with new, updated, and revised test banks, PowerPoint presentations, and a suite of electronic and instructional media tools to assist instructors in providing feedback and assessing student performance.
Preface
About the Authors
CHAPTER 1 Introducing Communication Training
Training Defined
What Is Training?
What Do Trainers Do?
Why Is Training Important?
Training and Related Functions
Training and Education
Training and Motivation
Training and Development
Training and Coaching
Training and Consulting
Training and Communication
The Communication Process
The Training Process: A Rhetorical and Relational Communication Process
Training Steps: An Overview of the Training Process
Analyze Organizational and Trainee Needs
Analyze the Training Task
Develop Training Objectives
Organize Training Content
Determine Training Methods
Select Training Resources
Complete Training Plans
Deliver Training
Assess the Training Process
Review, Apply, and Assess
CHAPTER 2 Mastering How Adults Learn
Learning Theory
Behavioral Learning Theory
Cognitive Learning Theory
Constructivist Learning Theory
Social Learning Theory
Learning Laws
Law of Effect
Law of Frequency
Law of Association
Law of Readiness
Learning as Adults: Andragogy vs. Pedagogy
Adult Learning Assumptions
Adult Learning Applications
Adult Learning and Transformative Learning Theory
Learning Preferences
Perceptual Learning Preferences
Information Processing Preferences
Learning Style Preferences
Time Learning Preferences
Generational Learning Preferences
Cultural Preferences
Learning Strategies: Recommendations for the Trainer
Review, Apply, and Assess
CHAPTER 3 Conducting a Needs Assessment and a Task Analysis
Domains of Learning
Cognitive Domain
Affective Domain
Psychomotor Domain
How to Conduct a Needs Assessment
Assessing Organizational Needs
Assessing Individual Trainee Needs
How to Assess Needs Without a Comprehensive Needs Assessment Process
How to Analyze the Training Task
How to Prepare a Task Analysis
Obstacles to Preparing a Task Analysis
Review, Apply, and Assess
CHAPTER 4 Developing Objectives and Designing a Curriculum
How to Write Training Objectives
Distinguish Between Training Goals and Training Objectives
Identify the Training Skill Outcomes
Develop Observable, Measurable, Attainable, and Specific Objectives
How to Organize a Training Curriculum
First Things First: Teach the Skill in Chronological Order
Easy Does It: Teach Simple Skills Before Complex Skills
Problem and Solution: Teach Problem Identification, Then Problem Solution
How to Teach a Skill
Tell
Show
Invite
Encourage
Correct
How to Make Every Lesson Successful
Use Set Induction: Establish a Readiness to Learn
Use Stimulus Variation: Change Methods to Maintain Interest
Provide Closure: Tie a Ribbon Around the Lesson
Review, Apply, and Assess
CHAPTER 5 Developing Training Content
How to Find Training Material
Draw Upon Your Expertise
Use the Internet
Identify Subject Matter Experts
Use the Library
Identify Commercial Sources
How to Evaluate and Document Training Material
Use Evaluation Criteria
Appropriately Cite Material
Obtain Copyright Permission
How to Develop a Training Content Outline
Consult Your Needs Assessment and Task Analysis
Conduct a Gap Analysis
Use Your Objectives
Sample Content Outlines
Review, Apply, and Assess
CHAPTER 6 Using Training Methods
Presenting Lectures
How to Develop Lectures
How to Present Lectures
Managing Experiential Activities
How to Conduct Role Plays
How to Conduct Case Studies
Facilitating Group Discussions
How to Manage Group Discussions
How to Use Facilitation Techniques
Selecting the Best Training Method
Consider Your Trainees
Consider Your Learning Objectives
Consider Advantages and Disadvantages
Consider Your Level of Comfort
Review, Apply, and Assess
CHAPTER 7 Using Web Training for e-Learning
Training and the e-Learning Industry
Developing and Delivering Web Training
Design Principles for e-Learning Programs
Delivering Quality Online Training
Types of Technology Training Tools
Learning Management Systems (LMSs)
Course Authoring Tools
Presentation Software
Content Collections
Newer Technologies
Pre-Made Programs
Using the Needs-Centered Training Model for e-Learning
Analyze the Training Task
Develop Training Objectives
Organize Training Content
Determine Training Methods
Select Training Resources
Complete Training Plans
Deliver Training
Assess Training
Review, Apply, and Assess
CHAPTER 8 Using Presentation Aids in Training
Purposes of Presentation Aids
Promote Interest
Clarify
Demonstrate
Enhance Retention
Enhance Training Transfer
Strategies for Using Presentation Aids
Keep Presentation Aids Simple
Communicate with Trainees, Not to Your Presentation Aids
Make Presentation Aids Large Enough to Be Seen
Cope with Murphy's Law
Practice Using Your Presentation Aids
Types of Presentation Aids
Participant's Guides and Handouts
Dry-Erase Boards
Document Cameras
Video
Internet
Virtual and Augmented Reality
PowerPoint
Review, Apply, and Assess
CHAPTER 9 Developing Training Plans
The Purpose of Training Plans
Connect Training Needs with Objectives
Connect Training Objectives with Methods
How to Prepare a Training Plan
Conduct Research
Develop Training Content
Determine Training Time Frames
Determine Training Methods
Select and Develop Training Materials
Training Plan Formats
Descriptive Format
Outline Format
Multicolumn Format
How to Develop the Participant's Guide
Use the Training Objectives to Identify Content
Include All Training Activities and Instructions
Use the Lesson Plan to Organize the Participant's Guide
Determine the Participant's Guide Format
Obtain Copyrights and Provide Source Information
Practical Training Plan Tips
Determine the Amount of Detail Needed
Draft the Participant's Guide First
Remember the 20-Minute Rule
Build in the Skill Training Sequence
Plan for Contingencies
Testing the Training Plan
Conduct a Focus Group
Conduct a Pilot Test
Invite an Expert to Review the Materials
Review, Apply, and Assess
CHAPTER 10 Delivering the Training Session
Planning Your Training Delivery
Consider Your Trainees' Needs
Consider Your Training Environment
How to Connect with Trainees
Trainer Immediacy
Trainer Affinity Seeking
How to Manage Potential Conflict in Training Sessions
Problem Trainee Types
Using Conflict Management Skills
How to Evaluate and Improve Your Delivery
Review, Apply, and Assess
CHAPTER 11 Assessing Learning Outcomes
Understanding Assessment
Model of Assessment
Need for Assessment
Kirkpatrick's Levels of Assessment
Assessing Trainee Learning
Assessing Affective Learning: Did They Like It?
Assessing Cognitive Learning: Did They Learn It?
Assessing Behavioral Learning: Can They Do It?
Interpreting Assessment Information
Analyzing Assessment Data
Using Assessment Data
Reporting Assessment Data
Review, Apply, and Assess
CHAPTER 12 Becoming a Training Professional
How to Get a Training Job
Strategies for Getting a Training Job
Training Part-Time
Becoming an ATD Certified Trainer
Trends in Training Jobs and Skills
Types of Training Jobs
Trending Needs and Skills for Trainers
Need for Training Generalists vs. Specialists
How to Develop Training Proposals
Writing Needs-Assessment Proposals
Presenting Needs-Assessment Proposals
Writing Training Proposals
Presenting Training Proposals
Review, Apply, and Assess
Resources for the Training Professional
Notes
Glossary
Index
Print Package
$99.23
ISBN 9781792457258
Details Print Prod w/GoReact 180 days