RETURN TO SEARCH RESULTS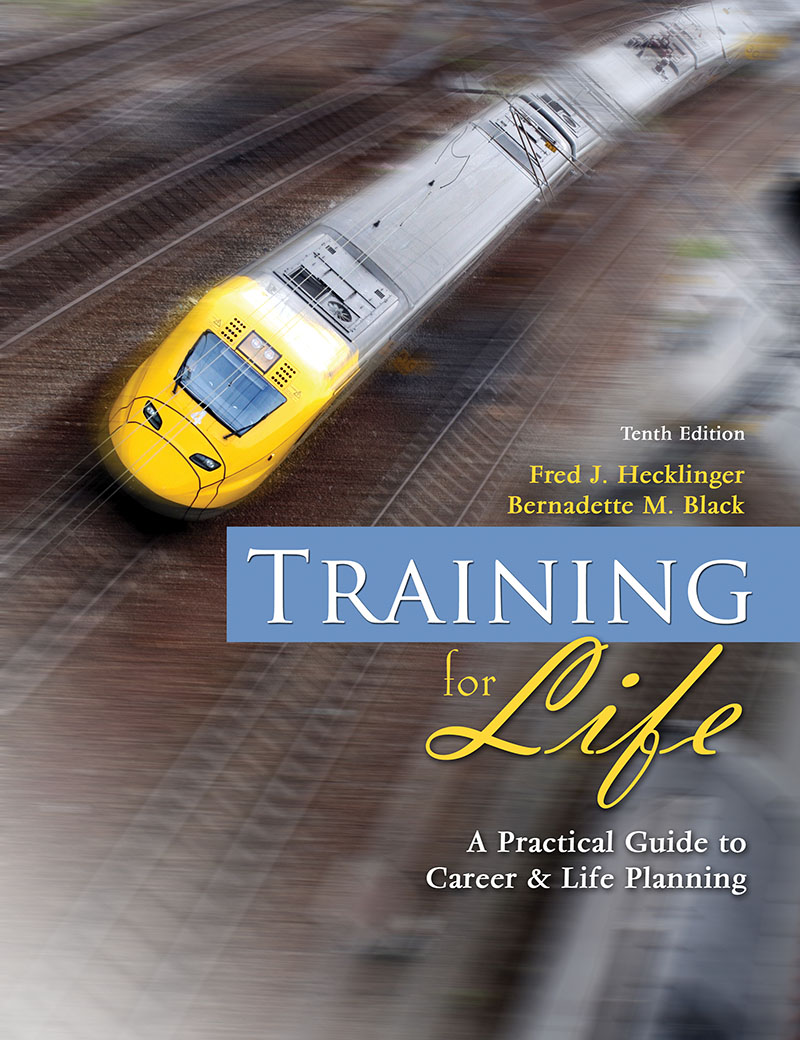 Details: Electronic Delivery EBOOK | 180 days |
Active involvement in establishing your career and life plans leads to greater happiness, satisfaction, and a sense of control over the direction of your life.
Training for Life takes a personal approach to help you develop your career and life objectives. Taking an active role in career planning is important for you to grow and flourish not only in your career, but also in your life. This book integrates career and lifestyle, taking you through both traditional and non-traditional career planning topics such as:
Self-Awareness
Job Investigation
Job Campaign
Change
Enhancing Work Performance and Satisfaction
Healthy Lifestyle Characteristics
Risk Taking
Enjoy the process this book takes you through as you achieve and maintain a rewarding career and life. Training For Life can be used as a workbook in classes, in individual counseling, workshops, and as a self-instructional aid.
Preface
Acknowledgments
About the Authors

Introduction
Training for Life
The Career and Life Planning Process
References

SECTION ONE: ACKNOWLEDGE YOUR UNIQUE SELF
Chapter 1: Work Values
Work Values Assessment
Your Ideal (and Not So Ideal) Job
How Important Is Your Work?
Work Values

Chapter 2: Interests
How Do You Like to Spend Your Time?
Develop a Plan to Pursue Your Interests
Occupational Environments
Inventories and Interactive Career Exploration Programs
Interests

Chapter 3: Skills and Abilities
Three Successes
Self-Management Skills
Functional Skills
Self-Evaluation of Skills and Abilities
Work Content Skills
Skills and Abilities

Chapter 4: Personal Values
Personal Values and Action
Personal Values Assessment
Personal Values Decisions
Personal Values
Chapter 5: Self-Esteem
What Is Self-Esteem?
Where Does Your Self-Esteem Come From?
Your Self-Esteem Tree
Labels, Poisoners, and Cultivators of Self-Esteem
Your Action Plan to Enhance Your Self-Esteem

Chapter 6: Lifestyle Considerations
Lifestyle Assessment
Section One Summary: Acknowledge Your Unique Self
What Are My Work Values?
Additional Resources

SECTION TWO: NEGOTIATE CHANGE IN YOUR LIFE
Chapter 7: Work in the Future
Predictions of Experts
A Summary of Workplace Trends
Seven Trends That Affect You and Your Work
Work in the Future
Chapter 8: The Process of Transition and Renewal
Change and Transitions
Ten Qualities of the Self-Renewing Adult
Negotiating Transitions Effectively
Your Perception of the Transition
Your Personal Characteristics
Your Support Systems
Transitions

Chapter 9: Understanding Change
The Early Adult Years (Ages 20-40)
The Middle Adult Years (Ages 40-60)
The Late Adult Years (Ages 60-75)
The Older Adult Years (Age 75 and Above)
Your Own Life Stage, Age, and Phase
Understanding Change

Chapter 10: Influence of Others
Identify Your Personal Board of Directors
Consider the Value of Support Groups
Expand Your Interpersonal Network of Contacts
Find a Mentor
Influence of Others

Chapter 11: Taking Risks
How Willing Are You to Take Risks?
Ten Guidelines for Taking Risks
Risk Assessment

Chapter 12: Decision Making
Elements of Decision Making
The Six Rules of Effective Decision Making
Avoiding Pitfalls in Decision Making
Know Your Decision-Making Style
Decision-Making Outline
Section Two Summary: Negotiate Change in Your Life
Additional Resources

SECTION THREE: EXPLORE CAREER OPTIONS
Chapter 13: Your Career Options List
Look Back into the Past
Consider Career "Dreams"
Get Ideas from Others
Consider Your Unique Self
Consider Your Choice of Occupational Environments
Make Use of Interest Inventories
Do Some Brainstorming
Your Career Options List

Chapter 14: How to Investigate Career Information
Information!
Experience
Written Material
The Internet
Talking with People
Informational Interviewing

Chapter 15: The Internet--Sites for Career Exploration and Job Hunting
Career Web Sites

Chapter 16: What to Look for When You Investigate a Career
General Questions
Employment Projections
Training Requirements
Salary and Benefits
Non-monetary Rewards and Other Factors
Worksheet for Investigating a Career

Chapter 17: Evaluation of Career
Present Options
Evaluation of Career Options
Tentative Career Outline
Timetable of Events
Career Surprises

Chapter 18: Resources for Career Investigation
Selected Resources

SECTION FOUR: CONDUCT AN EFFECTIVE JOB CAMPAIGN
Chapter 19: The Job Campaign
Job Hunting--The Cold, Hard Facts
What Is an Effective Job Campaign?
Organizing Your Job Campaign Job Campaign Analysis
Job Campaign Analysis

Chapter 20: Job Hunting in Cyberspace
Job Hunting Using the Internet
Networking Through the Internet
Using Job Listing Web Sites
Sending Your Resumé Electronically
Sending a Cover Letter via E-mail
Be Careful!
The Most Important Cyberspace Application to Career Planning and Job Hunting
Additional Resources for Job Hunting in Cyberspace

Chapter 21: Resumé Writing
Characteristics of a Good Resumé
Questions to Ask Before You Write Your Resumé
Organization of Your Resumé
Contents of Chronological and Combination Resumés
General Tips on Writing Your Resumé
Making Two Versions of Your Resumé
Electronic Scanning of Resumés
Sample Resumés
Cover Letters
Applications

Chapter 22: Employment Interviewing
Know What You Want to Accomplish
Be Prepared--Use the 4 R's
Using Nontraditional Methods of Getting Interviews
Conduct Your Employment Interview with Style
Sample Interview Questions
Structured Interviews
Ten Key Considerations for Effective Interviewing
Follow-up
Interview Checklist
Types of Interviews
Negotiating a Salary
Section Four Summary: Conduct an Effective Job Campaign
Additional Resources

SECTION FIVE: ENHANCE WORK PERFORMANCE AND SATISFACTION
Chapter 23: How to Be an Effective Worker
Work Success Skills
Fifteen Tactics for Career Growth
Professional Development
Evolving into a Person of Influence

Chapter 24: Make Time Your Friend
Your Time Analysis
Your Time Action Plan
Manage Your Time Effectively

Chapter 25: Don't Be Your Own Worst Enemy
Internal Blocks to Work Satisfaction
External Blocks to Work Satisfaction
Getting Stuck on a Career Plateau
The Ultimate Block--Loss of Your Work

Chapter 26: Take Care of Yourself
Avoid Major Value Conflicts
Deal Effectively with Stress
Pursue Other Interests

Chapter 27: Routine Maintenance--Your Two-Year Checkup
Your Work Environment
Your People Contacts
Your Work Itself
Your Expectations
Expand Positives and Reduce Negatives
Your Perfect Work

Chapter 28: The Payoff--Who Decides Whether You've Done Good Work?
Your Reward System
Your Work Satisfaction--It's Your Decision
Section Five Summary: Enhance Work Performance and Satisfaction
Additional Resources

SECTION SIX: CREATE QUALITY AND BALANCE IN YOUR LIFE
Chapter 29: A Look into the Future
Chapter 30: Think Positively
Chapter 31: Develop Interests
Pursuing Your Interests, Hobbies, and Activities
Chapter 32: Take an Active Role in Staying Healthy
The Importance of Physical Activity
The Importance of Mental Activity
Involvement with Others
Diet and Nutrition
Managing Stress
Avoiding Self-Injurious Behavior
Getting Medical Care
Using Medicine Responsibly

Chapter 33: Maintain Good Interpersonal Relationships
Improving Your Interpersonal Relationships

Chapter 34: Make the Most of Your Financial Resources
Guidelines for Financial Stability

Chapter 35: Continue to Learn
Advantages of Continued Learning
Barriers to Continued Learning
Opportunities for Continued Learning

Chapter 36: Your Lifestyle Checkup
Your Work
Your Family
Your Values
Your Physical Characteristics
Your Psychological Characteristics
Your Leisure
Your Physical Surroundings
Influence of Others
Summarize Your Lifestyle Checkup
Section Size Summary: Create Quality and Balance in Your Life
Additional Resources

APPENDIX: Continuous Career Options Listing
REFERENCES
INDEX

Ebook
$55.00
ISBN 9781465208408
Details Electronic Delivery EBOOK 180 days