RETURN TO SEARCH RESULTS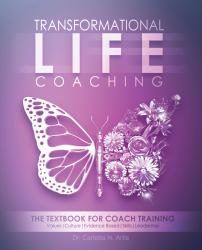 Transformational Life Coaching: The Textbook for Coach Training Values, Culture, Evidence Based, Skills, Leadership
Author(s): Carletta N. Artis
Edition: 1
Copyright: 2022
Pages: 120




Details: Electronic Delivery EBOOK | 180 days |
Transformational coaching is the process of partnering with someone to support them through a significant change that helps them grow, develop, and ultimately "rewrite their reality." The underlying premise behind transformational coaching is that you will examine everything that could be in service of that transformation. It includes a holistic examination of your life, such as your cultural identity, influencers, and messaging that may be a catalyst or hindrance to significant change.
In simple terms, transformational coaching is focused on enabling self-actualization. Far more than 'options-strategy-action' to attain goals or clarity or to get better at something, transformational coaching dives deep into an individual's psyche, focusing on who that person is and desires to become. Transformational coaching is therefore an ontological approach because it is about 'being' rather than 'doing.'
The great transformational coaching question is therefore, "Who do you choose to be?" and what makes the process transformational is learning and doing what it takes to grow into the embodiment of that choice in being.
Chapter 1 Transformational Life Coaching
Chapter 2 Types of Coaching
Chapter 3 Life Purpose
Chapter 4 Cultural Competence
Chapter 5 Who Am I? My Beliefs and Values
Chapter 6 How to Become a Culturally Competent Coach
Chapter 7 Life Coaching and Positive Psychology
Chapter 8 Life Coaching and Cognitive Behavioral Coaching
Chapter 9 Life Coaching and Attachment Theory
Chapter 10 Communication Skills
Chapter 11 Cognitive Therapy Skills
Chapter 12 Behavior Therapy Skills
Chapter 13 Leadership Coaching
Chapter 14 How to Develop Into a Leader
Chapter 15 Becoming a Leadership and Life Coach
References
Ebook
$60.00
ISBN 9781792495229
Details Electronic Delivery EBOOK 180 days