RETURN TO SEARCH RESULTS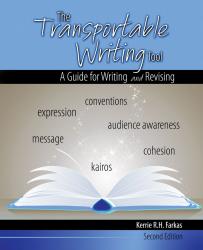 The Transportable Writing Tool: A Guide for Writing and Revising
Author(s): Kerrie Farkas
Edition: 2
Copyright: 2020




Details: eBook w/KHPContent Access | 180 days |
Transportable Writing Tool: A Guide for Writing and Revising transforms the way writing is viewed and practiced by delivering a comprehensive and focused tool that allows writers to use more effective writing processes and produce more effective texts.
The multifaceted yet accessible tool synthesizes and taxonomizes writing into six core elements that serve as a heuristic to write and revise. Unlike other handbooks, many of which focus chiefly on the concept of grammar, The Transportable Writing Tool provides a balanced treatment of the six core elements of writing, giving equal status and prominence to each element.
This book can be used for basic writing, first-year writing, advanced writing, or any course that includes writing as an ample component of the course, as well as by adult writers outside of an academic setting. It includes a companion website that contains integral activities, exercises, and PowerPoint© presentations to scaffold writers and guide them in transporting writing knowledge and practice to different writing contexts: academic (such as essays, reports, or presentations), personal (such as blogs, letters, or emails), workplace (such as proposals, job application letters, or memos), or community (pamphlets, letters to the editor, or brochures).
Preface
Acknowledgement
Introduction
Chapter 1: Kairos
Chapter 2: Audience Awareness
Chapter 3: Expression
Chapter 4: Message
Chapter 5: Conventions
Chapter 6: Cohesion
Conclusion
References
Index
Ebook Package
$52.92
ISBN 9781792412592
Details eBook w/KHPContent Access 180 days