RETURN TO SEARCH RESULTS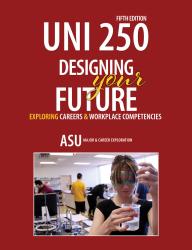 UNI 250: Designing Your Future: Exploring Careers and Workplace Competencies
Author(s): Arizona State University
Edition: 5
Copyright: 2022
Pages: 190




Details: Print Product |
New Fifth Edition Coming Soon!
1 How Will UNI 250 Help Me Identify Various Major and Career Paths to Prepare for Work Futures?
Turn Your Dreams into Reality
Writing Effective Goals the SMART Way
SMART Guide to Writing Effective Goals
Goals to Improve All Areas of Life
Make the Connection: Academic Goal Setting
Career Goal Setting
Call for Action
References
Endnotes
What is Diversity?
Diversity and Humanity
Diversity and Individuality
Forms and Varieties of Diversity
International Diversity
Gender Diversity
Sexual-Orientation and Gender-Identity Diversity
Generational Diversity
The Benefits of Experiencing Diversity
My Lifetime Goals: Brainstorming Activity
My Lifetime Goals
Successful Goal Setting
Life Goals
Exercise 1. Work Values
2 How Can My Personal Strengths Results Tell Me More About Myself, Strengths, and Major and Career Paths? What Resources Help Me Make Important Decisions About Major and Career Paths?
The Importance of Career Planning
Strategies for Career Exploration and Preparation
3 How Can CPDS Resources Identify Career Trends and Experiential Learning Opportunities? How Can I Prepare an Effective Resume?
Your College Career on One Page: Your Resume
10 Seconds to Get Your Resume in the "Yes" Pile
"Targeting" Your Resume
Types of Resumes
Building Your Resume
Sample Resumes
Professional Correspondence: Beyond the Resume
Cover Letter (Letter of Application)
Completing Applications
Resume Inventory
Writing a Cover Letter (Print Your Letter in Spaces Provided)

4 How Can I Prepare A Persuasive Cover Letter? What Effective Strategies Will Build My Professional Network?
Establishing Your Personal Brand Online
Networking Effectively
Finding Jobs and Internships
Tips For Success
Developing Career Experience Now!
5 How Can I Best Prepare for an Interview? How Can the STAR Method Showcase My Skills and Abilities?
Acing the Interview
Researching and Gathering Information
The Relationship between Goal Setting and Success
Characteristics of a Well-Designed Goal
Strategies for Maintaining Motivation and Making Progress Toward Goals
Characteristics of Successful People
Self-Efficacy
Growth Mindset
Grit
Interview Worksheet
Rate Your Skills for Success in the Workplace
6 What Is Emotional Intelligence and How Does It Impact Interpersonal Relationships, Job Performance, and Effective Leadership?
The Importance of Social and Emotional Intelligence
Listening: A Key Element of Social Intelligence
Active Listening Strategies
Speaking and Conversational Skills
Interpersonal Relationship Skills (a.k.a. Human Relations Skills)
Managing Interpersonal Conflict
Emotional Intelligence
Career Competencies Self-Reflection and Reflection
7 How Has UNI 250 Helped Me Design an Action Plan for My Future?
Strategies for Maintaining Motivation and Progress toward Your Goals
The Importance of Personal Character
References
Endnotes
Print
$36.23
ISBN 9781792490255
Details Print Product