RETURN TO SEARCH RESULTS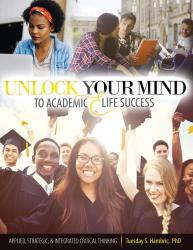 Unlock Your Mind to Academic and Life Success: Applied, Strategic, and Integrated Critical Thinking
Author(s): Dr. Tuesday S. Hambric
Edition: 1
Copyright: 2020
Pages: 198




Details: Electronic Delivery EBOOK | 180 days |
Unlock Your Mind to Academic and Life Success is a college success guide developed to address the unique needs of the 21st Century "Instant Students," who are consistently stimulated by technology and social media and have access to information at their fingertips via Apps, Cellphones, Tablets, and Laptops. As a result, subconsciously, students have developed a desire to learn through pictures, catchy phrases, and relevant, themed learning broken up by meaningful engagement.
To answer this need, Unlock Your Mind incorporates pedagogical devices that play to the strengths of this learning style, such as flow charts, images, graphs, and, catchy phrases like CHOP ®, Super Six Theories, Thinking is Sexy, and Unlock Your Mind. The publication takes classic and modern research and communicates it in an easy to understand, intimate, and comfortable conversation style.
Unlock Your Mind:
features relevant and practical activities that include explanations and illustrations.
includes in-text assignments.
comprehensively empowers students to uniquely develop their own systems of learning.
revolves around Super Six Theories, which are applied within three major contexts: Academics, Personal, and Workforce.
An Important Note from the Author…
Chapter I: Welcome to College!
Chapter I Overview
Welcome to College!
Why a Student Success Class?
Why the "Old Faithful" Topics?
Let's Reflect a Bit
Ownership and Accountability
Generating Success Your Way…
Insights: The Dysfunctional Home Environment
Rounding out the Course: Student Learning Outcomes (SLOs)
Chapter Conclusions
Break: Let's Get Organized. . .
Chapter II: The Essentials!
Chapter II Overview
The Super Six Theories: The Essentials of Success
Bloom's Taxonomy
Bloom's Taxonomy: Number One of the Super Six
Learning a Lot from a Little...
Exploring Bloom's Taxonomy through a Series of Instructions or Questions
Bloom's Three Domains of Learning
The Three Domains of Learning: Number Two of the Super Six
Concluding Thoughts...
Stage Theory
Stage Theory: Number Three of the Super Six
Aligning with the Authors of Stage Theory
The Unreflective Thinker
The Challenged Thinker
The Beginning Thinker
Insights: When in Rome, Do as the Romans Do, But Not Always
The Practicing Thinker
The Elements of Thought
The Elements of Thought: Number Four of the Super Six
Insights: Yesterday's Woes Dictating Today's Learning
Stage Theory Returns
The Practicing Thinker (continued)
The Advanced Thinker
The Accomplished Thinker
The ABCD Theory: Discovering the Will to Change
ABCD Theory: Number Five of the Super Six
Insights: Peacefully Floating in the Wind or Sailing into a Storm
Situation
Values-Based Mottos: Approaching Success Holistically
Values-Based Mottos: Number Six of the Super Six
Chapter III: CHOP® Academically
Chapter III Overview
Customized Higher Order Processing (CHOP®)
Study Skill: From Information Literacy to Info Savvy
Workforce Skill Acquisition: Information Discernment
Study Skill: Analytical Reading
Workforce Skill Acquisition: Analysis
Study Skill: Advanced Notetaking
Workforce Skill Acquisition: Information Processing and Refinement
Hambric's Notetaking Refinement System
Insights: Lost in the Professor's Chatter
Situation
Study Skill: Making Instructions Easy
Workforce Skills Acquisition: Planning, Development, and Implementation
Break: Monitoring Your Academic Progress
Monitoring Your Academic Progress
Instructions for Calculating Your Current and Overall Grades
Study Skill: In-Depth Communications
Workforce Skill Acquisition: Effective Communication
Study Skill: Writing with Bloom's Taxonomy in Mind
Workforce Skill Acquisition: Creativity and Multitasking
Study Skill: Empirical and Quantitative Reasoning
Workforce Skill Acquisition: Quantitative and Critical Reasoning
Study Skill: Self-Motivation and Time/Self-Management
Workforce Skills Acquisition: Self-Motivation and Self-Regulation
Motivation
Insights: Living Resiliently
Time/Self-Management
Optimizing Self-Management within a Framework of Time
Self-Management and Teamwork
Insights: One Body Made Up of Many Members
Chapter IV: CHOP® Personally and Socially
Chapter IV Overview
CHOP® for Personal and Social Success. . .
Personal and Social Success: Who's Responsible?
Let's Talk Personal Responsibility
Social Responsibility
Insights: Attack on U.S. Soil: Fight, Flight, or Freeze
Scenario One
Scenario Two
Hambric's Five-Step "Optimized" Career Inquiry and Design
Making Sense of It All via Goal Setting
Discovering Your Workplace Values. . .
The Taxonomy of Goal Setting
Developing a Fiscal Mindset
Insights: Financial Excuses or Financial Investments
Break: Monitoring Your Academic Progress. . .
Monitoring Your Academic Progress
Instructions for Calculating Your Current and Overall Grades
Chapter Conclusions
Chapter V: Finish Strong!
Chapter V Overview
Whew, Look at Me Now: Shining Bright or Dimmed Light!
Integrative Learning and Expectations!
Farewell and Blessings: Let Those Who Have Ears Hear
Appendix
Glossary of Terms
Suggested Readings
References
Ebook
$66.15
ISBN 9781792420146
Details Electronic Delivery EBOOK 180 days