RETURN TO SEARCH RESULTS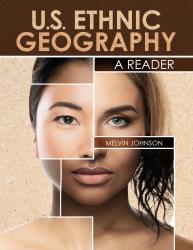 U.S. Ethnic Geography: A Reader
Author(s): Mel Johnson
Edition: 1
Copyright: 2022
Pages: 90


Details: Electronic Delivery EBOOK | 180 days |
U.S. Ethnic Geography is designed for students of geography and ethnic studies. Readers experience a variety of perspectives from the materials presented and gain valuable insight into the very complex nature of the people residing in the United States. This country has a long history of receiving immigrants beginning with the Europeans in the fifteenth century and continuing today. Even when the rulers of this land were the indigenous people (Native Americans), they themselves have a history of immigrating to the area during the Ice Age several thousand years ago. The differences now obviously center around the sources of the people and the numbers of people coming to this portion of North America.
U.S. Ethnic Geography is divided into five units, diving into the topics of diversity, equality, and the importance of language.
· Unit 1 contains a series of articles setting the stage for class discussion around the key concepts of race, ethnicity, class, and gender.
· Unit 2 concentrates on the experiences of the African American in the United States.
· Unit 3 addresses the experiences of the Asian Americans.
· Unit 4 concentrates on the Latin American populations.
· Unit 5 the Native American groups.
Preface
UNIT 1: EXPLORING RACE, ETHNICITY, GENDER, AND CLASS
Where Culture Meets Structure: Race in the 1990s
Howard Winant
The Bleaching Syndrome
Ronald E. Hall
Growing Up White
Ruth Frackenburg
Serving Hamburgers and Selling Insurance
Robin Leidner
The Social Construction of Gender
Judith Lorber
UNIT 2: EXPLORING THE AFRICAN AMERICAN EXPERIENCE
The Souls of Black Folk
W. E. B. Du Bois
Socialization and Racial Identity among Black Americans
David H. Demo and Michael Hughes
The Perilous Whiteness of Pumpkins
Lisa Jordan Powell and Elizabeth S. D. Engelhardt
UNIT 3: EXPLORING THE LATIN AMERICAN EXPERIENCE
A Darker Shade of Crimson: Odyssey of a Harvard Chicano
Ruben Navarrette, Jr.
Over the Wall: The Courtesy of the Oppressed
Ruth Conniff
Latinos and the New American Majority
Manuel Pastor
UNIT 4: EXPLORING THE NATIVE AMERICAN EXPERIENCE
Indians R Us? Let's Spread the "Fun" Around: The Issue of Sports Teams Names and Mascots
Ward Churchill
How America's Past Shapes Native Americans' Present
Alexia Fernández Campbell
"Immigration Hysteria" is Nothing New in America
Ray Halbritter
UNIT 5: EXPLORING THE ASIAN AMERICAN EXPERIENCE
Smells Like Racism
Rita Chaudhry Sethi
Success Story, Japanese–American Style
William Peterson
Who Are Asian Americans?
Perma Kurien
Ebook
$68.25
ISBN 9781792489532
Details Electronic Delivery EBOOK 180 days