RETURN TO SEARCH RESULTS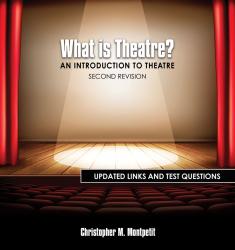 Details: eBook W/Mobius | 180 days |
What is Theatre? An Introduction to Theatre is a textbook written for and geared towards those who are not familiar with the ancient and lively art known as theatre.

Available in a convenient and affordable eBook format, What is Theatre? is an introductory and interactive look at the theatrical history, artists, skills and expertise needed to create live art to a new generation of theatre artists and audiences.

The text contains unit objectives, web links (to articles and videos), and interviews with professionals to bring the content to life for the reader.
Foreword — Grafton J. Nunes
Acknowledgments
About the Author

Chapter 1 Origins of Theatre
Unit Objectives
Featured Interview—Dane CT Leasure
Unit Summary

Chapter 2 The Audience
Unit Objectives
Featured Interview—Karen Baker
Unit Summary

Chapter 3 The Playwright
Unit Objectives
Featured Interview—Doug Zschiegner
Unit Summary

Chapter 4 The Actor
Unit Objectives
Featured Interview—Maryanne C. Arena
Unit Summary

Chapter 5 The Director
Unit Objectives
Featured Interview—Carlos RA Jones
Unit Summary

Chapter 6 The Theatre Space
Unit Objectives
Featured Interview—Ed Cheetham
Unit Summary

Chapter 7 Scenic Design
Unit Objectives
Featured Interview—Daniel Thobias
Unit Summary

Chapter 8 Costume Design
Unit Objectives
Featured Interview—Heather Milam
Unit Summary

Chapter 9 Lighting Design
Unit Objectives
Featured Interview—William Teague
Unit Summary

Chapter 10 Sound Design
Unit Objectives
Featured Interview—Jonathan Hunter
Unit Summary

Chapter 11 Producing and Managing Theatre
Unit Objectives
Featured Interview—Brannon Wiles
Unit Summary

Chapter 12 Theatre in the 21st Century
Unit Objectives
Featured Interview—Paul Schreiner
Unit Summary

Bibliography
Ebook Package
$79.38
ISBN 9781792429842
Details eBook W/Mobius 180 days