RETURN TO SEARCH RESULTS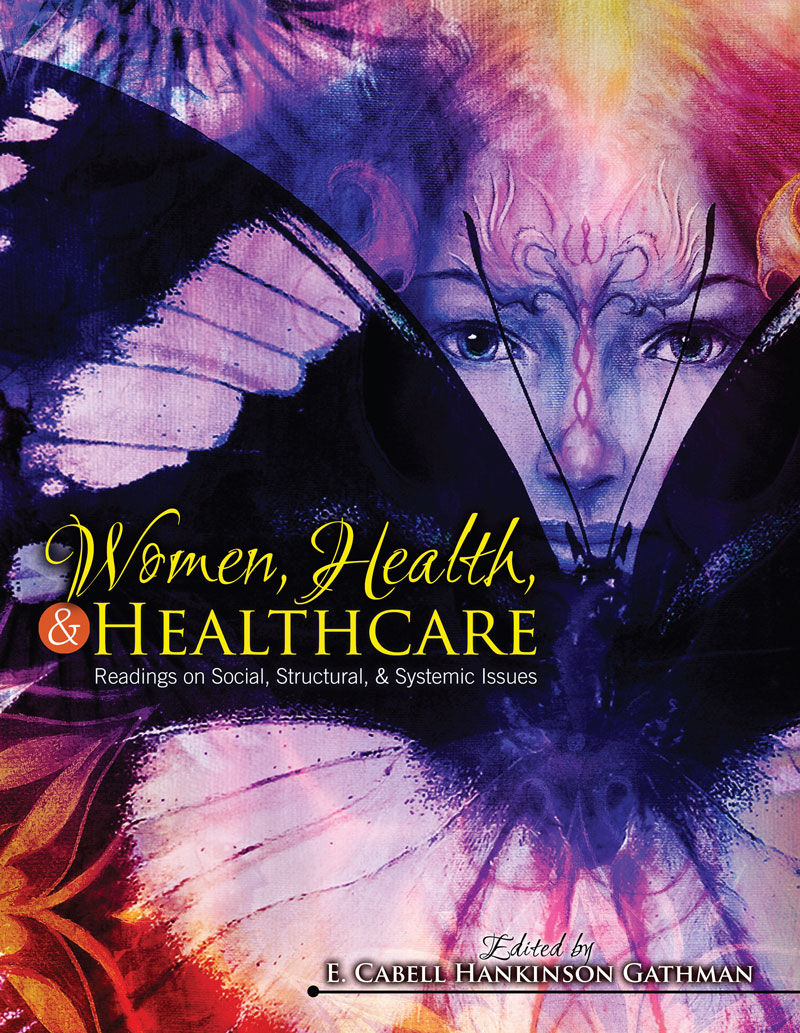 Women, Health, & Healthcare: Readings on Social, Structural, & Systemic Issues
Author(s): E. Cabell Hankinson Gathman
Edition: 1
Copyright: 2016
Pages: 428
Details: Electronic Delivery EBOOK | 180 days |
No matter what our chosen majors or career paths, everyone needs healthcare, and the systems in which we access it reflect the structures and inequalities of society as a whole. Women, Health, & Healthcare: Readings on Social, Structural, & Systemic Issues provides an array of activist and academic perspectives on health and healthcare for women and other marginalized people. Created specifically for the University of Wisconsin-Madison's flagship Gender and Women's Studies health course, GWS 103, this reader builds on classic content to address important new ideas and continue the course's proud tradition of enhancing students' knowledge and self-efficacy as both patients and activists. Edited by a former member of the UW-Madison GWS 103 teaching team who holds a PhD in Sociology from UW-Madison, this volume also includes numerous contributions from past and present GWS 103 students, teaching assistants, and instructors, many of whom hold UW-Madison GWS degrees.
The selections in this reader include eleven brand new invited pieces on topics ranging from patient agency in pregnancy and birth, to selfies and mental health self-care, to weight bias among healthcare providers. Reprinted pieces address issues of multiple marginalization for trans women, women of color, and women with disabilities, among others. Experts in social science, public health, and medicine address how social, economic, and political factors influence individual health as well as health education and available interventions.
Assembled to balance scholarly research, popular media coverage, and personal accounts, Women, Health, & Healthcare: Readings on Social, Structural, & Systemic Issues provides readers with both the information and the inspiration necessary to become advocates for appropriate and accessible healthcare for themselves and others. Judging by the continued high esteem in which UW-Madison students hold GWS 103 and the education it provides, this is one required reading that many will choose to hold onto long past graduation.
SECTION 1: WOMEN AND THE HEALTHCARE SYSTEM
Diagnosing Gender Disparities in Health
Care
What's in the Health Care Law For Women?
A Lot!
State of Women's Coverage: Health Plan
Violations
of the Affordable Care Act Key
Findings
Access to Health Care For Women Living
With HIV: A Reproductive Justice Issue
Challenging Unproven Medicine and Saving
Lives
Spreading My Legs for Womankind
SECTION 2: MULTIPLE MARGINALIZATION AND HEALTH
Privilege 101: A Quick and Dirty Guide
Women's Health Disparities: Intersections
of Gender and Other Forms of Marginalization
Financially Vulnerable
Under the Shadow of Tuskegee: African
Americans
and Health Care
#Black Lives Matter: Physicians Must Stand
For Racial Justice
Working Group
Immigrant Women's Health: A Casualty in
the Immigration Policy War
Primary Health Care and the LGBTQIA+ Patient
Experience
Transgender and Trans Health 101
Position Statement: Transgender/Transsexual/
Gender Variant Health Care
SECTION 3: BODIES AS PHYSICAL AND SOCIAL OBJECTS
Take a Good Look
Exposed At Last: The Truth About Your
Clitoris
Intersex Genitalia Illustrated and Explained
Five Myths That Hurt Intersex People
Trans and Intersex Children: Forced Sex
Changes, Chemical Castration, and Self-Determination
Boys and Girls Alike
Male and Female Hormones Revisited
SECTION 4: MENSTRUATION AND MENOPAUSE
Period Products: Information About Tampons,
Pads, and More
No, I Won't Ask About Your Period. Yes, You
Can Tell Me About It.
Less Hormone Therapy, Less Breast Cancer
Menopause's Milder Side
SECTION 5: SEXUALITY
Education for Sexual Intimacy and Agency
Sexual Health Education in Wisconsin and
the United States: Current Issues & Future
Possibilities
Adolescent Sexual Health in Europe and the
U.S. —Why the Difference?
How Being a Good Girl Can Be Bad for Girls
The Gender Orgasm Gap
12 Reasons Why There's Orgasm Inequity
(And No, It's Not That Women Are 'Harder to
Please')
Kegel Exercises
SECTION 6: MEDICALIZATION AND MARKETING
The Picture of Health: How Textbook
Photographs
Construct Health
Finding Good Health Information on the
Web
Health Network
Women Need Better Medical Tests, Not More
Treatment
A Dangerous Combination: Direct-to-
Consumer Advertising, Abstinence-
Only
Education, and Young Women's Health
The Marketing and Politics Behind the
Promotion
of Female Sexual Dysfunction
and Its 'Pink Viagra'
I Tried the Bleach and Failed
SECTION 7: REPRODUCTIVE JUSTICE AND TECHNOLOGY
The Color of Choice: White Supremacy and
Reproductive Justice
The Need for Different Voices: Revisiting
Reproductive
Justice, Health, and Rights
Contraceptive Options and Decision Making
The Future of Sex?
Hard Labor: The Case for Testing Drugs on
Pregnant Women
Culturally Appropriate Doula Support for
Queer and Transgender Parents
State of Breastfeeding Coverage: Health Plan
Violations of the Affordable Care Act
Findings
Everybody Calm Down About Breastfeeding
Black Teen Mom Manifesto: For Your Child
SECTION 8: CHILDBIRTH AND LACTATION
Ideals Vs. Reality in U.S. Births
Birth Trends in the United States: Understanding
Outcomes and Maternal Agency/Autonomy in
Pregnancy and Labor
Cervical Cancer Vaccines in Context
The New HPV Vaccine Better Protects Black
Women—But Does It Go Too Far?
Screening Mammograms: When Fighting For
Coverage and Quality Isn't Enough
SECTION 9: GENDER-BASED VIOLENCE
Breaking the Silence
The Ashley Treatment and Who Tells the
Story
Power and Control Wheel: People With
Disabilities and Their Caretakers
Equality Wheel: People With Disabilities
and Their Caregivers
From the Wisconsin Coalition Against Domestic
Violence
& the Domestic Abuse Intervention Project
Violence Against Native Women: Battering
From Sacred Circle—National Resource Center to End
Violence Against Native Women & the Domestic Abuse
Intervention Project
End Violence On Campus Power and Control
Wheel
From End Violence On Campus (EVOC) at the University
of Wisconsin-Madison
2014 Report on Intimate Partner Violence in
Lesbian, Gay, Bisexual, Transgender, Queer,
and HIV-Affected Communities in the U.S.
Released
Today
Black Teen Mom Manifesto: Secession
Pressures
State of Birth Control Coverage: Health
Plan Violations of the Affordable Care Act
Findings
Challenges to the Contraceptive Coverage
Rule: What's At Stake?
The Battle for Reproductive Justice: Denying
Indian Women Plan B Affects All Women
Indigenous Women's Dialogue: Roundtable
Report on the Accessibility of Plan B As An
Over the Counter (OTC) Within the Indian
Health Service
Billboards, Women of Color, and Politics
Women's Health Network
Induced Abortion in the United States Fact
Sheet (May 2016)
State Facts About Abortion—Wisconsin
What Kind of Mother Is Eight Months Pregnant
and Wants an Abortion?
I Set Up #ShoutYourAbortion Because I Am
Not Sorry, and I Will Not Whisper
Ask Bear: Is It Okay to Be So, So Sad About
My Miscarriage?
Expensive, Exhausting, and Deeply Unsexy:
Babymaking While Queer
SECTION 10: MENTAL HEALTH
Mad Women or Mad Society: Towards a
Feminist
Practice with Women Survivors of
Child Sexual Assault
Frequency, Cause, and Risk Factors for
Depression
Depression in Wisconsin Women
The Wage Gap Correlates With Anxiety and
Depression in Women, and It's Just One of
Many Ways Societal Gender Roles Are
Hurting Us
Selfies and Health: Self-Care and Self-Representation
SECTION 11: SOCIAL STRUCTURE AND ENVIRONMENTAL FACTORS
Sick Woman Theory
Four Critical Questions to Ask Before You Buy
Pink
Toxins in Nail Salons: When Environmental
and Reproductive Justice Meet
SECTION 12: BODY IMAGE IN THE INDIVIDUAL AND SOCIETY
Weight Bias in Healthcare
Let's Talk About Intentional Weight Loss and
Evidence-Based Medicine
Making 'A Way Outa No Way' (excerpt)
Fat People Deserve Dignity and Societal
Change
A Doctor Walks Into a Bar: Finding a New
Doctor
When You Don't Like the Doctor in
the First Place
Where Are the Fat Activists of Color?
Ebook
$60.00
ISBN 9781524907648
Details Electronic Delivery EBOOK 180 days