RETURN TO SEARCH RESULTS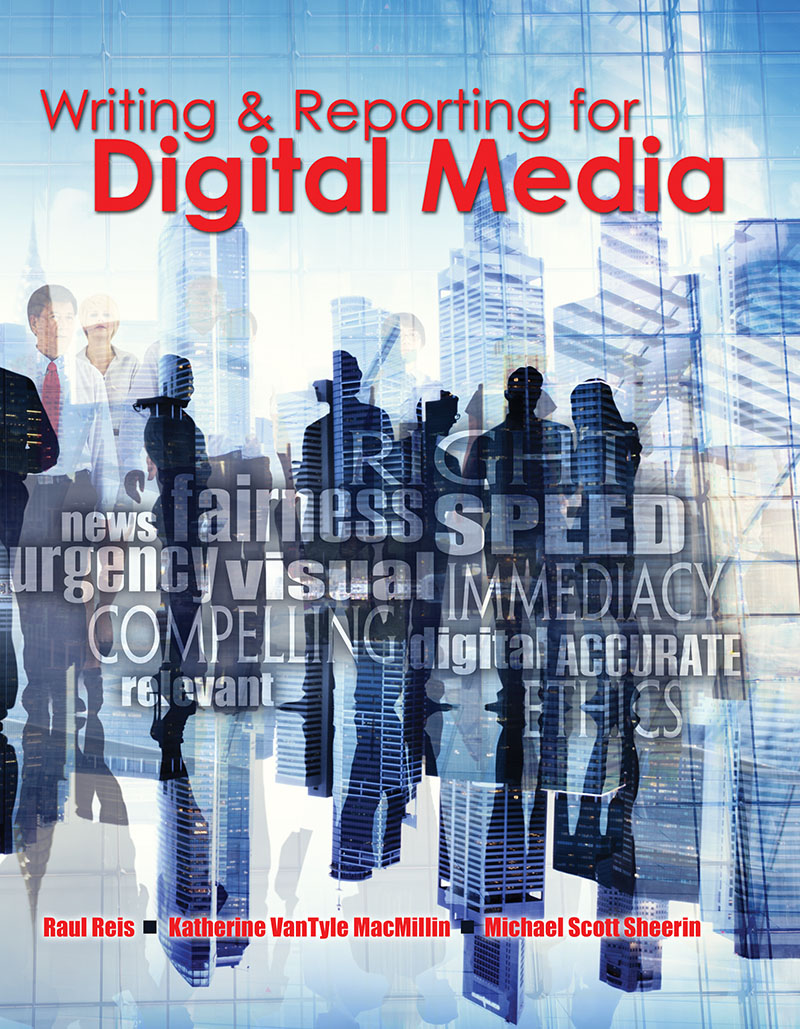 Details: Print Product Only (SA,CP, Pak, all Print) |
One of the effects of digital technologies in our lives has been to speed up the pace of everything—from the way we communicate with each other to the way we receive and process news. This sense of speed, urgency and immediacy, which was always part of news production, has been taken almost to an extreme by digital communication.

It's no longer enough to get the facts or to be a great reporter and writer. There are new demands in the digital world that leave so many aspiring journalists feeling overwhelmed and unprepared!

Writing and Reporting for Digital Media proves that as a journalist-in-training, many skills that students already possess can be re-directed into more professional and organized applications.

Writing and Reporting for Digital Media prepares students to:
Develop the basic skills for reporting and writing for digital media
Use digital technologies, as they relate to news gathering and multimedia production
Develop storytelling skills as they relate to digital imaging, data visualization, and web-delivery applications
Gather accurate and thorough information for news stories for print and electronic formats
Conduct interviews in a professional and unbiased way
Be an effective news reporter, including the basics of daily beat coverage
Compelling news stories and profiles, tips, and suggestions from reporters and media professionals give real-world insight into the life of a journalist.
CHAPTER 1 Basics of Newswriting
What Makes the News News?
Is It Different for Digital Media?
Writing and Presenting Your Story
The Lede
The Inverted Pyramid
Good Writing
Profile of a Multimedia Journalist

CHAPTER 2 Basics of Reporting: Story Ideas, Covering the News, Finding Online Sources
Finding the Story
What Defines Today's Journalist?
Informing Your Audience 24/7
Mobile
Text, Tweet, Post and Email
Videos and Photo Galleries
Using Social Media
Database Mining
Getting the Right Database
Bibliography

CHAPTER 3 Beat Coverage: Types of Beats, Cultivating Sources, Finding the Stories, Breaking News, General Assignments, Using Electronic Resources in Your Beat
Finding the Stories
Policemen Are Great Sources
Be Everywhere in Your Community/Get Known for Caring
Not Every Good Story Is a Serious Crime Story
Finding the Right Angle
Sources
Honor Your Relationships
Mining Your Sources
Drawing the Line between Being a Friend and a Professional
Be Suspicious
Starting Fresh in a New Town
When People Know You Really Care, They Open Up
Don't Take "No" for an Answer
Never Leave a Meeting Without a Name
Get the Cell Numbers of City Officials
Public Records Tell the Stories
The Court House Is Your Friend
Public Records Led Green to Uncover a Big Story on Her North Miami Beat
Bibliography

CHAPTER 4 Background Research: Finding Documents, Data Searching, Working with Electronic Sources
Online Searches
Background Searches
Seeeeeeerious Background Information
Public Records
Finding Sources

CHAPTER 5 Interviewing: Preparing the Groundwork, Background Work for Interviews, Interviewing Techniques
What About It?
Before, During and After
It's Always One Angle Only
Respect Is Extremely Important
Aggressive, Tough Interviews
Turning a Question on Its Head
Interviewing Politicians
Mike Wallace: CBS Legend
Sensitive Interviews with Citizens, Not Politicians
Bibliography

CHAPTER 6 Writing News: Making Sense of Gathered Information, Finding the Focus, Writing Techniques
Joan Chrissos' Writing Techniques
Finding the Focus
What's the Point?
Making Sense of Your Information
Give Me Details
Finding the Right Words
Nadege Green

CHAPTER 7 Writing for Traditional Media and Digital Media: Transmedia Storytelling
Comparisons in Transmedia Storytelling
Pointers for Writing for Broadcasting (Radio, Podcasting and TV)
Web Writing
Blogging
Social Media
Live News Writing
Current State of Affairs
Tools of the Trade
Developing Trends in Digital Storytelling
Bibliography

CHAPTER 8 Making the Best of Multimedia: The Blogosphere
Notes from the Field
History of Blogging
Current State of Affairs
Tools of the Trade
Developing Trends in the Blogosphere
Bibliography

CHAPTER 9 Making the Best of Multimedia: Digital Photography
Notes from the Field
History of Digital Photography
Current State of Affairs
Tools of the Trade
Developing Trends in Digital Photography
Bibliography

CHAPTER 10 Making the Best of Multimedia: Web Site Design and Development
Notes from the Field
History of Web Design
Current State of Affairs
Tools of the Trade
Developing Trends in Web Design
Bibliography

CHAPTER 11 Outlawing Online
Absolute Libertarianism
Hacktivists versus Monopolists
Cybersecurity in Freedom?
Beyond National Security
The Responsibility Defense
Bibliography

INDEX
Print
$115.76
ISBN 9780757598234
Details Print Product Only (SA,CP, Pak, all Print)