RETURN TO SEARCH RESULTS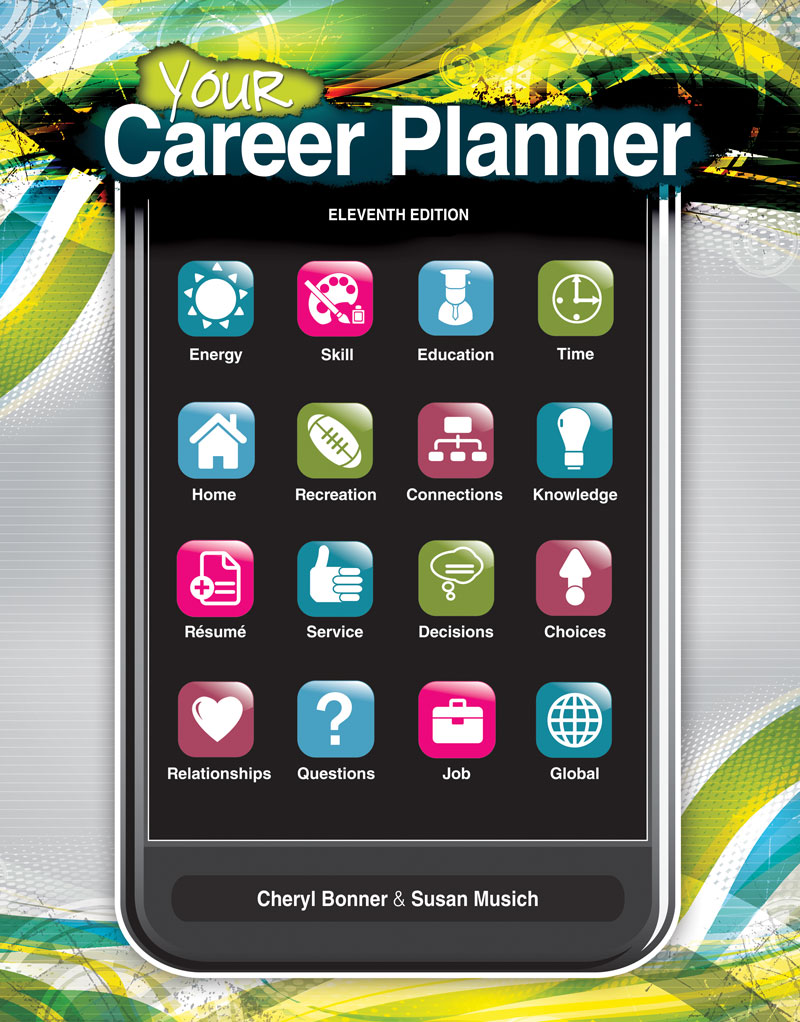 Details: Print Product |
Your Career Planner was designed with an APP in mind – it is a tool, it is a self-contained program, and it is user friendly. This text is meant to provide you information and give you ways in which to put that information to use.
Completely redesigned in a new 11th edition, Your Career Planner guides students and professionals through the process of finding a satisfying career that fits their individual personality and talents. It also develops job search skills and provides creative ways for people to promote themselves and their talents in the job market.
Your Career Planner features:
Aha! Moments – record key points and discoveries that are critical to the development of a realistic career plan.
APP Actions – assessments, activities, experiences, and assignments help the reader learn information about themselves, careers, and the job market.
Press Pause – designed to get you to react to what you've just read and make a self-discovery.
Tips – the TIP icons throughout are nuggets of information which elaborate on a point or provide insights for further research.
Preface
Acknowledgments
APP CATEGORY 1 GET STARTED
APP 1.1 Managing Your Career in Today's World
APP 1.2 Developing Your Career Vision
APP CATEGORY 2 UNDERSTANDING YOURSELF
APP 2.1 Your Skills in Action
APP 2.2 Your Thinking Style in Work and Learning
APP 2.3 Your Personality and Interests
APP 2.4 Connect Your Personality to Work
APP CATEGORY 3 PULL IT TOGETHER
APP 3.1 Discovering What Motivates You
APP 3.2 Alternatives and Decision Making
APP CATEGORY 4 GOAL SETTING AND PLANNING YOUR CAREER
APP 4.1 Setting Goals and Planning Your Career
APP 4.2 Empowering Yourself to Succeed
APP CATEGORY 5 JOB & INTERNSHIP SEARCH
APP 5.1 Researching & Gathering Information
APP 5.2 Creating Your Branding & Marketing Tools
APP 5.3 Marketing Yourself Through Effective Communication
APP 5.4 Networking Effectively
APP 5.5 Finding Jobs & Internships
APP 5.6 Acing the Interview
APP 5.7 Tips for Success
APP 5.8 Developing Career Experience Now!
APP CATEGORY 6 SPECIAL GROUPS
APP 6.1 Career Considerations for International Students
APP 6.2 Veterans
APP 6.3 Adults in Transition
APP CATEGORY 7 CAREER RESEARCH AND SELF REFLECTION NOTES
APP 7.1 Informational Interviewing Overview
APP 7.2 Web and Print Resources
APP 7.3 About Me
APP 7.4 Career Research Notes
APP 7.5 Supplemental Activities
Index
Print
$109.98
ISBN 9781524923181
Details Print Product