RETURN TO SEARCH RESULTS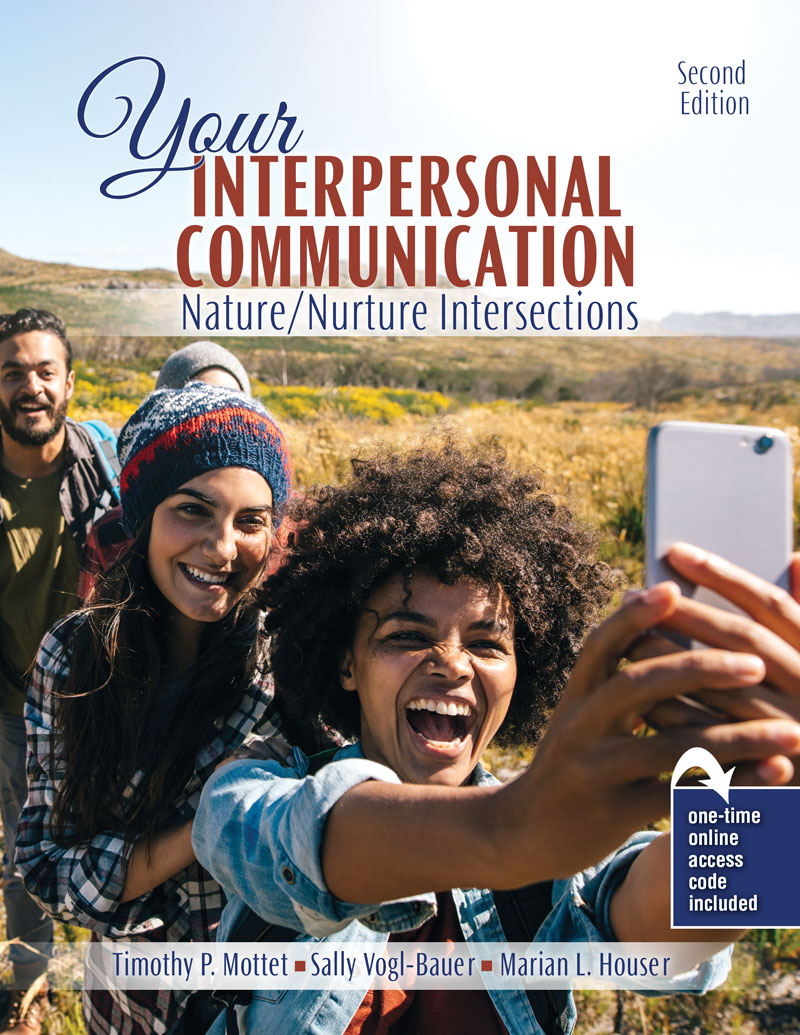 Details: Print Prod w/KHPContent Code | 180 days |
The meeting of two personalities is like the contact of two chemical substances; if there is any reaction, both are transformed. – Carl Jung
Your Interpersonal Communication: Nature/Nurture Intersections helps students better understand this "chemistry" by showing how an individual's personality influences social style and interaction.
Your Interpersonal Communication provides students with the skills and knowledge they need to discover and understand their own personal needs to connect and interact with other people, and an appreciation for the uniqueness of other people's communication personalities.
Featuring streamlined chapters, the NEW Second Edition of Your Interpersonal Communication includes access to an accompanying website with embedded learning outcomes, interactive personality assessments, practice test items, answer keys, and many more pedagogical features.
Your Interpersonal Communication by Timothy P. Mottet, Sally Vogl-Bauer, and Marian L. Houser offers features to help students discover their individual interpersonal communication styles:
Nature/Nurture Intersections of Interpersonal Communication help students understand why they act the way they act and say the things they say so they can improve their communication habits.
Assess Your Communication Personality vignettes encourage students to study themselves and their communication personalities and What Can I Do Now? boxes offer follow-up guidance after completing the assessments.
Gender/Sex, Culture/Diversity, Technology, and Personality topics are threaded throughout every chapter of the book - easily identified by the topic icons.
Ethics in Interpersonal Communication boxes present contemporary interpersonal communication situations with "questionable" ethics. The ethical questions that accompany each scenario will help students think about how their communication choices affect their relationships.
PREFACE
UNIT 1 INTERPERSONAL COMMUNICATION FOUNDATIONS
CHAPTER 1 UNDERSTANDING INTERPERSONAL COMMUNICATION AND PERSONALITY
Understanding Your Interpersonal Communication
Defining Interpersonal Communication
Identifying Nature/Nurture Intersections of Interpersonal Communication
Valuing Interpersonal Communication
Characteristics of Interpersonal Communication
Interpersonal Communication Creates Meaning on Content and Relational Levels
Interpersonal Communication Occurs on an Impersonal-Intimate Continuum
Interpersonal Communication Is Irreversible and Unrepeatable
Personality and Interpersonal Communication
Understanding Your Personality
Connecting Personality, Communication, and Biology
Interpersonal Communication Motives
Gender, Culture, Technology, and Interpersonal Communication
Gender and Interpersonal Communication
Culture and Interpersonal Communication
Technology and Interpersonal Communication
CHAPTER 2 UNDERSTANDING SELF
Understanding the Self
Self-Concept
Self-Esteem
Self-Concept and Self-Esteem Impact Your Communication
Enhancing Your Self-Concept and Self-Esteem
Understanding Communication Traits
Communication Apprehension
Socio-Communicative Orientation
Managing Your Identity
Identity Management Characteristics
Identity Management Nature/Nurture Influences
Identity Management Strategies
CHAPTER 3 UNDERSTANDING OTHERS
Understanding Your Perceptions
Defining Perception
Identifying Perception Stages
Explaining Perceptual Attributions
Influences On Your Perception of Others
Personality and Self
Social Influences
Cultural Influences
Inaccuracies in the Perception Process
Stereotyping and Prejudice Effects
Primacy and Recency Effects
Perceptual Filters and Biases
Enhancing Your Perceptual Accuracy
Attribution Errors
Avoiding Inaccurate Perceptions
CHAPTER 4 VERBAL MESSAGE SKILLS
Understanding Your Verbal Messages
Characteristics of Language
Power of Language
Examining Your Verbal Messages
Assessing and Managing Argumentativeness
Assessing and Managing Verbal Aggression
Influences on Your Verbal Messages
Sex Differences and Verbal Messages
Culture and Verbal Messages
Technology and Verbal Messages
CHAPTER 5 NONVERBAL MESSAGE SKILLS
Understanding Your Nonverbal Messages
Characteristics of Nonverbal Messages
Types of Nonverbal Messages
Functions of Nonverbal Messages
Examining Factors That Affect Nonverbal Messages
The Impact of Culture
The Impact of Sex Differences
The Impact of Technology
Assessing Your Nonverbal Messages
Perceived Nonverbal Immediacy and Personality
Touch Avoidance and Personality
Deception and Personality
Nonverbal Message Interpretation
Pleasure, Arousal, and Dominance Cues
Nonverbal Expectation ViolatioN
Nonverbal Guidelines for Enhanced Conversational Involvement
CHAPTER 6 LISTENING AND RESPONDING SKILLS
Examining Listening
Hearing: A Physiological Process
Listening: A Psychological Process
Combined Effects of Verbal and Nonverbal Messages on Listening
Assessing Personality and Listening Preferences
Listening Styles
Explanation of Listening Styles
Enhancing Your Listening Goals
Exploring Personality, Sex, and Listening Preference Differences
Identifying Listening Challenges and Improving Your Listening Skills
Common Listening Challenges
Strategies to Improve Your Listening Skills
CHAPTER 7 UNDERSTANDING CONFLICT IN RELATIONSHIPS
Characteristics of Conflict
Conflict is Natural and Inevitable
Conflict is Constructive or Destructive
Conflict Types
How Messages Influence Conflict
Confirming Messages
Disconfirming Messages
Communication Climate
Factors that Influence Conflict Interactions
Personality and Conflict
Need for Power and Conflict
Technology and Conflict
Recognizing Your Conflict Management Style
Culture and Conflict Management Style
Sex and Conflict Management Style
Context and Conflict Management Style
CHAPTER 8 UNDERSTANDING RELATIONSHIPS
Understanding Social Relationships
Loneliness and the Need to Belong
Cultural Influences
Personal Goals and Sex Differences
Theories Related to Relationship Formation
Nature/Nurture Influences on Relationship Formation
Personality Traits
Physical Appearance
Similarity-Complementarity
Proximity
Technology
Relational Dynamics
Choice and Circumstance
Power and Influence
Roles and Rules
Relational Development Processes
Coming Together-Coming Apart Stages
How Personality Factors Impact Relational Stages
Relational Maintenance
CHAPTER 9 SELF-DISCLOSURE AND INTIMACY IN RELATIONSHIPS
Understanding Self-Disclosure
Elements of Self-Disclosure
Alternatives to Self-Disclosure
Theories Related to Self-Disclosure
Your Self-Disclosure Skills
Nature/Nurture Influences on Self-Disclosure
Personality Traits
Sex/Gender Differences
Cultural Factors
Technology Usage
Maximizing Self-Disclosure to Reach Relational Goals
Relevance, Clarity, and Timing of Self-Disclosures
Degree of Risk Involved
Responding to Someone's Self-Disclosure
Having Realistic Expectations
Understanding Intimacy
Factors Associated with Communicating Intimacy
Messages Regarding Prior Relational Histories
Love Styles, Personality, and Communicating Intimacy
Nature/Nurture Influences on Interpersonal Intimacy
Sex/Gender Differences
Cultural Factors
Technology Usage
Relational Communication Challenges
Distance and Relational Intimacy
Nonreciprocated Intimacy
Verbal and Physical Aggression in Intimate Relationships
CHAPTER 10 FAMILY AND FRIENDS
Understanding Families
Spousal or Partner Relationships
Parent-Child Relationships
Sibling Relationships
Intergenerational Relationships
Theories Related to Family Communication
Nature/Nurture Influences on Family Communication
Personality and Sex/Gender Differences
Culture and Religion
Technology and Family Communication
Identifying Family Strengths and Enhancing Family Relationships
Understanding Friendships
Unique Features of Friendships
Nature/Nurture Influences on Friendships
Personality and Sex/Gender Differences
Lifespan and Cultural Considerations
Technology and Friendship Communication
Enhancing Friendships
Friendship Strengths
CHAPTER 11 WORKPLACE RELATIONSHIPS
Understanding Communication In Your Workplace Relationships
Types of Workplace Relationships
Examining Communication In Your Workplace
Managing Your Workplace Relationship Challenges
Office Romances
Workplace Bullying
Work-Life Balance
Influences on Your Workplace Communication
Personality and Workplace Communication
Sex Differences and Workplace Communication
Cultural and Workplace Communication
Technology and Workplace Communication
GLOSSARY
REFERENCES
INDEX
Print Package
$115.76
ISBN 9781524940324
Details Print Prod w/KHPContent Code 180 days