RETURN TO SEARCH RESULTS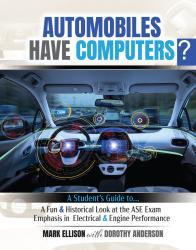 Automobiles Have Computers? A Student's Guide to a Fun and Historical Look at the ASE Exam-Emphasis in Electrical & Engine Performance
Author(s): Mark Ellison, Dorothy Anderson
Edition: 1
Copyright: 2022
Pages: 126




Details: Print Product |
Automobiles Have Computers? A Student's Guide to a Fun and Historical Look at the ASE Exam-Emphasis in Electrical & Engine Performance offers a different approach to exams for any student or automotive technician and was written with an emphasis in areas of automotive electrical and engine performance. It includes information about the anatomy of an exam and breaks down exam development giving the student or automotive technician a different perspective, understanding, and approach when taking an ASE or any other automotive-related exam.
The book offers a positive learning experience and offers valuable insight from the author's past history and experiences in the automotive industry.
The authors have spent many years writing and developing exams for automotive training curriculum including, State of California licensing exams.
About the Author
Chapter 1 So It Begins
In the beginning
Automotive Service of Excellence (ASE)
The anatomy of an exam
Tech A and Tech B should be fired says Tech C
Chapter 2 Basically Electrical
What's an OHM and why do I care
Pressure is present all the way to the open
Did they just short me?
Voltage Drop? Drop this!!!
I have a math headache
Don't you give me feedback or else
Chapter 3 Economically, Environmentally, Historically, Politically, and Basically - Perform
You get what you vote for
Input this and don't let me down
You mean I have to output work?
Chapter 4 The "A" Eight the "8"
That's a BIG Smog Pump
Suck, Squeeze, Bang, Blow
Come on Baby Light my Fire
You smell something burning?
Please Mark, really…more feedback from you
Can I see the air or do I need glasses?
Chapter 5 Zapped by "A" tee "6"
Dorothy, Follow the Yellow Brick Road
When the Levee Breaks
Whiskey Tango Foxtrot
Oh No You Didn't, Did You?
Chapter 6 Breaking in and Entering, That is the Question in the End
Only the Question
This is the End
My Guys & Gals, Ladies and Gentleman
Chapter 7 YouTube, You?
Ohm's Law Math Headache Cure
Print
$84.00
ISBN 9781792494796
Details Print Product