RETURN TO SEARCH RESULTS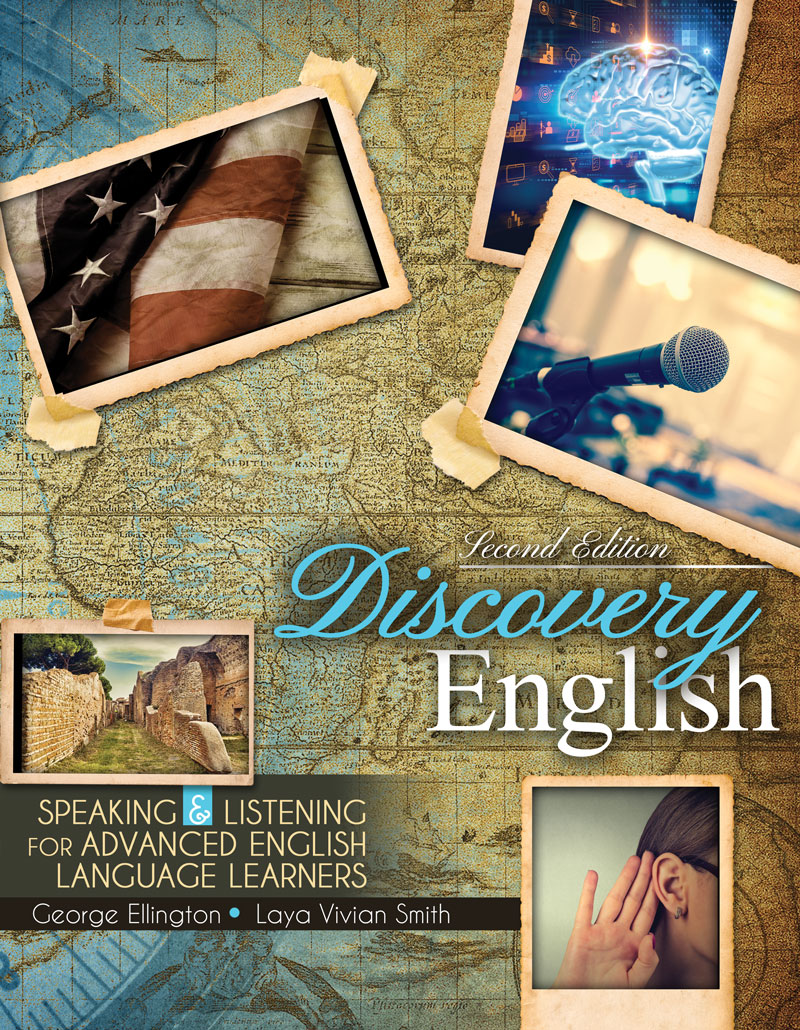 Details: Print Prod w/KHQ | 180 days |
Discovery English: Speaking and Listening for Advanced English Language Learners is a complete course in academic speaking and listening for advanced ESL students. This text mimics introductory level college courses and prepares students for future academic careers.
Features of Discovery English include:
college lectures so students can practice taking notes in a variety of formats.
essays on a wide variety of subjects to engage student interest and create opportunities for textbook reading comprehension.
extensive glossary of key academic vocabulary.
stimulating discussion questions.
New To The 3rd Edition:
Every book includes a code which grants online access to additional materials, including:

full PowerPoint presentations include all the material from the book.
video recordings of college lectures.
extensive audio recordings so students can practice listening and pronunciation skills.
prepared quizzes and tests, as well as a bank of test questions, which can be used by students to prepare for quizzes or by teachers to create tailored exams.
Alongside it's companion book, Discovery English: Reading and Writing for Advanced English Learners, comprises a complete academic English learning program.
Unit 1. CULTURAL ANTHROPOLOGY: The Peoples of the World
Introduction
Discussion: Learning about Culture
Organization Patterns: Definition and Example
Chapter 1
Vocabulary: the in- prefixes
Reading: "Language and Communication"
Reading Comprehension
Listening and Pronunciation: the –al suffix; word stress
Lectures and Note Taking: organizing notes with main ideas and important details
Lecture 1: "Commonalities in Language"
Lecture 2: "Malinowski and the Trobriand Islanders"
Lecture 3: "Trobriand Magic"
Review
Chapter 2
Vocabulary: the im- or in- and e- or ex- prefixes
Reading: "Subsistence Patterns"
Reading Comprehension:
Listening and Pronunciation: they –ly suffix; syllables; stress; "missing" syllables
Lectures and Note Taking: using charts in notes
Lecture 1: "Types of Subsistence"
Lecture 2: "Foraging the Mbutti Pygmies"
Lecture 3: "Nomadic Pastoralists"
Review
Unit 2. GENERAL PSYCHOLOGY: The Mind and Behavior
Introduction
Discussion: Personality and Mental Disorders
Organization Patterns: Cause and Effect
Chapter 3
Vocabulary: synonyms; -er, -or, -ian, -ist suffixes for "the person who"
Reading: "Psychodynamic Psychology"
Reading Comprehension:
Listening and Pronunciation: the –able suffix; linking t/d, p/b, and k/g to vowels
Lectures and Note Taking: writing necessary information in your notes
Lecture 1: "Freud's Model of the Mind"
Lecture 2: "Oedipus and his Complex"
Lecture 3: "The Talking Cure"
Review
Chapter 4
Vocabulary: multiple meanings of "encounter"; the root "ver"
Reading: "Behavioral Psychology"
Reading Comprehension:
Listening and Pronunciation: linking syllables with /s/ and /z/; the –ence or –ance suffix; "er" sound
Lectures and Note Taking: using abbreviations
Lecture 1: "Edward Thorndike"
Lecture 2: "John Watson"
Lecture 3: "B.F. Skinner"
Review
Unit 3. WORLD HISTORY: Old World and New
Introduction
Discussion: Innovations East and West
Organization Patterns: Sequencing and Addition
Chapter 5
Vocabulary: word forms; the root "man"
Reading: "Ancient Civilizations"
Reading Comprehension:
Listening and Pronunciation: irregular plural suffix; stress, schwa, and changing parts of speech
Lectures and Note Taking:
Lecture 1: "The Justice of God and King"
Lecture 2: "Deciphering the Past"
Lecture 3: "A Religious Revolution"
Review
Chapter 6
Vocabulary: the root "pri"; words with multiple meanings
Reading: "Towards A New World"
Reading Comprehension:
Listening and Pronunciation: the –ty suffix; intonation and chunking
Lectures and Note Taking:
Lecture 1: "The First Americans"
Lecture 2: "European Exploration"
Lecture 3: "Culture Clash"
Review
Unit 4. INTRO TO PHILOSOPHY: Searching for Truth
Introduction
Discussion: Sharing your personal philosophy
Organization Patterns: Clarification and Reverence
Chapter 7
Vocabulary: Definitions; adjective suffixes –al, -ary, -ive; the prefix "uni-"
Reading: "Conceptualizing Knowledge and Truth"
Reading Comprehension:
Listening and Pronunciation: Collocations; the –ism suffix; -ic, -cial, -ically suffixes
Lectures and Note Taking:
Lecture 1: "Socrates: The Wisest of Men"
Lecture 2: "Epicurus: The Friend"
Lecture 3: "Marcus Aurelius: The Philosopher-King"
Review
Chapter 8
Vocabulary:
Reading: "The Wisdom of the East"
Reading Comprehension:
Listening and Pronunciation: the –ed suffix; linking with /r/, /l/, /m/, /n/, /j/, and /ҫ/
Lectures and Note Taking:
Lecture 1: "Zhu Xi: The Neo-Confucian"
Lecture 2: "Han Fei: The Autocrat's Academic"
Lecture 3: "Laozi: The Old Master"
Review
Print Package
$108.82
ISBN 9781792400278
Details Print Prod w/KHQ 180 days