RETURN TO SEARCH RESULTS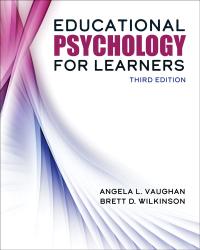 Educational Psychology for Learners: Connecting Theory, Research and Application
Author(s): Angela Vaughan, Brett Wilkinson
Edition: 3
Copyright: 2022
Pages: 366




Details: Print Product |
Educational Psychology for Learners is the ideal text for First-Year Seminar programs that recognize the need for first-time college students to engage in rigorous intellectual discussion based on theory and current research as a means to support students' academic growth, personal development and integration into the scholarly community. In addition to the relevant theories and research, there is an emphasis on the application of key psychological concepts such as motivation, knowledge acquisition, and self-regulation directly into their educational experiences in the first year and beyond.
Distinctive Features include:
Illustrates how educational psychology provides the foundation for personal, academic, and professional success.
Unlike other educational psychology texts, this text focuses on helping learners gain awareness and skills for themselves rather than helping teachers in their practice.
Unlike other college success texts that introduce learning strategies and then offers research to support these strategies, this text begins each cluster with a comprehensive overview of theories and research before discussing relevant and concrete applications students can incorporate into their own educational experiences.
The comprehensive overviews and theoretical discussions naturally support first-year programs that must rely on instructors with limited scholarly expertise in the educational psychology discipline.
Perfect for first-year or learning courses that are incorporated into general education requirements and curriculum as it fosters increased student competencies in reading, writing and critical thinking.
Case studies, activities and examples give students the chance to think about how to apply their theoretical knowledge to real-world contexts.
Reading lists are also included for both student and faculty to enable further study.
Visit Angela Vaughan's website: Vaughan Advanced Learning Consulting
PREFACE
CHAPTER 1– THE BIG PICTURE: EDUCATIONAL PSYCHOLOGY AND RESEARCH IN HIGHER EDUCATION
INTRODUCTION – OVERVIEW AND OBJECTIVES
CHAPTER 1.1: EDUCATIONAL PSYCHOLOGY AND THE MODERN RESEARCH UNIVERSITY
OBJECTIVE: Describe the function of educational psychology in examining processes of learning for individual learners
OBJECTIVE: Describe the history and guiding purposes of modern research universities, liberal arts traditions, and general education requirements
OBJECTIVE: Outline the various benefits of acquiring transferrable learning skills, engaging in high-impact educational practices, and becoming a self-regulated learner
CHAPTER 1.2: INFORMATION LITERACY—SCHOLARSHIP, RESEARCH, AND SOURCES
OBJECTIVE: Explain the relationship between information literacy and scholarship
OBJECTIVE: Outline the purpose and characteristics of scholarship in terms of scholarly works, original source materials, general scholarship types, and specific criteria for evaluating scholarly works
OBJECTIVE: Describe how to prepare a research paper in terms of choosing topics, developing thesis statements, finding and evaluating sources, and using citations to avoid plagiarism
ADDITIONAL READINGS
CHAPTER 2–A PLAN OF ACTION: EFFECTIVE GOALS AND GOAL SETTING
INTRODUCTION – CASE STUDY, OVERVIEW, OBJECTIVES
CHAPTER 2.1: UNDERSTANDING GOALS AND GOAL SETTING
OBJECTIVE: Describe the relationship between values, goals, and goal commitment
OBJECTIVE: Describe the characteristics of a useful goal
OBJECTIVE: Describe the types of goals—short-term, long-term, and enabling goals—and their relationship to directing behavior
OBJECTIVE: Describe the characteristics of effective goal setting
CHAPTER 2.2: DEVELOPING A PLAN OF ACTION
OBJECTIVE: Formulate beginning goals and associated goal plans using goal-setting techniques
CASE STUDY RESPONSES
ADDITIONAL READINGS
CHAPTER 3– MAXIMIZING ORGANIZATION: AN INTERACTION OF GOALS, MOTIVATION, AND TIME MANAGEMENT STRATEGIES
INTRODUCTION – CASE STUDY, OVERVIEW, OBJECTIVES
CHAPTER 3.1: TIME MANAGEMENT THEORIES, MODELS, AND TECHNIQUES
OBJECTIVE: Describe the different approaches to setting priorities and understanding habits
OBJECTIVE: Describe how perceived time control influences the experience of both stress and time management efforts
OBJECTIVE: Describe how the theories of procrastination can explain decision-making, and how underlying psychological factors can influence chronic procrastination
CHAPTER 3.2: THE IDEAL SCHEDULE—CREATING BALANCE AND GETTING IT DONE
OBJECTIVE: Construct a master calendar that supports short-, mid-, and long-range planning
OBJECTIVE: Establish a weekly schedule that supports academic and personal goals
CHAPTER 3.3: STRATEGIES—INCREASING FOCUS, MOTIVATION, AND EFFICIENCIES
OBJECTIVE: Describe time management strategies and how they are related to improving focus and motivation
OBJECTIVE: Identify multiple strategies that will help improve personal time management difficulties
CASE STUDY RESPONSES
ADDITIONAL READINGS
CHAPTER 4– UNDERSTANDING MEMORY: INFORMATION PROCESSING FOR THE LONG TERM
INTRODUCTION – CASE STUDY, OVERVIEW, OBJECTIVES
CHAPTER 4.1: MEMORY AND LEARNING
OBJECTIVE: Describe how the components of memory contribute to storing, encoding, and retrieving information
OBJECTIVE: Describe how the memory continuum is related to processing information
OBJECTIVE: Compare rehearsal and elaboration strategies, and their relationship to processing information
CHAPTER 4.2: YOU ARE A VISUAL LEARNER
OBJECTIVE: Describe learning strategies that use visual imagery to process information
CHAPTER 4.3: ACTIVE READING AND NOTE-TAKING
OBJECTIVE: Describe how active reading and note-taking are related to processing information into long-term memory
OBJECTIVE: Describe the processes used in implementing active reading and creating effective lecture notes
CASE STUDY RESPONSES
ADDITIONAL READINGS
CHAPTER 5– MONITORING COMPREHENSION: MEANINGFUL LEARNING AND SUCCESSFUL TEST-TAKING
INTRODUCTION – CASE STUDY, OVERVIEW, OBJECTIVES
CHAPTER 5.1: COMPREHENSION MONITORING AND LEARNING TAXONOMIES
OBJECTIVE: Outline the purpose and features of comprehension monitoring, and its relationship to self-testing, active reading and listening
OBJECTIVE: Describe self-testing strategies that minimize illusions of knowing
OBJECTIVE: Describe the role of learning taxonomies in the practice of comprehension monitoring, and provide illustrative examples using Bloom's taxonomy
CHAPTER 5.2: MAXIMIZING EXAM PERFORMANCE
OBJECTIVE: Describe the relationship between stress, anxiety and performance
OBJECTIVE: Identify strategies that will help minimize levels of anxiety
OBJECTIVE: Describe strategies that will help predict exam items
OBJECTIVE: Describe general and specific test-taking strategies related to successful exam performance
CASE STUDY RESPONSES
ADDITIONAL READINGS
CHAPTER 6– THE FUNDAMENTAL CAUSES OF BEHAVIOR: YOUR MOTIVATION
INTRODUCTION – CASE STUDY, OVERVIEW, OBJECTIVES
CHAPTER 6.1: SOME MOTIVATION THEORIES
OBJECTIVE: Describe the relationship between intrinsic and extrinsic motivation and their effect on behaviors
OBJECTIVE: Describe the different kinds of achievement motivation (goal orientations) and their influences on motivation
CHAPTER 6.2: BELIEFS THAT DRIVE MOTIVATION
OBJECTIVE: Discuss the role of self-efficacy in learning
OBJECTIVE: Describe attributions and their relationship with growth mindset and achievement motivation
CHAPTER 6.3: GAINING AWARENESS AND TAKING CONTROL
OBJECTIVE: Describe the relationship between motivation and other areas (e. g., goals, time management, etc .) that influence students' educational experiences
OBJECTIVE: Identify strategies to promote and maintain higher levels of motivation
CASE STUDY RESPONSES
ADDITIONAL READINGS
CHAPTER 7– METACOGNITION AND SELF-REGULATED LEARNING: PROMOTING DECISIONS THAT IMPROVE LEARNING AND OUTCOMES
INTRODUCTION – CASE STUDY, OVERVIEW, OBJECTIVES
CHAPTER 7.1: THINKING AND METACOGNITION
OBJECTIVE: Describe the relationship between cognition, metacognition, and critical thinking, as well as their features
OBJECTIVE: Describe the characteristics of metacognitive knowledge and metacognitive regulation, including their commonalities
OBJECTIVE: Develop an outline for implementing metacognitive strategies on a task
CHAPTER 7.2: SELF-REGULATED LEARNING
OBJECTIVE: Describe characteristics of self-regulated learning
OBJECTIVE: Explain the similarities and differences among two major models of self-regulated learning
OBJECTIVE: Using the systematic approach to learning, develop an outline for approaching a task
CASE STUDY RESPONSES
ADDITIONAL READINGS
CHAPTER 8–UNDERSTANDING AND EXPERIENCING DIVERSITY: AN INTRODUCTION
INTRODUCTION – CASE STUDY, OVERVIEW, OBJECTIVES
CHAPTER 8.1: UNDERSTANDING THE MEANING AND FORMS OF DIVERSITY
OBJECTIVE: Define diversity and describe its implications in terms of diversity and inclusivity
OBJECTIVE: Define culture and describe its implications in terms of heritage and identity
OBJECTIVE: Identify the difference between race and ethnicity
OBJECTIVE: Define gender and describe its implications in terms of gender roles and gender identity
OBJECTIVE: Define spirituality and how it differs from religion
CHAPTER 8.2: UNDERSTANDING BARRIERS TO DIVERSITY
OBJECTIVE: Define prejudice and discrimination, as well as describe their relationship to stereotyping and in-group socialization
OBJECTIVE: Identify the benefits of expanding personal identity and how this can influence your way of thinking about, interacting within, and experiencing the world
OBJECTIVE: Describe the personal and social benefits of experiencing diversity
CASE STUDY RESPONSES
ADDITIONAL READINGS
CHAPTER 9– WELLNESS: ADVANCING PERFORMANCE, LIFE SATISFACTION, AND CRITICAL THINKING
INTRODUCTION – CASE STUDY, OVERVIEW, OBJECTIVES
CHAPTER 9.1: THE WELLNESS DIMENSIONS
OBJECTIVE: Identify and define the eight dimensions of wellness
OBJECTIVE: Describe how the wellness dimensions relate to performance and life satisfaction
OBJECTIVE: Describe how time management and goal-setting strategies can be used to achieve balance
CHAPTER 9.2: TAKING CHARGE OF PERSONAL WELLNESS
OBJECTIVE: Define wellness in terms of nutrition, exercise, sleep, and social media use
OBJECTIVE: Describe the relationship between stress management and wellness
OBJECTIVE: Describe how critical thinking and mindfulness inform wellness
CASE STUDY RESPONSES
ADDITIONAL READINGS
INDEX
"We are very pleased with the initial responses from our students and faculty who used your textbook as the foundation of their learning experiences in MUS 121 (The Academic Life) last semester. In particular, the poster nights fostered a sense among the students that they "belong" within an academic community. Also, providing these students with multiple opportunities to read and digest college-level writing from the outset of the course was a powerful way for many of them to recognize and own their individual capacities for success in college."
- Chadron State College
"I think this course does well at following what the students need at that point in the semester. At the beginning of the year learning time management and goal setting was very helpful and then throughout learning things like wellness before finals was even more useful. I found that [the instructor] had a way of making the subject matter we were learning in class more approachable and applicable to our lives."
- Students of University of Northern Colorado
"University 101 was my favorite class this semester. I always looked forward to Tuesday and Thursday mornings. Thank you for a great year! Learned things in your class that I will continue to use through college!"
- Anonymous STEM Major
"I believe that the greatest strengths of this course were how well the class was set up to go along with the semester. I liked how all of the topics that we discussed were related to the week that we were in and how we were feeling at the time."
"It truly challenges you. I learned so much about myself. [This class] helped me be a better student."
- Anonymous First-generation Students
Print
$97.24
ISBN 9798765708736
Details Print Product