RETURN TO SEARCH RESULTS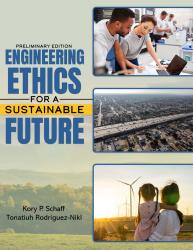 Details: Electronic Delivery EBOOK | 180 days |
In Engineering Ethics for a Sustainable Future, faculty, students, and professionals alike will find an accessible and comprehensive approach to the study of ethics in engineering, computer sciences, technology, and environmental studies, emphasizing inclusion and equity in theory and practice and providing updated case studies focusing on engineering, sustainability, and technology in the global context.
Part I – Ethical Engineering
Chapter 1: Engineering, Technology, and Ethical Imperatives
1.1 What Is Engineering?
1.2 Features of Engineering Practice
1.3 Global and Local Ethics in Engineering
1.4 Overview of the Book
Chapter 2: Ethical Theory
2.1 What Is Ethics?
2.2 Why Study Ethical Theory?
2.3 Objections to Ethics: Relativism, Subjectivism, and Egoism
2.4 Virtue Ethics
2.5 Duty Ethics
2.6 Consequentialist Ethics
2.7 Care Ethics
2.8 Justice and Equality
2.9 Inequalities of Race, Gender, and Disability
Chapter 3: Professional Ethics in the Workplace
3.1 Professions and Professionalism
3.2 Codes of Ethics
3.3 Professional Virtues
3.4 Professional Rights and Duties
3.5 Employment Rights
3.6 Employment Duties: Confidentiality, Conflicts of Interest, and Whistleblowing
3.7 Research Ethics
Part II – Toward a Sustainable Future
Chapter 4: Risk and Safety
4.1 Assessing Risk
4.2 Managing Risk
4.3 Human Factors in Accidents
4.4 Ethical Challenges Related to Risk and Safety
Chapter 5: Sustainability.
5.1 Frameworks of Sustainability
5.2 Moral Perspectives on Nature: Religion, Humanism, and Biocentrism
5.3 The Product Life Cycle
5.4 Discounting the Future
5.5 Disasters and Climate Change
5.6 Consumption Ethics
Chapter 6: The Future of Technology
6.1 Engineering, Technology, and Progress
6.2 Human Values and the Question of Technology
6.3 The Right to Repair Movement
6.4 Pegasus Spyware, Privacy Rights, and Political Repression
Endnotes
Appendix A
References
Ebook
$47.25
ISBN 9781792494376
Details Electronic Delivery EBOOK 180 days