RETURN TO SEARCH RESULTS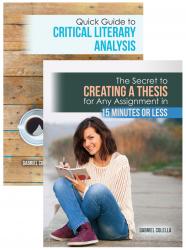 Details: Print Product |
This package contains two publications:
The Secret to Creating a Thesis for Any Assignment in 15 Minutes or Less, Preliminary Edition

If you are like many college students, you probably have several feelings arise when you think about writing. Invariably, many feel like writing is daunting, time consuming and just something you "have to get through." What you are about to learn within these pages will help to change your experience of writing, as you know it. Using this information and these quickly accessible techniques will help your writing process to be easier, less time consuming, and enjoyable.

Quick Guide to Critical Literary Analysis, Preliminary Edition

Even if you are a seasoned English major, getting started with analyzing a poem, short story, play, or film can be challenging. How do you approach interpretation, analysis of symbols, characters or motivations, the social and historical contexts, or the form and content of the work? Mastering these skills can be difficult, but with the help of this quick guide to critical film and literary analysis, you will be able to extract important information from your text in minutes, so you can get started with your writing process. Whether you are just taking an introductory course in literature or you are an experienced English major, the tools inside this text will allow you to extract and interpret information quickly and effectively
The Secret to Creating a Thesis for Any Assignment in 15 Minutes or Less, First Edition
Foreword
Clarity
The Three Most Important Considerations When Writing
Brainstorming Techniques
Freewriting
Looping
Webbing or Clustering
Questioning
Listing
Outlining
Narrowing Your Subject
Type of Assignment
Size of Assignment
Creating a Thesis
The Secret Process for Text-Based Writing Assignments
Research Papers
Revising Your Thesis
Example Essays
The Need for Sustainability
Industrial Hemp: Our Most Sustainable Resource
Readings
The Republic: Book VII, by Plato
Self-Reliance, by Ralph Waldo Emerson
How It Feels to Be Colored Me, by Zora Neale Hurston
Politics and The English Language, by George Orwell
Quick Guide to Critical Literary Analysis, First Edition
Foreword
Introduction to Critical Analysis
What is it?
The Different Strategies/Lenses
Historical Approaches
Biographical Approaches
Formalist Approaches
Psychological Approaches
Feminist Approaches
Marxist Approaches
Mythological Approaches
Existentialist Approaches
Queer Approaches
Deconstructionist Approaches
Reader/Viewer-Response Approaches
Concluding Remarks
Quick Reference to Quick Guide Questions
How to Use These Tools to Analyze Literature
Analysis of The Black Cat
Example Papers
Walls and Pluto's Underworld in The Black Cat
Destroying The Feminine in The Black Cat
Readings
The Black Cat by Edgar Allen Poe
The Fall of the House of Usher by Edgar Allen Poe
Alone by Edgar Allen Poe
The Lady with the Dog by Anton Chekhov
The Horse Dealer's Daughter
Trifles by Susan Glaspell
The Doctor in Spite of Himself by Moliere
Print
$108.05
ISBN 9781792461385
Details Print Product