RETURN TO SEARCH RESULTS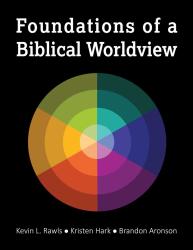 Details: eBook w/Biblical Worldview | 180 days |
Foundations of a Biblical Worldview serves as an introductory text to the topic of worldview and how worldview can be interpreted in light of the Bible. By drawing on a philosophical model that identifies the various constructs that form any worldview, this text describes the ways in which the Biblical worldview not only provides answers to the ultimate questions of meaning and purpose, but how the Biblical worldview compares to other worldviews in answering those questions. This text is meant to work closely with the Biblical Worldview Indicator (BWVI) and allows individuals or groups to begin a journey towards exploring their own beliefs and values.
Chapter 1 Introduction to Biblical Worldview
Introduction
What Is a Worldview?
Why Study Worldview?
What All Is Included in a Worldview?
The Fundamental Components
The Worldview Constructs
The Biblical Approach to Addressing the Questions
The Model of the BWVI
Measuring Progress
Worldview Comparison
Chapter 2 Ontology
Introduction
What Is Ontology?
What Does This Mean For My Life?
What Does the Bible Have to Say About This?
What Are the Possible Models of Ontology?
How Is It Factored into the BWVI?
Conclusion
Chapter 3 Cosmology
Introduction
What Is Cosmology?
What Are the Possible Models of Cosmology?
Theological Origin Stories
The Origin Story of Naturalism or Materialism
Intelligent Design
What Does the Bible Say About the Origin Story?
How Is It Factored into the BWVI?
What Does This Mean for My Life?
Conclusion
Chapter 4 Eschatology
Introduction
What Is Eschatology?
Assumptions about Eschatology
What Are Possible Models of Eschatology?
A Biblical View of Eschatology
How Is It Factored into the BWVI?
What Does this Mean for My Life?
Conclusion
Chapter 5 Axiology
Introduction: What Is Axiology?
What Does this Mean for My Life?
The Power of Story
What Are the Possible Models or Theories of Axiology?
Naturalism
Values for a Biblical Worldview
What Does this Look Like in Our Lives?
How Is Axiology Factored into the BWVI? (What are the aspects of the bible that are relevant? Ten Commandments, life of Jesus, book of James.)
Chapter 6 Praxeology: A Theory of Action
Introduction: What Is Praxeology?
Theoretical Foundations
Theory of Planned Behavior and Theory of Reasoned Action
Kohlberg and Cognitive Moral Development
Rest's Four-Component Model
How Is this Integrated into the BWVI?
How Does a Biblical Worldview Approach Praxeology?
Doctrine of Vocation in Action
Free Will
Stewardship
Why Does the Study of Decision Making Matter?
Chapter 7 Epistemology
Introduction
What Is Epistemology?
What Does this Mean for My Life?
Scientific Method/Logic/Reason/Facts
What Are the Possible Models of Epistemology?
Materialistic
Social
Supernatural
What Does the Bible Have to Say About This?
General Revelation
Special Revelation
How Is It Factored into the BWVI?
Conclusion
Chapter 8 Conclusion
Introduction
Takeaways
Personal Value
Apologetic Value
Expressions
Conclusion
Further Study
Ebook Package
$21.68
ISBN 9781792405044
Details eBook w/Biblical Worldview 180 days